Commercial theater seating LS-602 is bigger, which making it very comfortable, when compared to other theatre chairs. The upholstery can be fabric and bonded leather.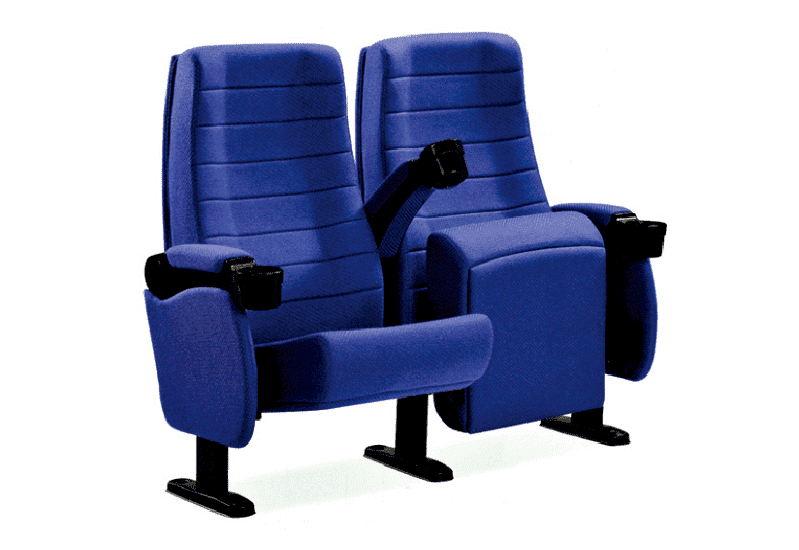 Brief Introduction
Finishing: Fabric
Color: Optional
Folding: Yes
Style: Contemprory
MOQ: 30 seats
Warranty: 5 Years
Delivery: Sea freight
Cup holder: Yes
Fixed seating: Yes
Features of commercial theater seating LS-602
1. Theatre seating LS-602 is bigger size
The center distance of folding theater seating LS-602 is bigger than the other folding theater seats, which make it more comfortable, especially for those who is tall and overweight. Now obese problem is a global problem and bigger size seating is more and more requested.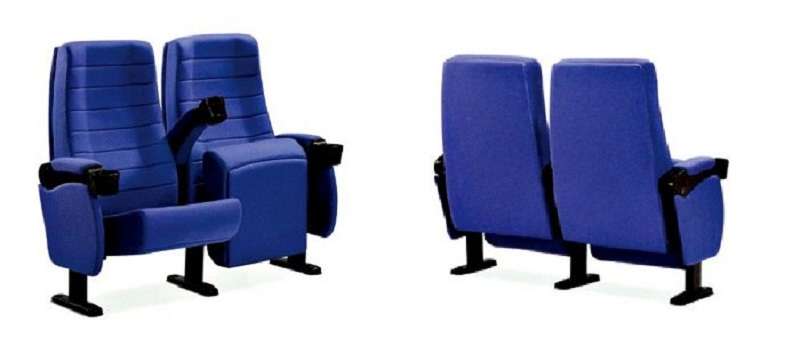 2. There are no covers for the seat cushion and backrest
Common theater seating furniture is with moulded injected plastic covers or wood under seat in the backrest and the seat cushion. While this theater seating design is not. It is plain and simple but elegant. People who sit on it is really relaxed. It's a good choice for cinema room furniture.
This feature also makes it easier to change the height of the backrest. It is easier for customization for different height people.

As we all know, people are different and they may feel different for the same chair. A thinks this chair at this height is good while B thinks it is not because he has a different stature. While it is also not possible to make all chairs with different height to meet different people tastes. It not only make the theater hall look bad but also difficult for the chair manufacturer.

What is the best backrest height of folding theater chairs?
Different people has different feeling of comforts for their theater seating. So before you choose commercial theater seating, you need to think about a few points below.
1. Thinking about who is the movie theater seating for?
Is it for the adults or for the children? If for the children, what is their age?
Usually, if it is for the children, it may be a themed cinema. You can decide the chair height according to the scientific data of the age teenagers. Then make the seat backrest lower. People can feel bad if the backrest is too high and they can not have a good view.
If for the adults, this about the average height of the people in your local area. Decide the backrest height by their average stature. As for those above or below the average, leave it. After all, it is not possible to meet all the demands.
2. Thinking about the habit of your local people.
Some people get used to lower backrest while some people prefer higher backrest. Some people think lower backrest theater seating can not support enought their back. While some people think too hight backrest will make their neck painful.
According to our experiences, the best height of a theater chair is that it is enough to support some of your head but should not be over your head. In this case, you have headrest for your head but also release your neck.
Linsen Seating also offer a kind of VIP cinema seating which you can regardless of the height of the chair. Because the VIP cinema chairs is a kind of reclining theater chairs. You can adjust the height of the backrest by putting on the buttons on it.
Specifications
Application: cinema room, theater room, home cinema, home theater, music halls, performance center and opera houses.
Materials:
The upholstery is fabric.
The padding is with soft and durable high density foam. It is modled foam injected.
Under the foam is the 10mm plywood supported.
Armrest: It is made of PP with inserted cup holder for beverages. It is lifting.
Color: We have diverse colors for your options. You can customize the most color you like.
Fire retardant: It is available with USA standard CA117, UK standard BS5852, BS7176 or Chinese standard
Packing: It is knock down packing with carton box.
Loading: 200 pcs in a 20 feet container, 460 pcs in a 40 feet container.
Theater seating dimensions
Overall height (height from floor to the top of backrest): 1180 mm
Depth: 760 mm
Center to center distance: 600 mm
Armrests: 80 mm
FAQ
What is the lead time?
Our lead time is usually 15 days. We make sure fast and on time delivery.
What is the warranty?
We have 5 years warranty for our theatre furniture. If any problem happen, we will check and confirm if it is out of quality problem. If it is out of quality problem, we will send you chair parts for replacement. Or complete new chairs can be delivered to replace the bad one.
What is the MOQ?
The MOQ is 50 pcs.
Our service
If you don't have CAD layout, tell us, we can make it according to your requests.
After confirming the PI and deposit, we will make sample for your to confirm also. Then we will process with the order after you make sure about the sample.
After delivery, we will follow the shipping statue and keep following in case you have any problem with assemble and installations.
After installation, we will keep eyes on those chairs you order in case you there is any problem.
Send Us Inquiry