Movie theater chair LS-624 is an upgraded version of movie room chairs LS-615. It is with adjustable headrest manually to meet different people of different height. Humans stature are different. They require different backrest of the chair for the most pleasing feeling when sit on it. But most of the cinema chair manufacturers don't have an adjustable headrest for the traditional small movie theater chairs. So we are committed to change this and keep developing all the time. Finally, LS-624 is born.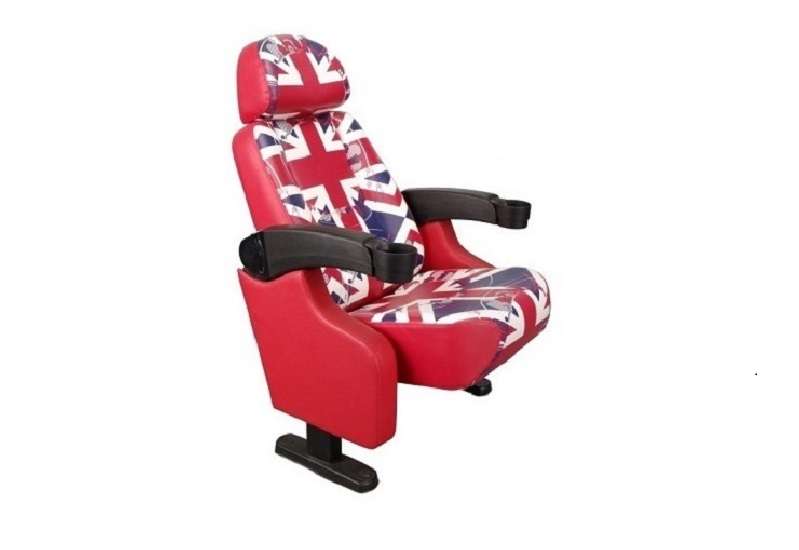 Brief Introduction
Finishing: PU leather
Color: Mixing color
Folding: Yes
Arm: Lifting arm
MOQ: 30 seats
Warranty: 5 Years
Delivery: Sea freight
Cup holder: Yes
Fixed seating: Yes
Compared to other adjustable headrest designs for theater style sofa, this design is simpler. It fits any movie theaters for any height movie-goers. If you height is on the average, there is no need for you to adjust the headrest. If you are a little smaller or higher, you can take just stand up and pull the headrest to the right height position until you feel good. In this way, it is without any mechanism or buttons. This saves a lot of cost. For the movie theatre owners, this is really a great solution for the chair height headache problem as well as the cost problem.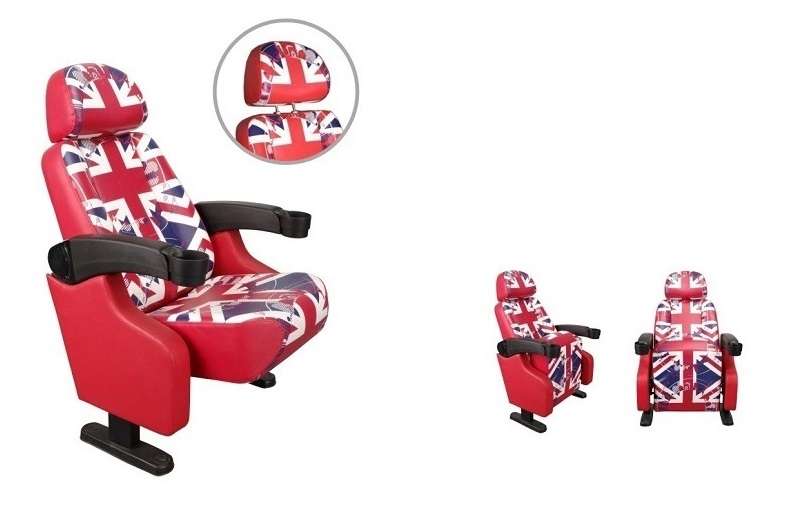 Here we also show another innovative point that the picture on the chair is actually printed on the leather. This never happened before or in other factories. If you want to try something new and special, we can fulfill your dream now. Come to talk us for more information.
Specifications of movie theater chair LS-624
Model number: LS-624
Upholstery: bonded leather
Feature 1: with printed picture on the seat
Feature 2: with manual adjustable headrest
Color: red + white
Returning mechanism: gravity returning mechanism
Seat and backrest shell: without
With cup holder: Yes
Armrests: lifting
Installation: easy installation for arc surfaces or with slopes
Material: cold rolled steel + foam + leather + plywood + plastic
Theater Chair dimensions
Full height: 1050mm
Center distance: 580mm
Armrests width: 100mm
Seat cushion height: 450mm
Armrests height: 600mm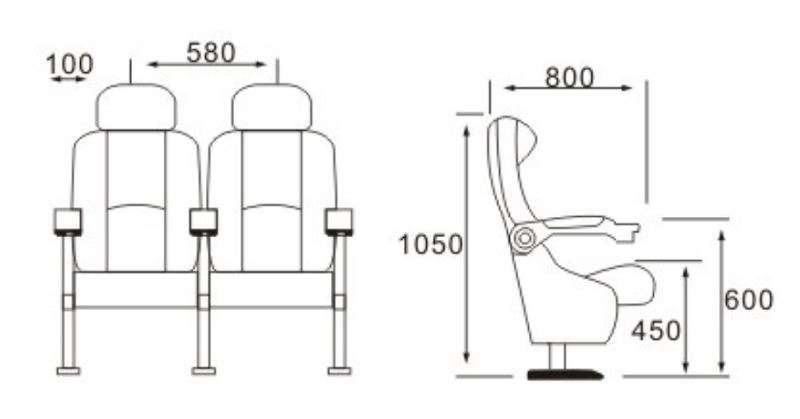 Adjustable headrest for movie chairs
If you think the headrest doesn't fit your height, you can pull the headrest manually to adjust it.
For those who doesn't need the headrest, they can pull out it directly. It is also easy to put it back in the chair.
Send Us Inquiry
Other Movie Theater Chairs