Creating a home theater entails careful consideration of various elements to ensure an immersive and enjoyable experience. Central to this setup is the seating arrangement, which can profoundly impact comfort, relaxation, and the overall ambiance of the viewing space. A 4-seat theater recliner embodies the perfect blend of style, functionality, and comfort, providing a luxurious seating solution for movie enthusiasts and families alike. In our 4-seat theater recliners purchasing guide, we'll talk about the features and benefits of purchasing from Lstheaterseating.com.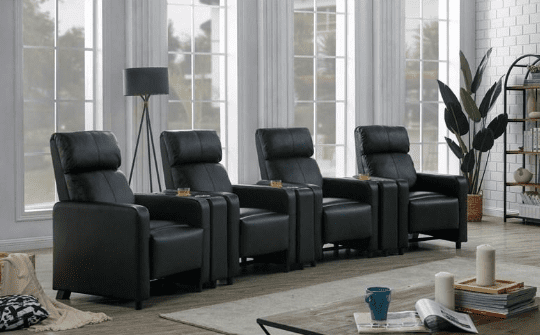 4 Seat Theater Recliner From Linsen Seating
Introducing FOSHAN LINSEN SEATING FURNITURE CO.,LTD: your custom 4 seat theater recliner manufacturer supplier in Foshan, China. Experience luxury and comfort like never before with our meticulously crafted theater recliners. At LINSEN Seating Furniture, we specialize in creating bespoke seating solutions that elevate your cinematic experience.
Our 4-seat theater recliners are tailor-made to suit your unique preferences. Choose from a wide range of designs, materials, and finishes to create seating that complements your theater decor flawlessly. Crafted with the utmost attention to detail, our recliners boast premium features such as plush seating, ergonomic design, and smooth reclining mechanisms. Sink into the luxurious cushioning and enjoy the perfect angle for viewing your favorite movies in ultimate relaxation.
6 Reasons Why You Should Choose Our 4 Seat Theater Recliner
All-in-One Comfort and Convenience
Our is designed with one main objective – to offer unparalleled comfort. Each seat in this arrangement is equipped with a reclining feature, allowing viewers to adjust their position according to their preferences. Whether you want to sit upright, recline partially, or fully extend the seat for a relaxed lounging position, the flexibility enables you to find the perfect seating angle for ultimate comfort. With soft cushioning and plush upholstery, a 4-seat theater recliner envelops you in luxury, providing a cozy oasis to sink into while enjoying your favorite movies, TV shows, or gaming sessions.
Space-Efficient Design
One notable advantage of our cheap 4-seat theater recliner is its space efficiency. This seating arrangement optimizes seating capacity while maximizing available floor space. Compared to individual recliners, a 4-seat theater recliner conveniently accommodates four viewers in a single unit, allowing you to make the most of your home theater area. By eliminating gaps between seats, this arrangement provides a seamless and streamlined look, creating a more spacious atmosphere and ensuring an unobstructed line of sight to the screen for all viewers.
3. Individual Comfort and Privacy
Despite being a shared seating solution, a 4-seat theater recliner offers individualized comfort and privacy. Each seat within the arrangement is designed with its own reclining mechanism, providing independent control for each viewer. This means that everyone can adjust their seat according to their preference for recline angle, footrest position, and lumbar support, ensuring personalized comfort tailored to their specific needs. With clearly defined boundaries and armrests, a 4-seat theater recliner offers a sense of privacy, allowing each viewer to fully immerse themselves in the entertainment without encroaching on the personal space of others.
4. Built-in Amenities
In addition to exceptional comfort, our custom 4 seat theater recliner often comes with built-in amenities that enhance your viewing experience. These amenities can include cup holders integrated into the armrests, providing a convenient spot to place your beverages without the risk of spills. Some models may also incorporate storage compartments within the armrests, allowing you to keep remotes, magazines, or other small items within easy reach. These thoughtful additions contribute to a clutter-free and organized space, ensuring that everything you need is readily accessible, without the need for additional furniture.
5. High-Quality Materials and Design Selection
seat theater recliners are available in a wide range of high-quality materials and designs, allowing you to choose an option that suits your personal style and complements the aesthetics of your home theater. From sumptuous leather upholstery to cozy fabric finishes, you can select the material that best aligns with your preferences in terms of both comfort and visual appeal. Additionally, various design options, such as sleek modern styles or classic designs, ensure that your 4-seat theater recliner seamlessly integrates into your existing décor, elevating the overall ambiance of your home theater.
6. Easy Integration and Maintenance
Integrating a 4-seat theater recliner into your home theater setup is a hassle-free process. These seating units are designed for easy installation and can be placed against a wall or arranged in the center of the room, depending on your room layout and personal preference. They also simplify cleaning and maintenance, as their unified structure eliminates the need to clean between individual recliners. Most models feature stain-resistant or easy-to-clean materials, making upkeep a breeze and allowing you to enjoy your entertainment without worrying about spills or dirt.