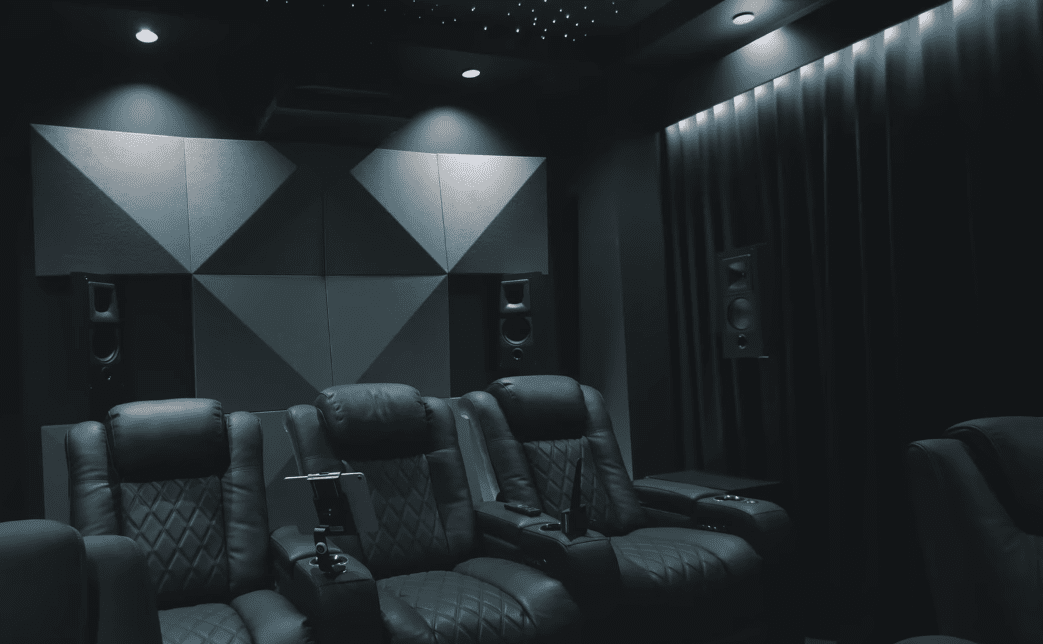 Step into the world of the ultimate guide to crafting an impeccable home theater experience! Transform your living space into a cinematic haven, where movie enthusiasts can revel in a truly immersive atmosphere without leaving the comforts of home. However, achieving this extraordinary experience necessitates thoughtful deliberation on the ideal size and dimensions of your dedicated home theater room. With this guide, we'll talk about the crucial factors to consider when determining the perfect room size for your home theater. Additionally, we'll introduce an ingenious home theater room size calculator, designed to streamline the entire process for you. Let's embark on this journey to create your dream home theater!
Importance of Home Theater Size and Dimensions
Before delving into the specifics, let's understand why room size plays a crucial role in creating an exceptional home theater experience. The size and dimensions of your theater room directly impact audio performance, visual immersion, seating arrangement, and overall comfort. Proper room dimensions can enhance sound quality, minimize reflections, and optimize visual angles, ensuring an unforgettable cinematic experience.
Factors to Consider When Choosing the Room Size For Your Home Theater
1. Speaker Placement and Screen Size: the placement of speakers and the size of the screen are essential considerations. The distance between speakers, their positioning, and the screen size influence the soundstage and visual experience. Proper placement and screen-to-seat distance ensure an immersive and balanced audio-visual experience.
2. Viewing Distance: the viewing distance determines how close or far you should be seated from the screen. It affects visual comfort and the ability to perceive details. Factors like screen size, resolution, and personal preference should be taken into account when determining the ideal viewing distance.
3. Acoustic Considerations: Room acoustics significantly impact sound quality Factors such as room dimensions, construction materials, and the presence of reflective surfaces can cause echoes, reverberation, and unwanted sound reflections. Treating the room with acoustic panels, bass traps, and diffusers can improve sound clarity and create a more balanced listening experience.
4. Room Layout: The layout of your home theater room is vital for maximizing comfort and optimizing the viewing experience. Consider the number of home theater seats, their arrangement, and the viewing angles. Single-row and multiple-row configurations offer different advantages and considerations, and the room layout should be designed to provide an unobstructed view from each seat.
5. Seating Arrangement: Comfortable seating is essential for a home theater. Opt for home theater seating that provides good support and allows for proper viewing angles. Consider leaving adequate space for walkways and any additional furniture like side tables or a popcorn station.
Home Theater Room Size Calculator
To simplify the process of determining the perfect dimensions for your home theater, consider using a home theater room size calculator. These calculators take into account various factors and provide recommendations tailored to your specific requirements.
1. Parameters Considered: Home theater room size calculators consider parameters such as screen size, viewing distance, speaker placement, and acoustic considerations. Some calculators also take into account the type of audio configuration, such as 5.1 or 7.1 surround sound, or even immersive audio formats like Dolby Atmos.
2. Using the Calculator: Start by entering the desired screen size and aspect ratio. Next, input the viewing distance based on personal preference or screen size recommendations. Provide information on the speaker configuration, including the number of speakers, their placement, and whether you plan to incorporate surround sound or immersive audio formats. Finally, consider the acoustic treatment options and room layout. The calculator will generate recommended room dimensions based on the entered parameters.
Recommended Home Theatre Room Sizes
While there is no one-size-fits-all answer, we can provide you with general guidelines for different types of home theaters:
Small Room: A small room can accommodate a screen size of around 100 inches diagonally, with a viewing distance of 6-9 feet. For a 5.1 surround sound setup, the room dimensions should ideally be around 12 x 15 feet, allowing for comfortable seating and speaker placement.
Medium Room: In a medium-sized room, you can opt for a screen size of around 120 inches diagonally, with a viewing distance of 9-12 feet. The room dimensions for a medium-sized home theater should be approximately 15 x 20 feet, allowing for a 7.1 surround sound setup and ample seating.
Large Room: For a large room, you can go for a screen size of 150 inches diagonally or larger, with a viewing distance of 12-15 feet or more. The room dimensions should be around 20 x 25 feet or more, providing ample space for a Dolby Atmos setup, multiple rows of seating, and a truly immersive cinematic experience.
Additional Considerations About Home Theater Size
Room Layout and Design: This section will focus on room layout and design considerations, including the placement of speakers, screens, and other audio-visual equipment. We will discuss optimal furniture arrangement, lighting control, and aesthetic choices that enhance the overall cinematic experience.
Budget and Constraints: Building a home theater involves financial considerations and space limitations. We will provide practical tips and creative solutions to help you navigate these constraints while still achieving an impressive home theater setup.
Designing the perfect home theater involves careful consideration of the room size and dimensions. By understanding the impact of these factors on audio performance, visual immersion, and seating comfort, you can create a remarkable cinematic experience in your own home. Utilizing a home theater room size calculator can simplify the planning process and provide tailored recommendations. Remember to account for room acoustics, seating arrangements, and additional considerations to elevate your home theater to the next level. With the right room size and dimensions, you can immerse yourself in the magic of movies like never before.