When it comes to creating a home theater, customization plays a key role in designing a space that reflects your unique style and preferences. takes personalization to the next level, offering the opportunity to create a seating arrangement that perfectly fits your entertainment room and provides unparalleled comfort. Today, we talk about the advantages and considerations of custom curved home theater seating, showcasing how it can transform your home theater into a luxurious and tailored oasis.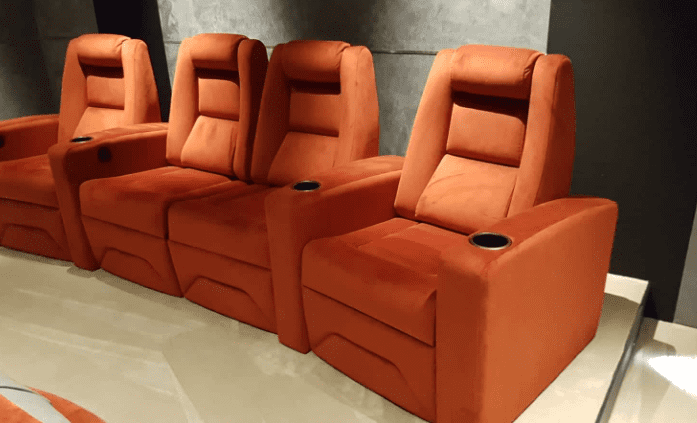 Advantages Of Custom Curved Home Theater Seating
Perfect Fit for Your Space
Every home theater is unique in terms of size, layout, and architectural elements. Custom curved seating allows you to maximize the use of your space by creating a seating arrangement that seamlessly integrates with the room's dimensions and contours. Whether you have an expansive dedicated theater room or a cozy corner transformed into an entertainment paradise, custom curved seating can be designed to fit your specific space, ensuring an optimal seating layout that is both visually appealing and functional.
Personalized Design Options
Custom curved home theater seating enables you to unleash your creativity when it comes to design option. From fabric choices to color schemes, you have the freedom to select materials that complement your décorand personal style. Additionally, you can choose from a wide array of finishes, like luxurious leather, cozy fabric upholstery, or even innovative materials that provide advanced features like stain resistance or easy maintenance. With custom curved seating, you have the opportunity to create a seating arrangement that perfectly aligns with your aesthetic vision.
Tailored Comfort and Ergonomics
Comfort is paramount in a home theater, and custom curved seating allows you to tailor the level of comfort to your exact specifications. You can choose the firmness of the seating cushions, the lumbar support options, and even consider additional features like motorized recliners or adjustable headrests, ensuring a personalized and luxurious seating experience. The ability to customize the ergonomics of curved seating guarantees that each seat provides optimal body alignment and support, allowing you and your guests to indulge in hours of cinematic bliss without any discomfort.
Advanced Technology Integration
In today's digital age, technology is an integral part of home theater setups. Custom curved seating can be designed to seamlessly integrate various advanced technologies. This includes options such as embedded speakers or subwoofers for a more immersive audio experience, integrated lighting systems that provide customizable ambient lighting, and even build in controls for easy adjustment of seating positions and overall room ambiance. By customizing your seating, you can create a technologically advanced home theater that caters to your entertainment preferences and enhances the overall cinematic immersion.
How To Choose Custom Curved Seating?
Custom curved home theater seating offers numerous benefits, it's important to consider a few factors before diving into the customization process:
Budget
Customization often comes with additional costs compared to pre-designed seating options, so establish your budget and work within those constraints.
Room Layout and Dimensions
Take accurate measurements of your entertainment room and consider any architectural features or space limitations that may impact the design of your seating arrangement.
Seating Capacity
Determine the number of seats you require and strike a balance between maximizing seating capacity and maintaining a spacious and comfortable viewing experience.
Professional Assistance
It is advisable to consult with professional designers or home theater experts who can guide you through the customization process, ensuring that your vision aligns with the practical aspects of a home theater setup.
Buy custom curved home theater seating from FOSHAN LINSEN SEATING FURNITURE CO.,LTD which offers a world of possibilities for creating a one-of-a-kind entertainment space. From perfectly fitting your room's dimensions to personalized design options, tailored comfort, and advanced technology integration, custom curved seating lets you curate an immersive, luxurious, and comfortable cinematic experience like no other. Embrace the uniqueness of your home theater and transform it into a haven that not only reflects your individuality but also elevates your entertainment to new heights. With custom curved seating, your home theater will truly become the epitome of luxury and personalized style.