Curved home theater seating LS-876 is specially developed for high-end home cinema which provides you an ultra VIP entertainment environment. It has wide middle console and hidden storage. The 2 elegant side arms make the theater recliner curved naturally.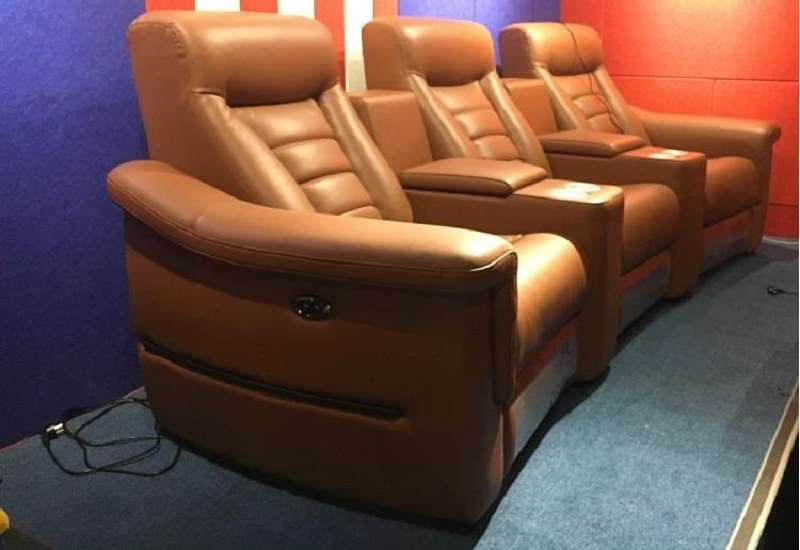 Brief Introduction
Color: Yellow, other color is optional
Upholstery: Top grain Bovine Leather
Weight: 57.5 KGS
Recline: Electric recline
USB Port: Yes
Tray Table: Optional
Cooling Cup Holder: Optional
Massage Function: Optional
Storage: Yes
Curved Home Theater Seating LS-876 – With console & Storage
The upholstery of home theater sofa LS-876 is top-grain bovine leather. It is equipped with luxurious metal switches with blue ambient light to control the electric recliner stretching out and come back.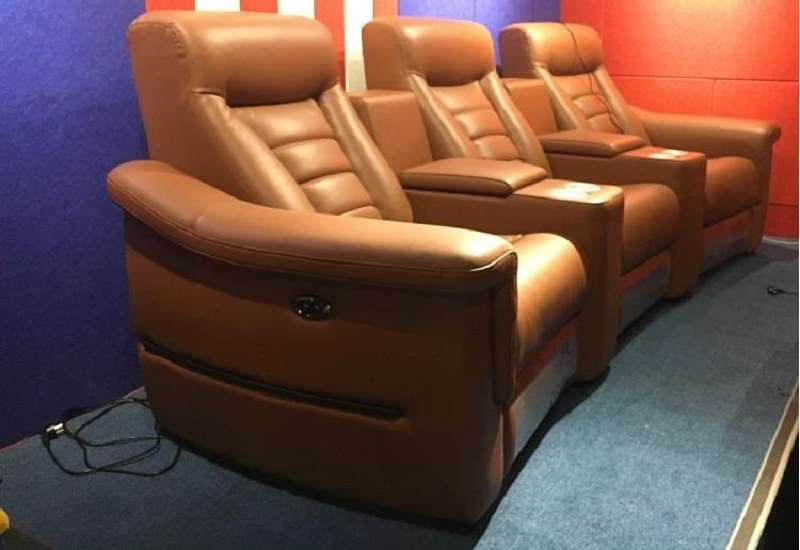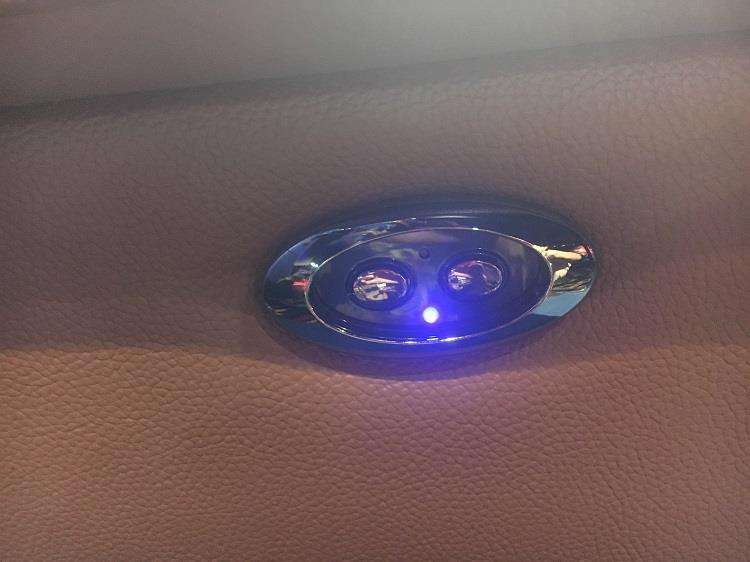 From pictures below we can see the storage for this power theater recliner is very big. You can put your books, remote controller and other stuff in it. This makes your life more convenient and your home space cleaner.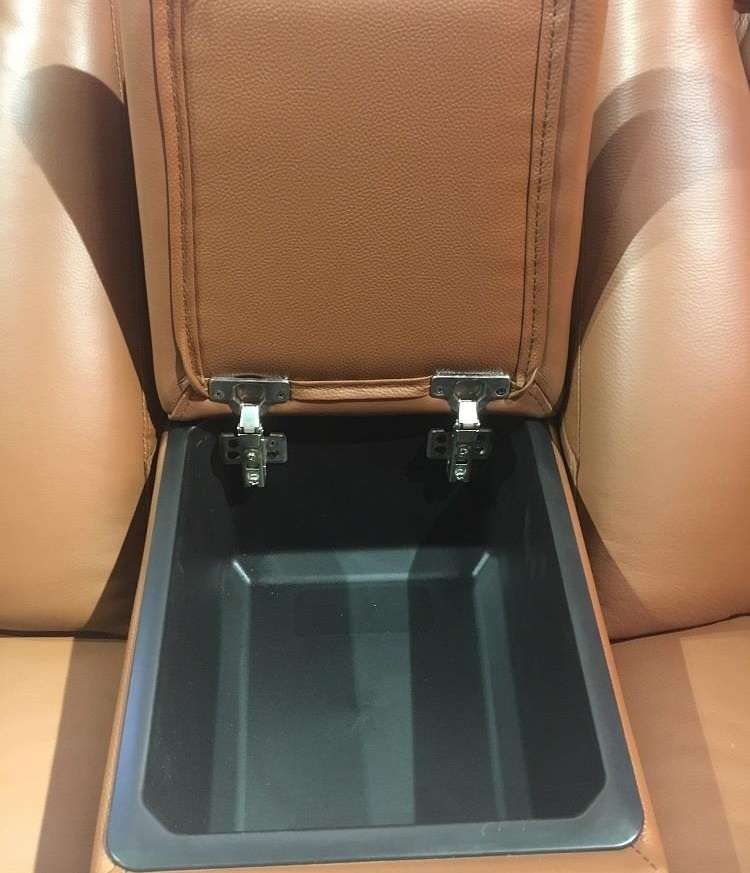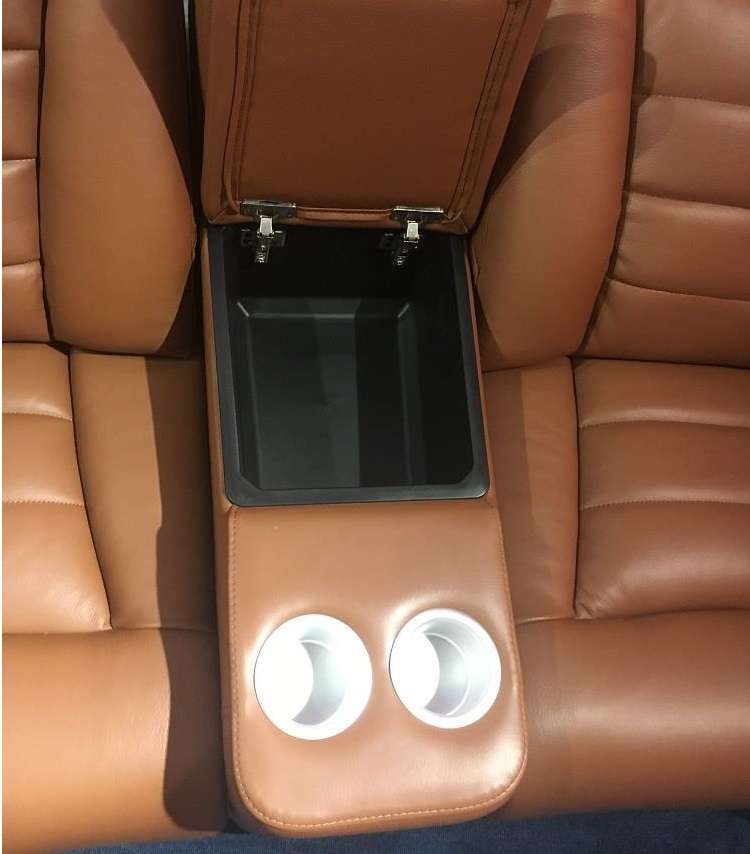 More Details Of Movie Theater Recliners LS-876
Home movie chairs LS-876 is not only made of selected good quality raw material but also with very good workmanship. Each line is stitched nicely. The thread will be cut off and cleaning will be done before packing. We make sure everything you are worried won't happen and so that you will receive an exquisite chair you want.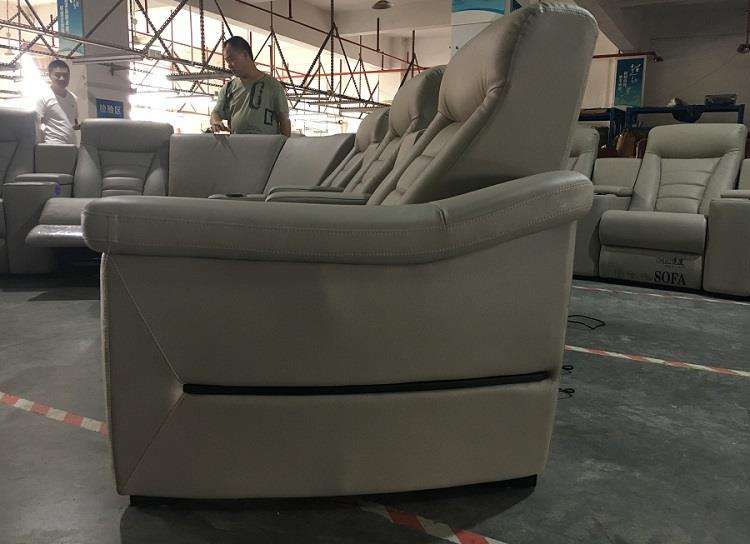 Colorful Upholstery on Curved home theater seating LS-876
We have many colors for options. Any color is available here in our factory. Here we have 3 colors for references, orange and grey and white color.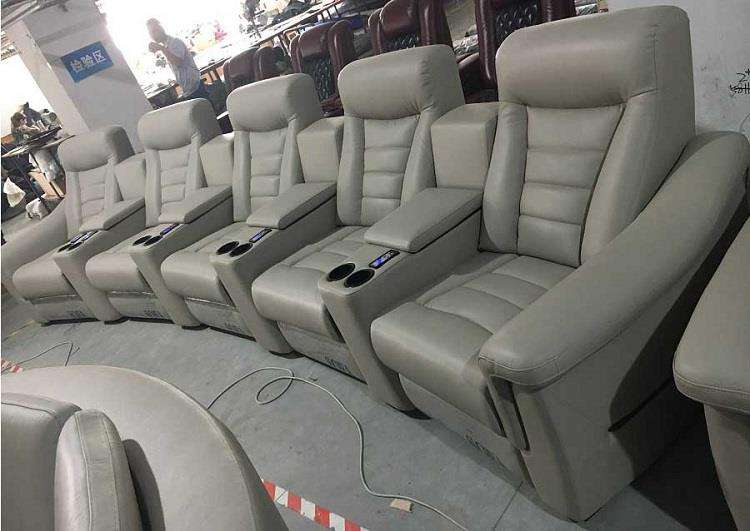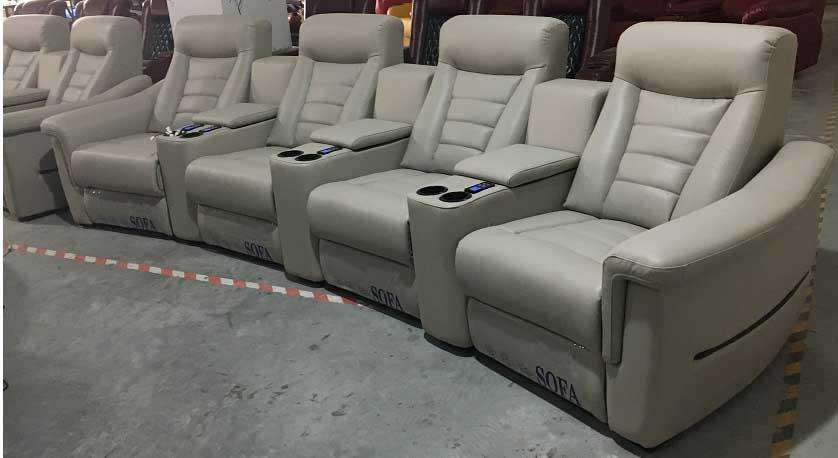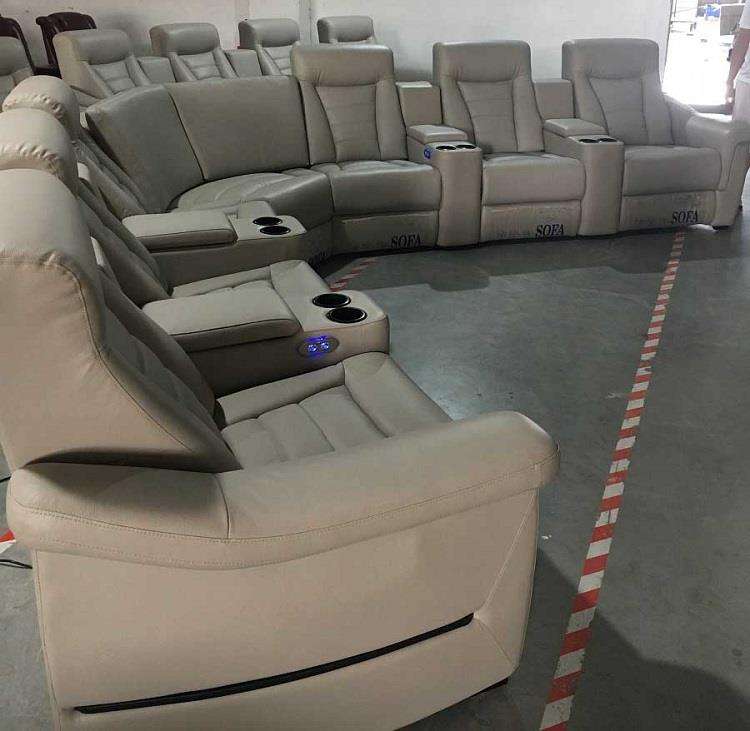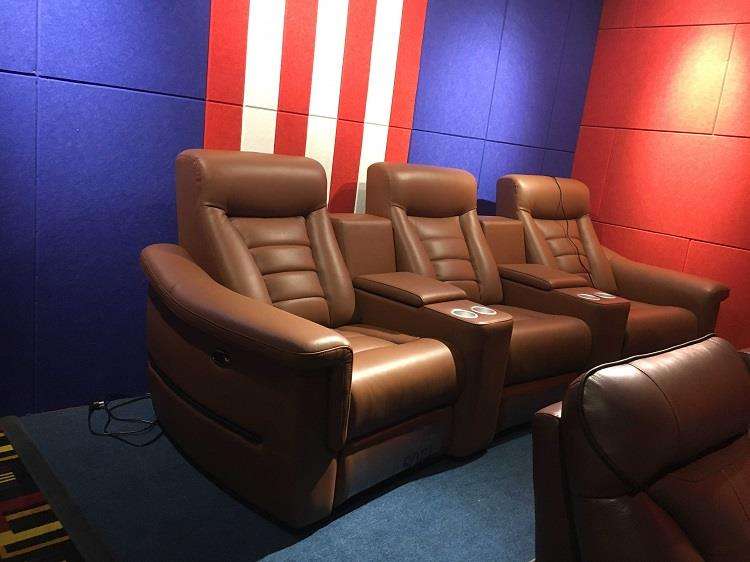 Why do you need curved home theater seating at home
1. Curverd home theater chairs looks extraordinary
It is new and extradinary compared to straight theater seating. Straight movie theater chairs is traditional. Curved theater chairs give us a totally different feeling.
2. Curved row of home theater recliner offers better viewing angles
The best view is always in the middle of a home theater seating row. So for straight row, the 2 end sides won't have so good view from the screen. While if you make it a curved home theater seating, it makes the end chairs closer to the middle of the screen and a better view. Meanwhile it also keeps enough personal space with the middle console arm.
3. Movie theater seating in cueved row makes you more intimate with your families and friends.
Thinking about a straight row of 5 or 6 seater, the first one is very difficult to communicate with the fifth or sixth one. 5 seat curved theater seating or 6 seat curved theater seating will bring all peopel more intimate, easier to interact with people around.
Configuration of Curved home theater seating
Generally 3 seat curved theater seating or more than 3 chairs in a row will be able to be in curved configurations. But of course, 2 seater can also be in curved. Here are some combination examples.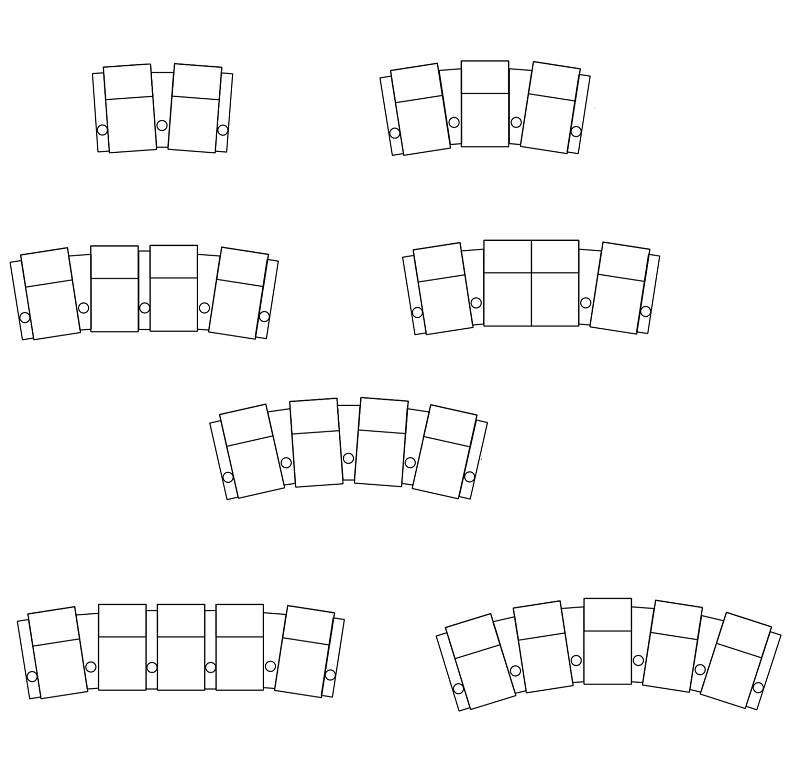 Our Service
Quality control: High quality and professional QC staff, strict quality control in each process.
Shipping marks:customer's LOGO are welcome for shipping marks
Sample can be provided.
Provide good service after sale and make sure you buy our products without worries in the future.
Direct manufacturer: Linsen Seating Furniture goes the extra mile to package, protect and delivery your purchase in a timely manner.
Send Us Inquiry