Transformed by Linsen Seating's marvelous LS-876 3-seat curved cinema sofa, your usual media room awakens your senses with plush indulgence. Crafted with the finest top-grain leather for ultra comforts and enduring quality, each gently curved theater seat promises a private screening like no other. Return night after night to savor every enjoyable moments in the comfortable curved theater seating LS-876 that is created just for you.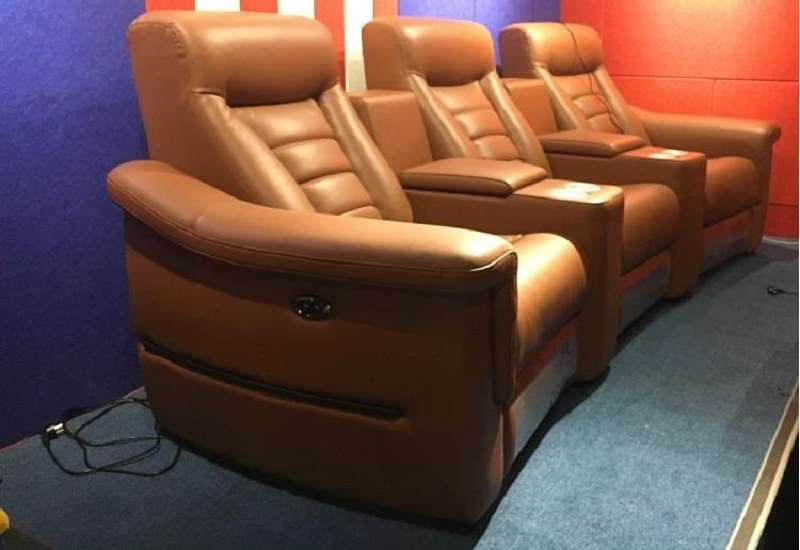 Brief Introduction
Color: Yellow, other color is optional
Upholstery: Top grain Bovine Leather
Weight: 57.5 KGS
Recline: Electric recline
USB Port: Yes
Tray Table: Optional
Cooling Cup Holder: Optional
Massage Function: Optional
Storage: Yes
Details Of 3-Seat Curved Theater Seating LS-876
LS-876 home theater recliner boasts a captivating curved design that not only enhances the aesthetics of your home theater but also provides a natural and ergonomic seating arrangement. The curvature of the home theater seats is expertly crafted to maximize your viewing angles, ensuring an immersive cinematic experience for you and your guests.
Luxurious Middle Console with Hidden Storage: One of the most distinct feature of LS-876 is its wide middle console, which serves multiple purposes. Not only does it offer a convenient surface for placing beverages and snacks, but it also offers more comoforts for arms. It is very arm-friendly design by reducing the strain on the arms and provides a comfortable and relaxed seating position. Another main advantage of curved theater seating LS-876 is its storage capabilities. It provides ample space to store various items, keeping your theater room organized and clutter-free. You can easily store books, magazines, remote controls, and other essentials.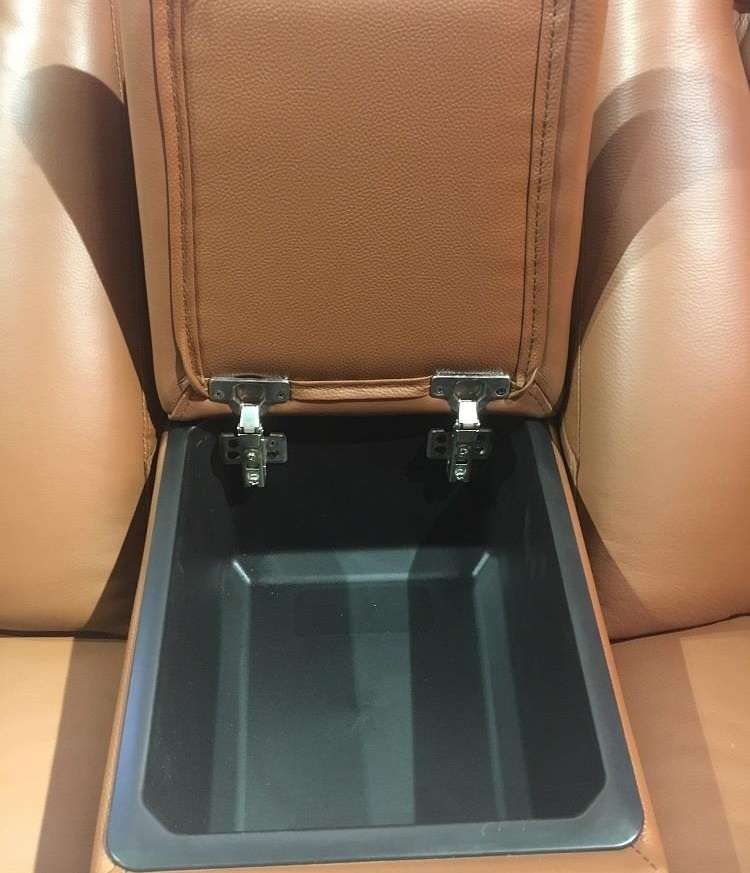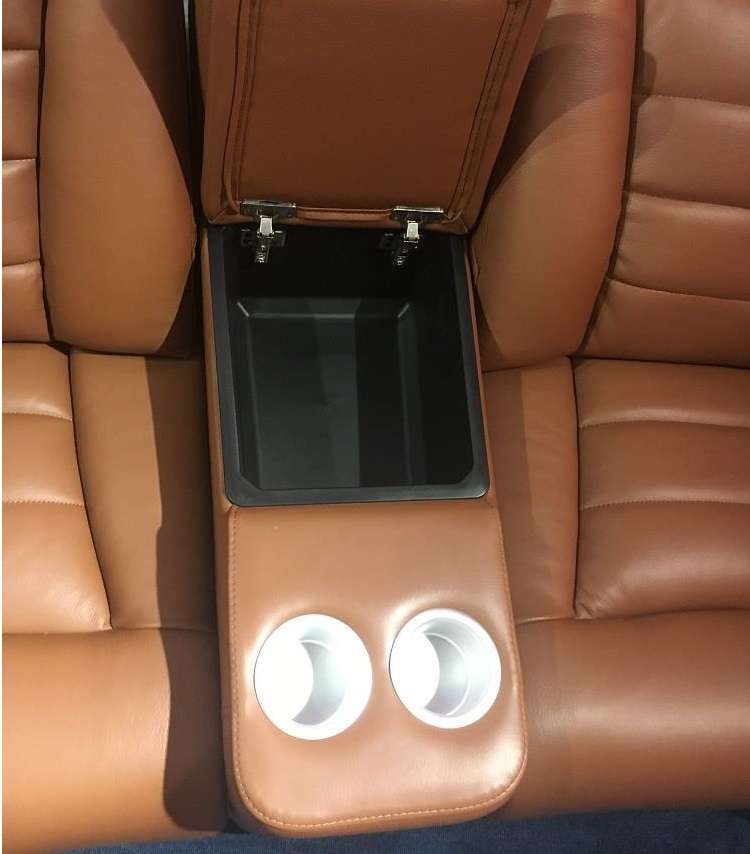 Top-Grain Bovine Leather Upholstery: Experience true opulence with LS-876's upholstery, crafted from top-grain bovine leather. This premium material exudes elegance and offers a luxurious tactile experience, elevating your comfort to unprecedented levels. The buttery softness and durability of the leather ensure that your seating investment stands the test of time.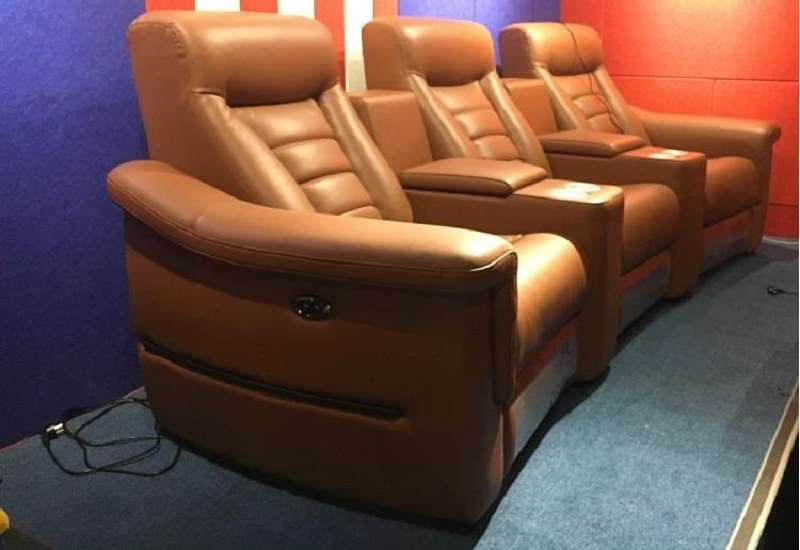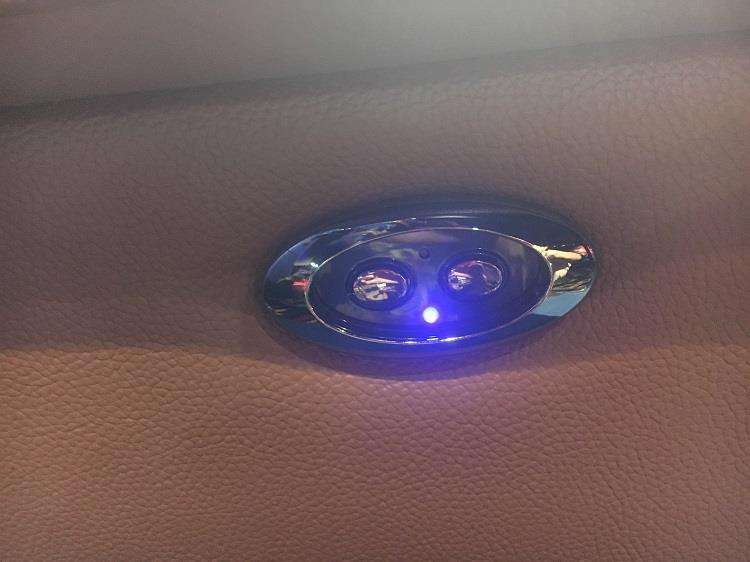 Innovative Electric Reclining Mechanism: Control your seating position effortlessly with the integrated electric reclining mechanism. Luxurious metal switches adorned with soothing blue ambient lights allow you to extend and retract the recliner with precision. This feature enables you to find your perfect angle of relaxation, ensuring comfort during extended movie marathons.
Impeccable Craftsmanship: Each detail of LS-876 curved theater recliners is meticulously attended to, from the stitching of the upholstery to the finishing touches. The craftsmanship shines through in every aspect of the design, ensuring that you receive a flawless and visually appealing piece of furniture. Before packaging, every thread is carefully trimmed and inspected to guarantee a polished and refined end product.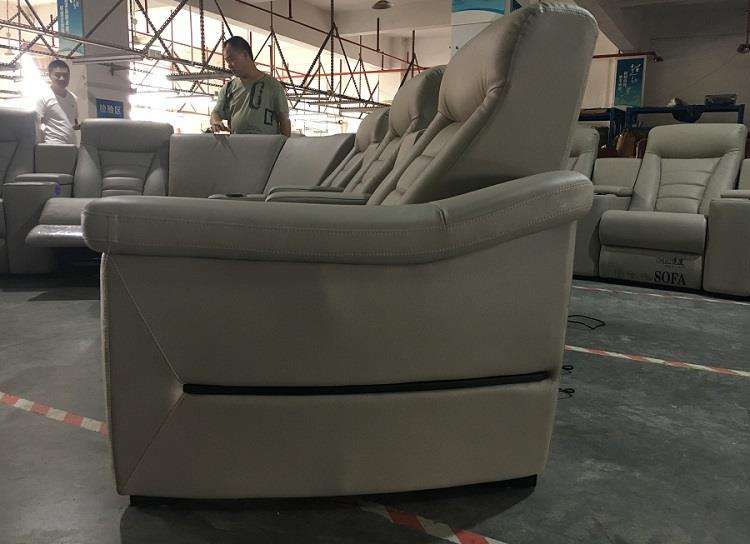 Customizable Upholstery Colors: Personalize your curved home theater sofa to match your unique style preferences. Choose from a range of upholstery color options available in our home theater recliners factory. Whether you're drawn to the bold energy of orange, the sophisticated allure of grey, or the timeless elegance of white, you can find the perfect color to complement your home's interior.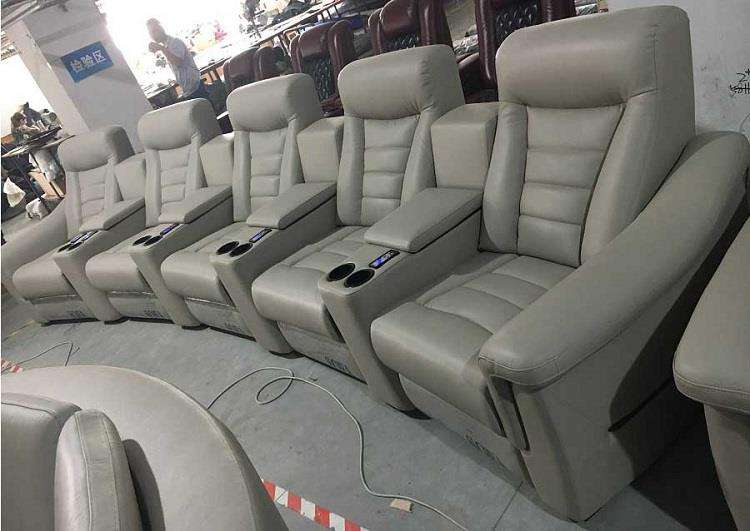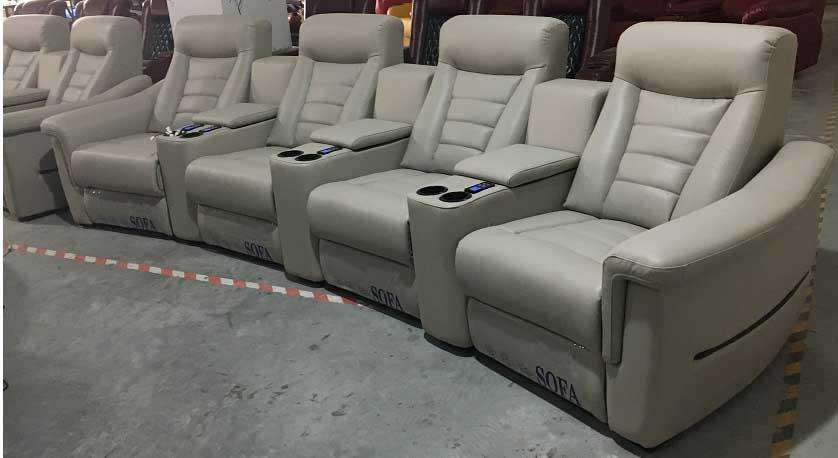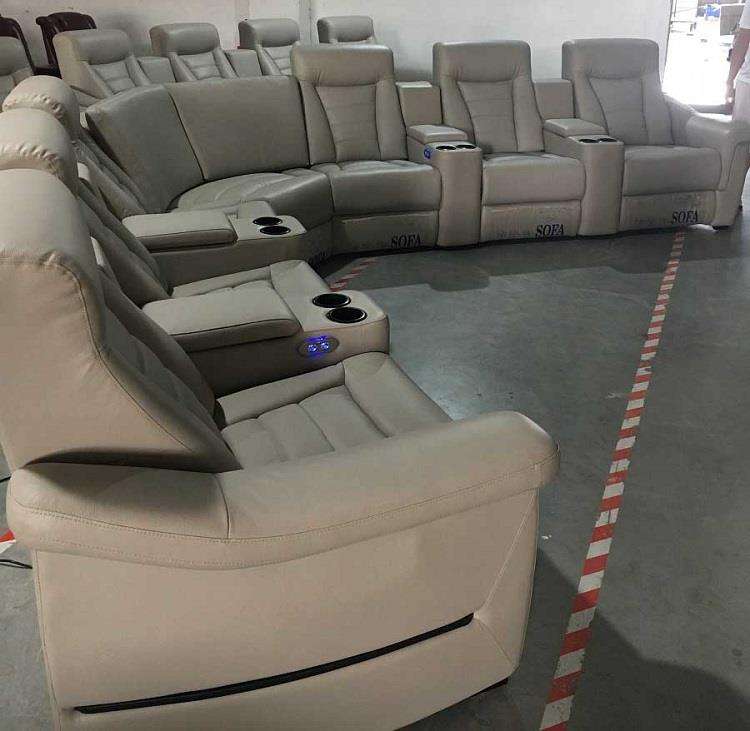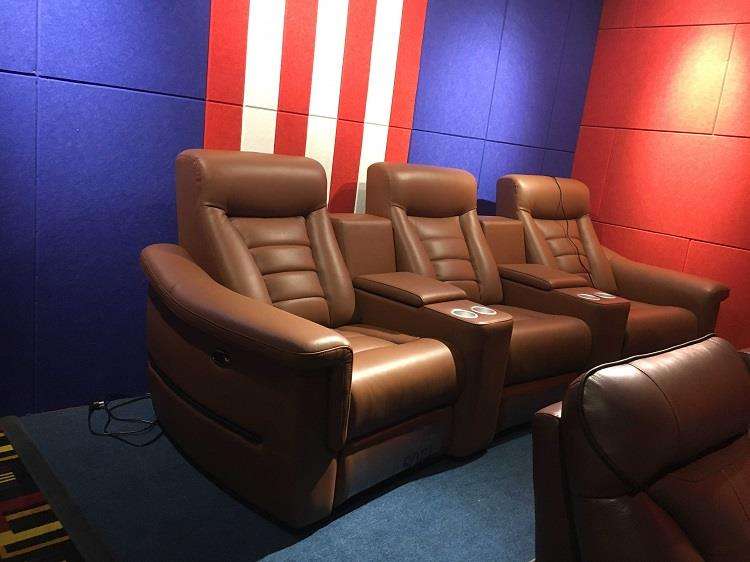 Curved Home Theater Seating Configurations
The LS-876 is designed to accommodate various seating configurations. Whether you're envisioning a curved row of three seats or more, or even a more intimate setup with a 2-seater arrangement, the versatility of the LS-876 ensures that your home theater space can be optimized for comfort and visual appeal. Here are some combination examples.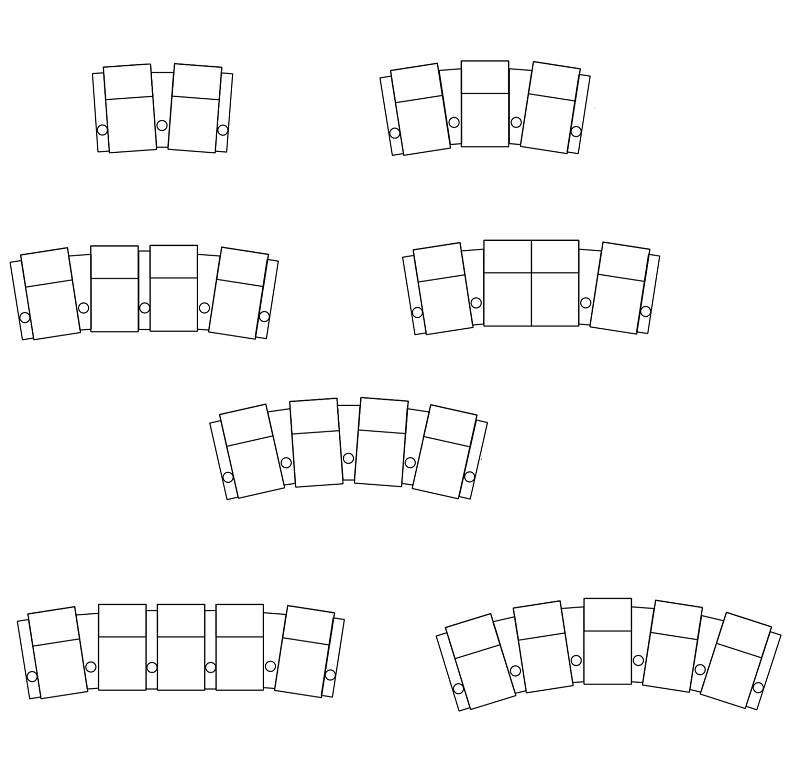 Advantages Of Having a Console Wedged Arms For Your Curved Home Theater Seating
Hidden Storage: Consoles provide discreet cabinets and drawers to neatly store remotes, devices, and clutter.
Surface Space: The flat surface serves as a welcome resting place for beverages, snacks, feet and other items.
Accessibility: By situating it in front of the seats, all necessities remain easily within arm's reach.
Visual Anchor: It gives the curved seating arrangement a grounded base that looks professionally installed.
Aesthetic Enhancement: Complementary wood, leather, or stone finishes enrich the entire theater setup.
Wire Management: Cavities allow organizational routing and coiling of cords out of sight.
Integrated Tech: Some consoles house integrated amplifiers, subwoofers, and other audio components.
Safety Feature: Low-profile designs prevent accidental bumps or spills that could damage electronics.
Durable Construction: Sturdy wood, steel, and stone materials promise longevity for valuable home goods.
Modular Designs: Offer flexible sizing and placement suitable for any curved seating configuration.
Positioning a well-designed console completes the high-end residential theater experience. Multiple conveniences encourage relaxed viewing pleasure.
Who Will Benefit From Our 3-Seat Curved Theater Seating?
The curved configuration satisfies cinema lovers across many demographics seeking an upgraded experience. There are several types of people who would greatly benefit from choosing a 3-seat curved home theater seating setup:
Movie buffs: Those who enjoy frequent movie nights with friends and family will love the luxury theater feel.
Families: The welcoming arc seats parents and two kids comfortably to bond over films and shows together.
Entertainment Couples: Snuggling up side by side with a partner enhances the shared viewing experience.
Tech Enthusiasts: The latest curved screens synergize perfectly with an enveloping seating solution.
Content Creators: Live streamers and YouTubers gain an instantly recognizable backdrop for productions.
Gamers: Stay engrossed for hours thanks to ergonomic chairs tailored for immersive gameplay.
Design Lovers: Contemporary arcs exude sleek finesse and amplify a room's aesthetic impact.
Wellness Seekers: Reclining theater seats soothe tension and encourage mental relaxation.
Hosting Enthusiasts: Provide the best place for guests to focus on their choice of entertainment.
Cinephiles: Completely indulge in your movie passion surrounded by premium comfort.
Why Choose Linsen Seating To Buy Curved Home Theater Seating?
At Linsen Seating, our commitment is to provide exceptional service and ingrain in every facet of our operations. We believe that delivering a seamless and worry-free experience is just as crucial as crafting impeccable furniture. Discover the unparalleled service you can expect when you choose Linsen Seating:
Uncompromising Quality Control
Our dedicated and experienced Quality Control (QC) team is at the heart of our commitment to excellence. With rigorous checks at every stage of the manufacturing process, we ensure that each piece of furniture meets the highest standards of craftsmanship and durability. Your satisfaction and long-term enjoyment are our utmost priorities.
Personalized Shipping Marks
We understand the significance of branding. That's why we extend the opportunity for you to incorporate your own logo onto the shipping marks of our products. Your brand identity is respected and promoted, making your purchases even more tailored to your unique business or personal needs.
Sample Provision
We believe in allowing you to experience the quality and comfort of our products firsthand. Our sample provision service enables you to touch, feel, and assess the excellence of our furniture before making a larger commitment. This process empowers you to make well-informed decisions that align with your vision.
Comprehensive After-Sales Support
Our service doesn't end with a purchase; it's a commitment to your long-term satisfaction. Linsen Seating's dedicated after-sales support team is here to address any inquiries, concerns, or assistance you might require. Your peace of mind is paramount, and we're here to ensure that you continue to enjoy our products without worries.
Direct Manufacturer Advantage
As a direct manufacturer, we take pride in the control we have over every aspect of your purchase. From crafting the furniture to packaging it securely, we oversee the entire process to guarantee the highest level of care and quality. Our meticulous attention ensures that your purchase arrives in pristine condition and in a timely manner, surpassing your expectations.
Send Us Inquiry
---
Other Similar Home Theater Seats For Sale