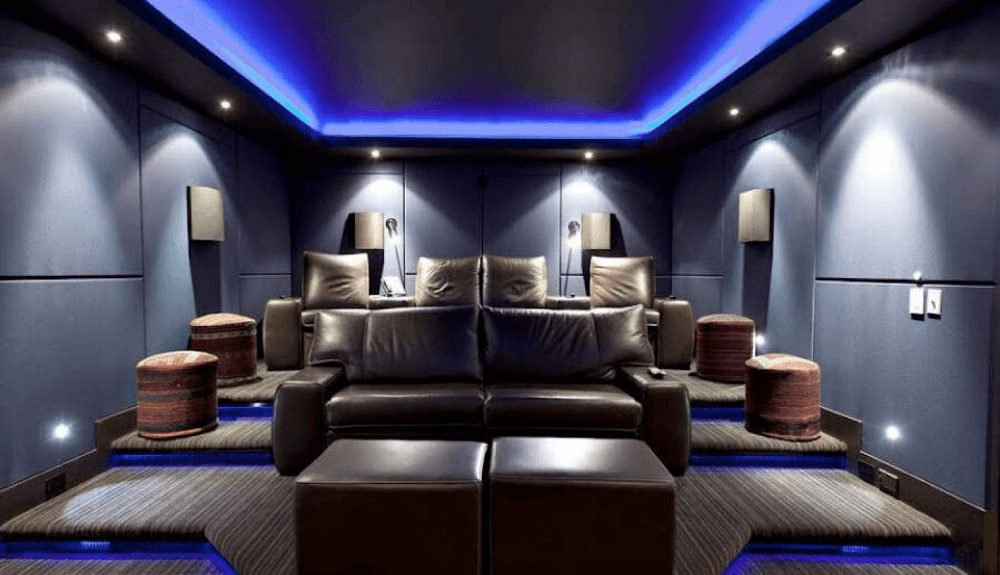 In today's fast-paced world, where entertainment options abound, there is something truly magical about having a personal haven dedicated to the immersive experience of a home theater. While large-scale home theaters are often the first to capture our attention, the charm and intimacy of a small home theater setup should not be underestimated. The beauty lies in its ability to transform even the coziest of spaces into a captivating cinematic retreat.
Creating the perfect small home theater requires careful consideration of various elements, with seating being a key aspect that can greatly enhance the overall experience. The right seating not only ensures optimal comfort during those marathon movie nights but also adds a touch of style and functionality to the space.
We will explore a curated collection of the best small home theater seating ideas, designed to inspire and help you craft your very own cinematic oasis. From space-saving recliners and versatile modular sofas to chic loveseats and ingenious floor seating options, we will delve into a range of seating choices that maximize comfort without compromising on style.
Factors to Consider When Choosing Small Home Theater Seating
When choosing seating for a small home theater, there are several factors to consider. Here are some important points to keep in mind:
1. Available space: Measure the dimensions of your home theater room to determine how much space you have for seating. Consider the length, width, and height of the room, as well as any obstructions or features like columns or windows that might affect seating placement.
2. Seating capacity: Determine the number of seats you want to accommodate based on your needs and the size of your household. Consider whether you prefer individual seats or a combination of seating options like recliners, sofas, or loveseats.
3. Comfort and ergonomics: Look for seating options that provide optimal comfort and support for extended periods of sitting. Consider features like cushioning, lumbar support, headrests, and armrests. Ergonomic designs can enhance the overall viewing experience.
4. Seat arrangement: Decide on the seating arrangement that suits your preferences. Options include single seats in rows, curved seating configurations, or even a combination of seating types. Take into account factors like sightlines, proximity to the screen, and ease of movement within the space.
5. Material and aesthetics: Consider the materials and design of the seating to ensure they match the overall theme and decor of your home theater. Look for durable materials that are easy to clean and maintain. Additionally, consider factors like color, style, and any additional features such as cup holders or built-in storage.
6. Acoustic considerations: Keep in mind the impact of seating on the acoustics of your home theater. Some seating options may absorb sound, while others may reflect or disrupt it. Consult with an acoustic specialist or research materials and designs that minimize any negative impact on audio quality.
7. Budget: Determine your budget for seating and search for options within that range. Prices can vary significantly depending on the quality, brand, features, and materials of the seating. It's essential to strike a balance between your budget and your desired comfort and quality.
8. Flexibility and adaptability: Consider whether you need seating options that can be easily reconfigured or moved. This flexibility can be useful for accommodating different viewing arrangements or for multipurpose rooms where the seating needs may change over time.
By considering these factors, you can choose the seating that best fits your small home theater space while providing comfort, functionality, and an enjoyable viewing experience.
Best Small Home Theater Seating Ideas in 2023
When it comes to designing seating for a small home theater, you want to prioritize comfort, space efficiency, and optimal viewing angles. Here are some seating ideas that work well in small home theater setups:
Reclining Chairs and Loveseats
Home Theater Reclining chairs and loveseats offer individual seating with built-in footrests and adjustable reclining positions.
Opt for models with wall-hugger designs that can be placed closer to the wall, maximizing floor space.
Look for loveseats with a center console for added functionality and storage.
Sectional Sofas
Sectional sofas provide versatile seating options that can accommodate multiple people.
Choose compact, modular designs that can be easily rearranged to fit your space and preferences.
Look for models with built-in recliners or chaise lounges to add extra comfort.
Home Theater Seating Sets
Home theater seating sets are specifically designed for cinematic experiences, featuring multiple recliners with shared armrests.
Look for compact models that offer space-saving designs without compromising on comfort.
Consider sets with additional features like LED lighting, USB charging ports, or built-in sound systems.
Bean Bags and Floor Cushions
Bean bags and floor cushions are a casual and flexible seating option for smaller home theaters.
They can be easily moved and stored, providing additional seating when needed.
Look for high-quality bean bags with supportive filling and removable, washable covers.
Wall-Mounted Foldable Seats
Wall-mounted foldable seats are an excellent space-saving option for smaller home theaters.
These seats can be folded up against the wall when not in use, maximizing floor space.
Look for models with cushioned seats and backrests for added comfort.
Stadium-Style Seating
Stadium-style seating is a popular choice for small home theaters, as it maximizes seating capacity in a compact space.
This type of seating typically consists of multiple rows of elevated platforms or risers with individual seats.
Look for modular stadium-style seating options that allow you to customize the number of rows and seats based on your available space and seating needs.
Wall-Hugging Recliners
Wall-hugging recliners are specifically designed to maximize space in smaller home theaters.
These recliners have a mechanism that allows them to glide forward as they recline, requiring less clearance between the chair and the wall.
Look for models with a smooth reclining action and adjustable positions to find your preferred level of comfort.
Designing a small home theater requires thoughtful consideration of various factors to ensure both comfort and functionality. By carefully measuring your available space, considering seating capacity, prioritizing comfort, and selecting seating options that match your style, you can create a cozy cinematic experience even in a compact setting. From reclining chairs and loveseats to sectional sofas and versatile seating sets, there are numerous options to suit your needs and maximize your small home theater's potential. With the right seating ideas, you can transform your space into a personal haven for enjoying movies, TV shows, and sports events with friends and family.