Home theater seating refers to specialized seating furniture designed specifically for creating a comfortable and immersive movie-watching experience at home. These are often designed with features like reclining mechanisms, built-in cup holders, and ergonomic design to provide maximum comfort and convenience to viewers. Home theater seating typically comes in various configurations, such as single seats, theater loveseats, sofas, or even dedicated theater-style seating rows with multiple seats connected together. These seats are often padded and upholstered with high-quality materials to enhance the overall aesthetic appeal of the home theater setup. Today, we bring you the top 10 best home theater seating for 2023!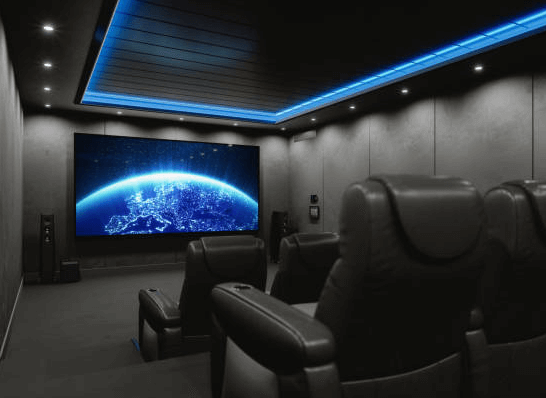 Top 10 Best Home Theater Seating 2023 – Cinema Seating Purchasing Guide
People need home theater seating to enhance their movie-watching experience by providing optimal comfort and creating a dedicated and immersive environment. Home theater seating offers features like reclining mechanisms, plush padding, adjustable headrests, and built-in accessories that allow individuals to relax and enjoy movies, TV shows, or gaming sessions for extended periods. It provides proper support for the body, reduces strain and fatigue, and creates a designated space that replicates the ambiance of a movie theater in the comfort of one's home. If you are looking for the best home cinema seat in 2023, watch our top 10 theater seating ranking!
1. Foshan Linsen Seating: Known for its luxurious and custom home theater chair options, crafted with premium materials and tailored to individual preferences.
2. Octane Seating: Known for its high-quality materials, ergonomic designs, and extensive range of features like power recline, USB ports, and accessory docks.
3. Seatcraft: Offers a wide selection of seating options with features like power recline, adjustable headrests, built-in USB charging, and hidden storage compartments.
4. Palliser Furniture: Renowned for its craftsmanship and customizable options, allowing for personalized configurations, materials, and finishes.
5. HT Design: Specializes in creating home theater seating with a focus on comfort, innovative designs, and attention to detail.
6. Valencia Theater Seating: Offers a combination of comfort, style, and affordability, with features like motorized recline, LED cup holders, and ambient lighting.
7. Coaster Home Furnishings: Provides a diverse range of affordable seating options with features like reclining mechanisms, cup holders, and storage compartments.
8. Lane Furniture: Offers a variety of comfortable and stylish home theater seating choices with options like power recline, tray tables, and LED lighting.
9. Southern Motion: Known for its high-quality materials, advanced reclining mechanisms, and customizable options to accommodate individual preferences.
10. Berkline: Recognized for their durable construction, comfortable seating options, and features like power recline, storage compartments, and USB ports.
How To Choose Your Home Theater Seating?
When choosing home theater seating, consider the following factors to ensure a comfortable and immersive movie-watching experience:
Space and Room Layout: Measure the available space in your home theater room and consider the room layout. Determine the number of seats that can fit comfortably without overcrowding the space.
Seating Configuration: Decide on the seating configuration based on your preferences and the available space. Options range from individual seats to loveseats, sofas, or dedicated theater-style seating rows.
Comfort and Ergonomics: Look for seating options that prioritize comfort and ergonomics. Consider features like plush padding, adjustable headrests, lumbar support, and reclining mechanisms to allow for personalized comfort.
Material and Upholstery: Choose seating materials that are durable, easy to clean, and visually appealing. Popular options include leather, faux leather, microfiber, or fabric upholstery. Consider factors like aesthetics, maintenance, and personal preference when making a choice.
Reclining Mechanism: Reclining seats enhance comfort and allow you to find the perfect viewing angle. Decide whether you prefer manual recline, power recline, or a combination of both.
Additional Features: Consider features like built-in cup holders, tray tables, USB charging ports, hidden storage compartments, LED lighting, or cooling mechanisms for added convenience and functionality.
Durability and Quality: Look for seating options from reputable brands known for their quality and craftsmanship. Read reviews and consider warranties to gauge the durability and reliability of the seating.
Aesthetic Appeal: Choose seating that complements the overall design and style of your home theater room. Consider color schemes, design elements, and the desired ambiance.
Budget: Determine your budget and explore seating options that align with it. Keep in mind that higher-quality materials, advanced features, and customization options may come at a higher cost.
Test and Research: Whenever possible, try out different seating options in person to assess comfort and functionality. Research online reviews and gather recommendations from trusted sources to make an informed decision.