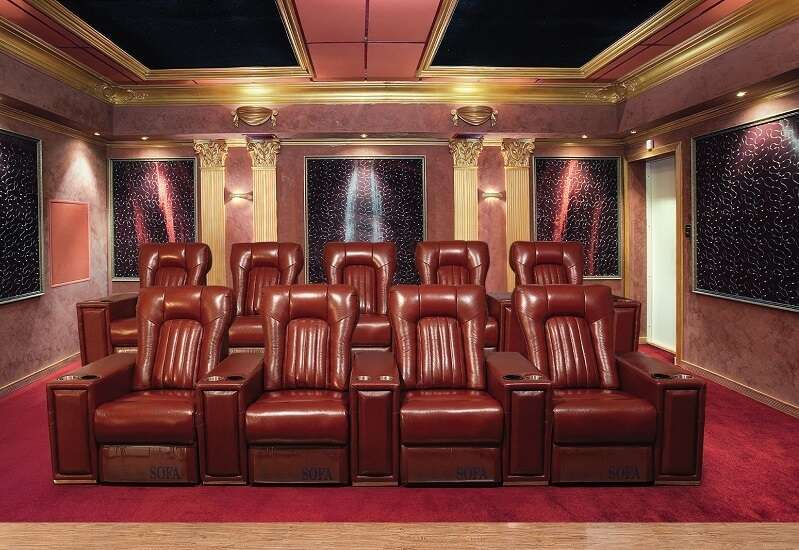 Lights dimmed, surround sound engaged, and your favorite movie about to begin—there's no denying the magic of a home theater. But what truly sets apart an ordinary movie night from an extraordinary cinematic experience? It's the comfort and luxury of the perfect sofa. Imagine sinking into plush cushions, feeling the smoothness of premium upholstery, and reclining just enough to find the ideal viewing angle. Now we unveil the secret to transforming your home theater into a haven of relaxation and entertainment. Join us to discover the best sofas designed to make your movie nights enjoyable. Get ready to sit back, unwind, and immerse yourself in the intoxicating home cinema seating!
Main Features A Home Theater Should Have
Before delving into the world of sofas, let's take a moment to understand the key elements of a home theater:
Comfort – A home theater is a space where you can unwind and enjoy your favorite entertainment content. Comfortable seating is paramount for long hours of sitting.
Immersion – A well-designed home theater creates an immersive environment that transports you into the on-screen action. The sofa you choose should support this immersive experience.
Viewing angles – Optimal viewing angles are crucial to avoid straining your neck or eyes. Consider the layout of your home theater and the sofa's placement to ensure everyone has a clear view.
Acoustics – Sound quality is essential for a true cinematic experience. The sofa's design should not obstruct sound waves or interfere with the audio system's performance.
How To Choose The Perfect Sofa for Your Home Theater?
Choosing the perfect sofa for your home theater involves considering several factors that will enhance your comfort and overall viewing experience. Here are some key points to consider when selecting a sofa for your home theater:
1. Size and Space: Measure the available space in your home theater room to determine the size of the sofa that will fit comfortably. Consider the dimensions of the room, the distance from the screen, and any other furniture or equipment you plan to include.
2. Seating Capacity: Determine how many people you want your sofa to accommodate. Home theater sofas come in various sizes, including single, double, or multi-seaters. Consider your family size, frequent guests, and the overall capacity you desire.
3. Reclining Features: Look for sofas with built-in reclining features. These allow you to adjust the seating position to your liking, ensuring optimal comfort during movie sessions. Some reclining sofas even offer powered reclining mechanisms or additional features like adjustable headrests and footrests.
4. Material and Upholstery: Choose a sofa made from durable materials that are easy to clean and maintain. Leather and faux leather are popular choices due to their durability and sleek appearance. However, fabric sofas can also be comfortable and come in a wide range of designs. Consider your personal preferences and the overall aesthetic of your home theater.
5. Comfort and Support: Test the comfort and support of the sofa before making a purchase. Sit on it and check if the cushions are adequately padded, the seat depth suits your preferences, and the backrest provides sufficient support. Opt for high-quality foam or padding that retains its shape over time.
6. Cup Holders and Storage: Home theater sofas often come with convenient features like built-in cup holders and storage compartments. These can be useful for keeping drinks, snacks, and remote controls within easy reach, enhancing your overall viewing experience.
7. Aesthetics and Design: Consider the overall style and design of your home theater when selecting a sofa. Choose a sofa that complements the room's decor and theme. Some home theater sofas even offer customizable options, allowing you to select colors, finishes, and designs that suit your taste.
8. Budget: Determine your budget range and look for options within that range. Consider the long-term investment value and durability of the sofa, as well as any warranties or guarantees provided by the manufacturer.
9. Reviews and Recommendations: Read customer reviews and seek recommendations from friends or family members who have purchased home theater sofas. Their experiences and insights can provide valuable information to help you make an informed decision.
By considering these factors, you'll be able to choose a sofa that not only enhances your home theater's visual appeal but also provides maximum comfort and enjoyment during your movie-watching experiences.
Top Sofa Options for Home Theaters
Now, let's get some of the best sofa options available on the market that perfectly combine comfort, functionality, and style:
1. Reclining Sectional Sofa: A reclining sectional sofa is a popular choice for home theaters. It offers multiple reclining seats, allowing each viewer to adjust their position for maximum comfort. Look for models with built-in cup holders, USB ports, and storage compartments for added convenience.
2. Home Theater Seating: Home theater seating is specifically designed for cinematic experiences. These sofas typically have plush cushioning, built-in recliners, and armrests with storage options. They often come in rows with optional accessories like tray tables and LED lighting for an authentic theater experience.
3. Modular Sofas: Modular sofas provide versatility, allowing you to customize the configuration to fit your space. You can arrange the modules in different ways, such as adding a chaise lounge or recliners. Look for options with adjustable headrests and cushioning designed for long hours of sitting.
4. Sleeper Sofas: If your home theater room also serves as a guest room, a sleeper sofa can be a practical choice. These sofas provide a comfortable seating option during movie nights and can easily transform into a bed for overnight guests.
5. Power Reclining Sofas: Power reclining sofas offer a luxurious experience with motorized reclining mechanisms. With the push of a button, you can adjust the reclining angle, footrest, and headrest positions to find the perfect viewing position. Some models even have integrated massage and heating features.
Remember to consider the dimensions of your home theater room and the number of people you want to accommodate when choosing the size and configuration of your sofa. Additionally, test the comfort and quality of the sofa before purchasing to ensure it meets your expectations.
Finding the Right Balance: Comfort, Style, and Budget
While it's important to prioritize comfort and functionality when choosing a sofa for your home theater, aesthetics and budget should also be considered. Here are a few tips to strike the right balance:
1. Test Before You Buy: Visit furniture stores and try out different sofas to gauge their comfort level. Pay attention to the quality of construction and materials.
2. Research Online: Read customer reviews and ratings of sofas you're considering. Look for feedback on comfort, durability, and overall satisfaction.
3. Consult with Professionals: Seek advice from interior designers or home theater specialists who can guide you in selecting the best sofa options for your specific requirements.
4. Consider Customization: Some furniture manufacturers offer customization options, allowing you to choose the upholstery, color, and additional features according to your preferences. Customization may come at an additional cost but ensures your sofa perfectly fits your needs.
5. Set a Budget: Determine your budget early on to narrow down your options. Remember, investing in a high-quality sofa is a long-term investment, as it will provide comfort and enjoyment for years to come.
Choosing the best sofa for your home theater is a vital step in creating the ultimate entertainment space. By considering factors like comfort, design, functionality, and budget, you can find the perfect sofa that complements your home theater experience. Whether you opt for a sectional sofa, home theater seating, reclining sofa, loveseat, or sleeper sofa, prioritize your preferences and requirements to ensure a comfortable and immersive movie-watching journey. Happy sofa shopping!