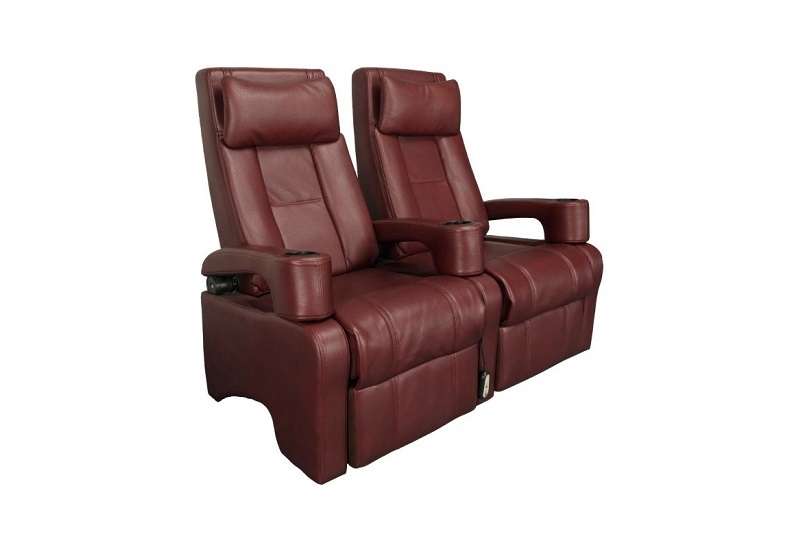 Brief Introduction
Color: Brown, other color is optional
Upholstery: Mirco fiber leather
Weight: 49 KGS
Recline: Electric recline
USB Port: Yes
Tray Table: No
Cup Holder: Black plastic cup holder
With Pillar: Yes
Brown Movie theater reclining seats with lifting arms
LS-820 is a movie theater reclining seats for sale which also keeps the feature of lifting cup holder integrated together with the armrests but also with the characteristic of the recliners. The small armrests saves a lot space, so if you want to furnishing your movie theater recliners but want to fit more. This is an awesome choice.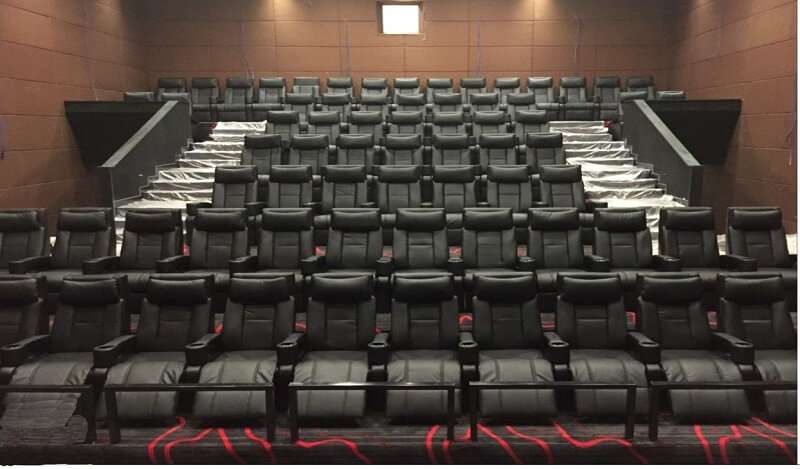 With the development of cinema industry, the cinema seating is experiencing a new revolution quietly now.
At present, it has reached the era of consumption, so the quality of new cinema facilities must keep up with the development needs of the market, and realistically plan and build theaters according to the consumption level in the city.
One of the core is to be comfortable. As one of the most important part of cinema, the chair for cinema decides the cinema is comfortable or not in a degree. More and more people are being aware of it, even the cinema seating supplier like us.  Conventional compact cinema chairs is small which make the cinema a large capacity of audience.
While compared to the reclining movie theater seats for sale, it is far less comfortable. The consumption concept of humans are changing, they are no longer just pursuing to watch a movie together with other people, they also pay much attention to of experience during the process. So they definitely care about if the cinema seating is cozy or not, instead of just care if the movie is interesting or not.
So movie theater with reclining seats is more and more popular. You can even see according to the search dates on net. Many people are asking " what is the movie theater with reclining seats near me?"
Another trends is that it seems people is tending to see films in a space with less people, which make sure a better environment to enjoy the movies.
So if you are the owner of the multiplex cinema, you should make sure your entertainment center has flexibility and choice of diversity. Facilitate your cinema with both compact traditional simple cinema chairs and reclining theater sofa.
Features of movie theater reclining chairs
Leather upholstery
With power reclining functions
With USB port for charging
With cup holder
CBM: 0.5  60 seats per 20 GP container, 150 seats for 40 HQ container
Weight: 50 kgs
Warranty: 5 years
Fast Delivery:20-25 days
Assembly:easy assembly for each seat is delivery separately by hard carton box.
Assemble instruction will be provided.
Our movie theater recliner quality
Our wood frames are constructed with hand selected woods, and meticulously assembled by our craftsmen and reinforced with corner blocking to ensure strong and durable seating. The warranty is as long as 10 years. Our metal frame is cold rolled steel with a warranty of 10 year also.
All our recliner mechanisms are top quality and used in our motion and home theater products as well as motors. The whole chair has a warranty of 5 years at least on condition without damages by human beings.
Our service
before you buy theater seating, if you are not sure the number of seats can fit for your theaters, inform us, we now have legitimate people to make a reasonable seating plan for you. we are able to present you a CAD chart in line with your theater dimension. Of course, we can ensure that the seating plan satisfies you.
After confirming the order, we can keep you instructed from time to time so that you can know the procedure of the creation.
After completing the construction, we will show the seating and chairs and assess the high-quality one at a time to be certain there is not any nice predicament. and then, we will be able to easy one at a time earlier than the packing.
Send Us Inquiry