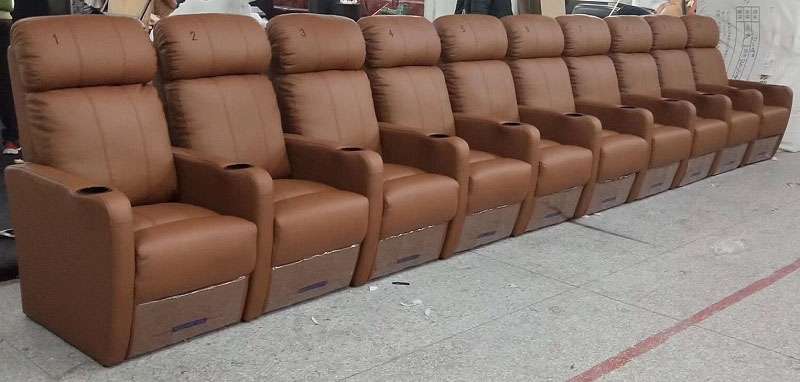 Brief Introduction
Color: Beige, other color is optional
Upholstery: Mirco fiber leather
Weight: 51 KGS
Recline: Electric recline
USB Port: Yes
Tray Table: Optional
Cup Holder: Black plastic cup holder
Adjustable Headrest: No
Simple Theater Room Couches LS-850
Theater room couches LS-850 as its name and appearance shows is a simple but elegant design for home and commercial entertainment centers.
This movie theater couches design features with the slim arms which help you save a lot of space to fit more chairs. The lines on the seat is stiching streghtly and nicely which make it looks great too. You can change any logo or alphabet you like on the seat if you don't like the numbers.
While for commercial theaters, we suggeset it because it not only make it look better but also easier for the audience to find their seat once step in the cinema halls.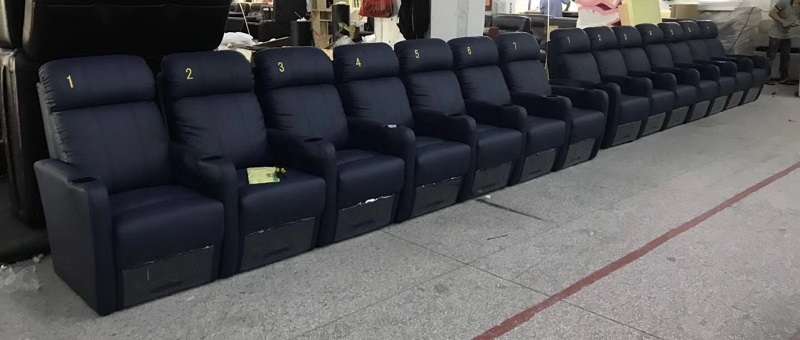 There are 3 options considering the theater chair prices.
The first one is fixed seating, that is what we show in the picture. You can see not any buttons on the theater couches. That means the chair can not recline and the seat cushion is fixed. It is usually adopted by the commercial theaters which doesn't have enough budget. Because this is the cheap theater room couches.
The second kind is manual recliner which is able to recline manually but with only one position. And if you want the footrest to go back into the seat, you need a little efforts with your leg to push it back.
The third kind is the most wonderful one with power recliner. It can stretch itself with just a touch of the button right at your hand. You can stop in any position that make you feel comfortable. The buttons can be with USB charges for your mobile devices. If your budget is enough, this is highly recommended. Also, for home theaters, this kind is our suggestion.
More information of cinema couches for sale
The upholstery is micro fiber leather.
There are many colors for option like black, blue, red, green or coffee brown etc.
The arm is slim, space saver.
With embroidered seat numbers on the backrest.
Fixed seat without functions
It is available to make it in power recliners controlled by buttons or manual recliners.
The frame is strong metal frame
It is padded with high density foam
The cup holder in the armrests is plastic.
It is available to make the couch with chilling cups with centre controller.
Warranty is 5 years
MOQ should be 5 seats
Delivery is 20-25 days
Trade term can be EXW, FOB, CIF, CNF.
Payment term is TT.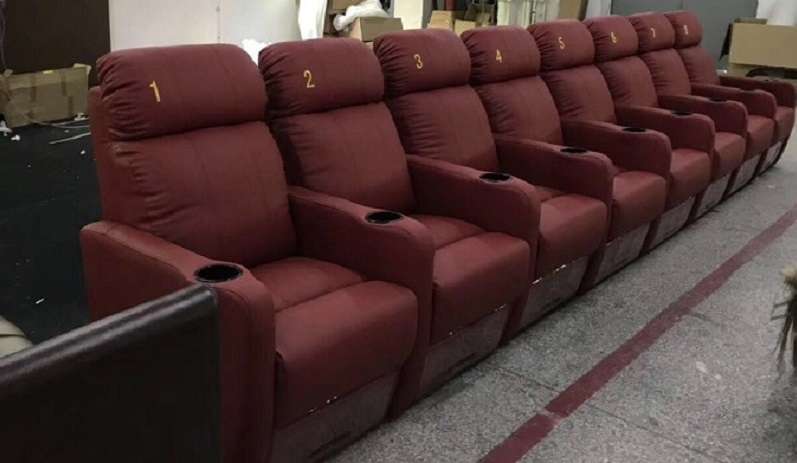 Send Us Inquiry