Home theater recliner chair LS-876B is a very comfortable with top quality. It features with the side arm on the 2 ends, looks a curved theater seating even without wedge arms in the middle. So if you like curved theater chairs, this design is a good option.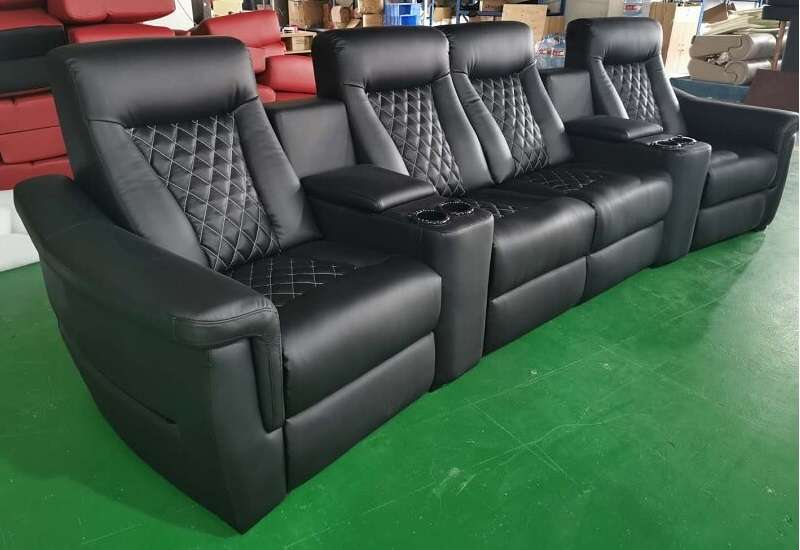 Brief Introduction
Color: Black leather – cow hide
Weight: 58KGS
Recline: Electric recline
USB Port: Yes
Tray Table: Available
Cooling Cup Holder: Yes
Massage Function: Yes
With Storage: Yes
MOQ: 2 seats
Warranty: 10 years
Payment: By T/T
Delivery: By sea freight
Customize Your Dream Home Cinema With Black Leather Recliner LS-876B
If you're a movie enthusiast or a dedicated home theater buff, you understand the importance of having comfortable seating for an immersive movie-watching experience. The LS-876B Black Leather Recliner Chair is the perfect addition to your home cinema setup, offering both comforts and top-notch quality. Let's explore why this recliner chair is a must-have for any home theater enthusiast.
Features
Top quality cow hide finishing
Power recliner
With USB port for charging
Cooling cup holder
Diamond stitching pattern
Big middle console unit
Hidden storage compartment
Hardwood frame + metal frame
Soft high density foam
Big & comfortable arms
Loveseats in the middle of a 4 seater theater recliner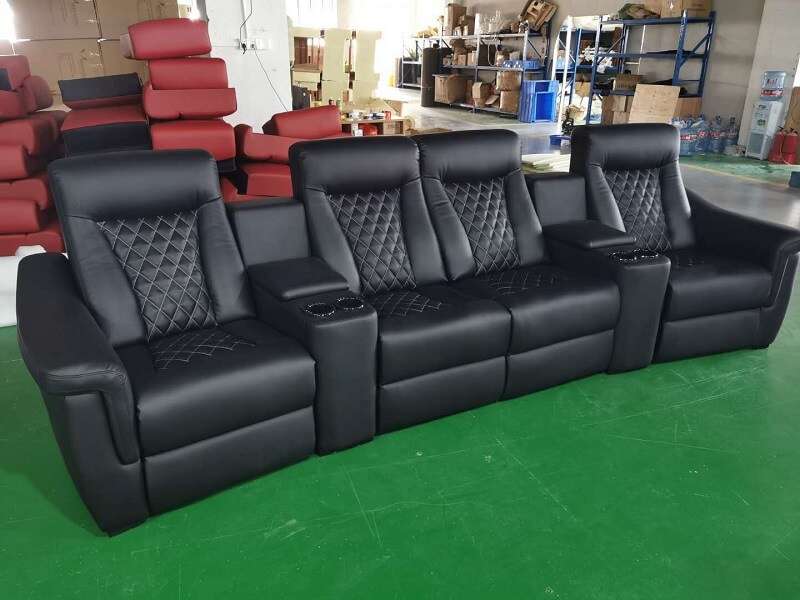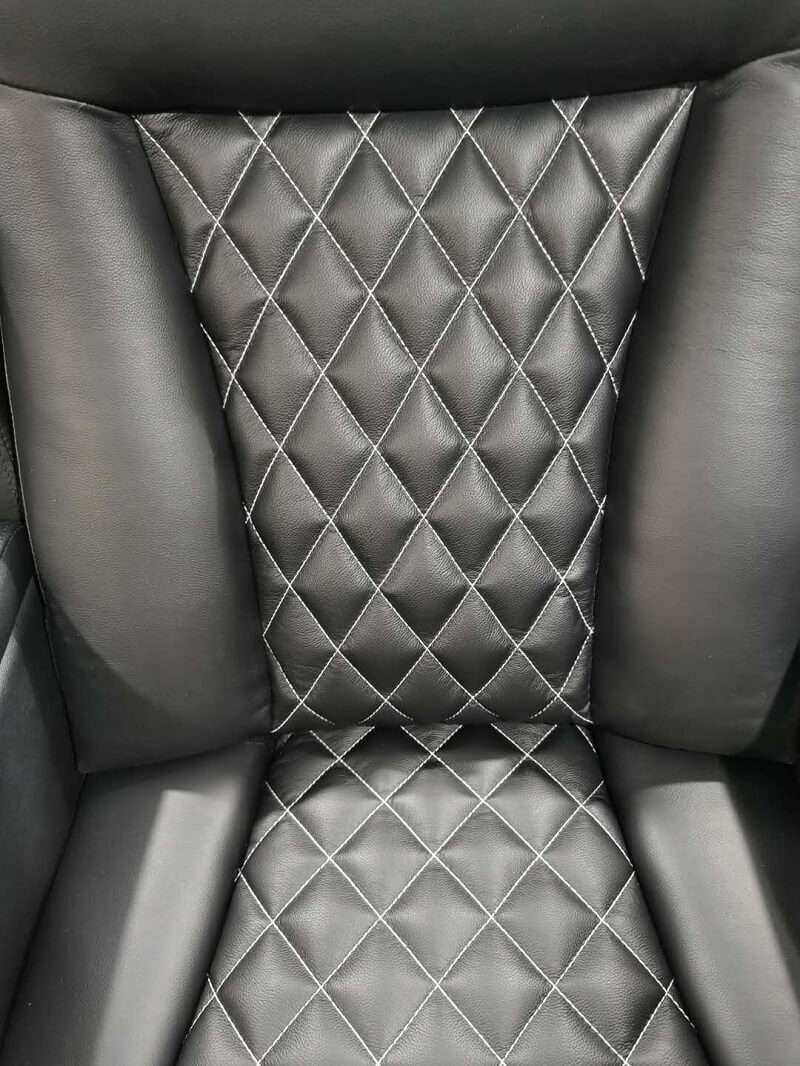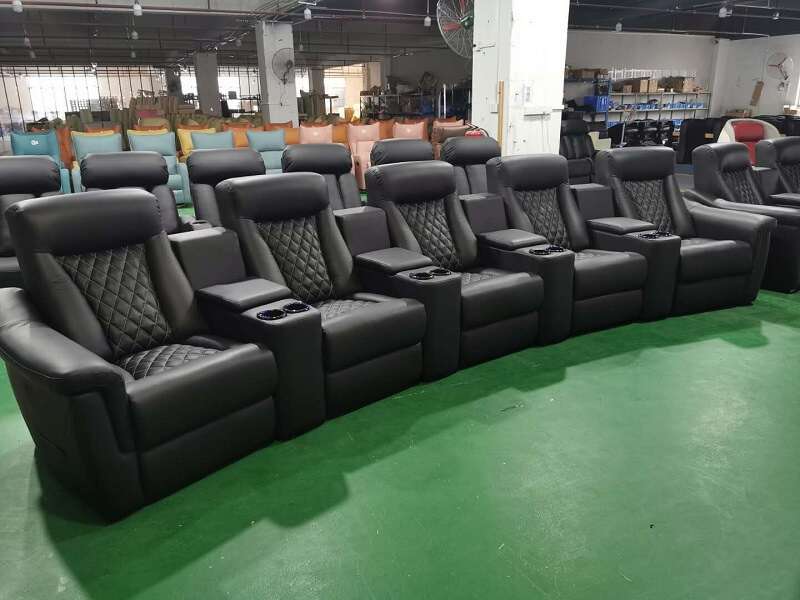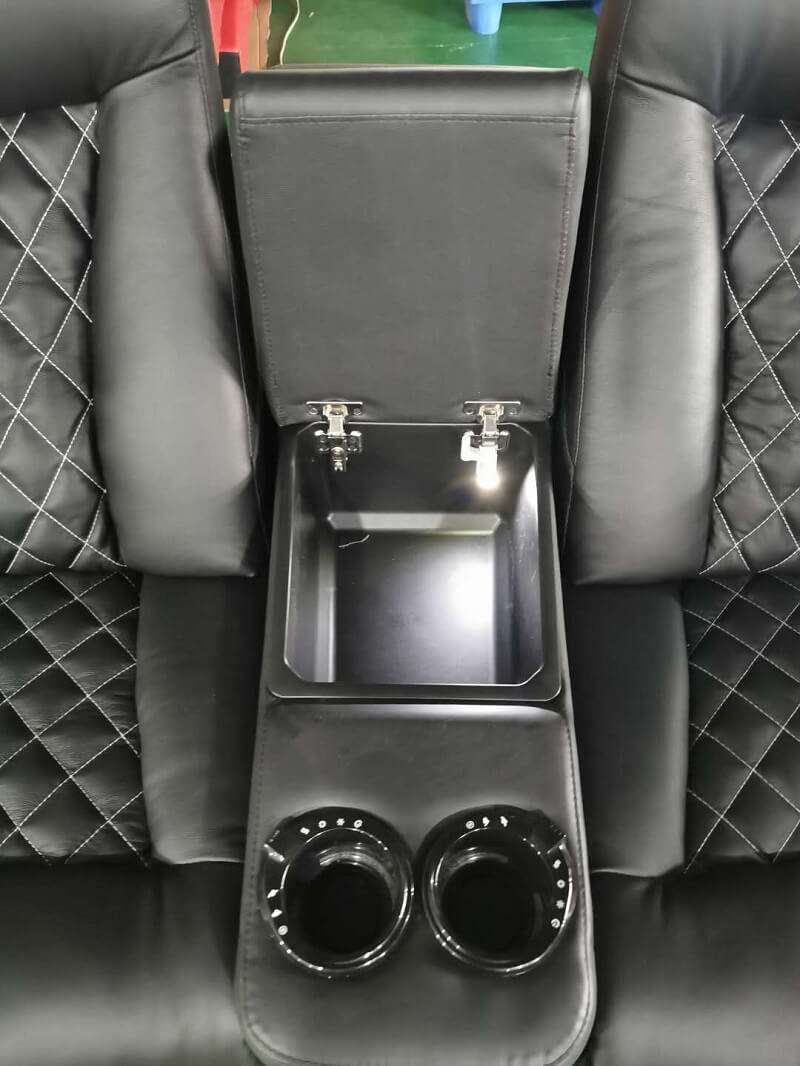 Get Ultimate Comfort with Genuine Leather Home Theater Reclining Chair LS-876B – Your Perfect home cinema seating choice
Turn your living room into a luxurious home cinema with the LS-876B Home Theater Recliner Chair. Crafted with top-quality materials and designed for ultimate comfort, this reclining chair is the ideal choice for cinema enthusiasts. Its unique curved theater seating appearance, complete with side arms on both ends, exudes elegance and sophistication, making it a perfect addition to any home theater setup.
● Impressive Comfort and Quality
The LS-876B Home Theater Reclining Chair is meticulously designed to provide unparalleled comforts. Its plush cushioning and ergonomic design ensure that you can sit back and relax for hours without feeling any discomforts. Whether you're watching an action-packed blockbuster or a heartwarming family drama, this reclining chair will keep you cozy and relaxed throughout the entire movie.
● Creatively Curved Design
One of the standout features of the LS-876B Real Leather Home Cinema Recliner Chair is its innovative curved design. Unlike traditional home cinema sofas with wedge arms in the middle, this recliner chair boasts side arms on both ends, creating a seamless curved theater seating look. If you're a fan of the elegant and stylish appearance of curved theater chairs, the LS-876B is the ideal choice for you.
● Customizable Diamond Stitching
The black home theater recliners include diamond embroidery on the backrest and seat cushion for a touch of elegance and class. Its innovative design distinguishes it from the LS-876 and is a revolutionary step forward for curved home theater seats. You get to choose the color of the diamond stitching to match the aesthetic of your home theater, so feel free to go with something bold like red or sophisticated like gold.
● Durability and Longevity
Investing in the LS-876B Black Cow Leather Recliner Chair means investing in a piece of furniture that is built to last. Crafted with premium materials and superior craftsmanship, this recliner chair guarantees durability and longevity. Its sturdy construction ensures that it can withstand the test of time, providing you with years of exceptional comfort and support.
● Create Your Dream Home Theater
With the LS-876B home theater leather chair, you have the power to create your dream home theater. Whether you're designing a dedicated home cinema room or integrating your theater setup into an existing living space, these recliners will elevate the ambiance and comfort of your movie-watching experience.
Specifications of Home Theater Recliner Chair LS-876B
Dimension
Side arm: 250 mm
Middle arm:300 mm
Overall height: 1020 mm
Depth: 950 mm
Seat cushion width: 580 mm
Combination
Optional by straight row or curved row
Frame
Solid wood + Cold rolled steel frame
Foam
High density foam
Switches
Standard is black plastic switches. Optional by metal switches or touch buttons on chiller cup holder
Functions
Recliners with cooling + massage + light
Cup holder
Standard is black plastic cup holder, here in the picture, it is with chiller cup holder
With storage
Yes. Big storage with light inside when open the storage.
Feature
With metal bar on the side arm.
Seating Arrangement Instructions OF Home Theater Recliner Chair LS-876B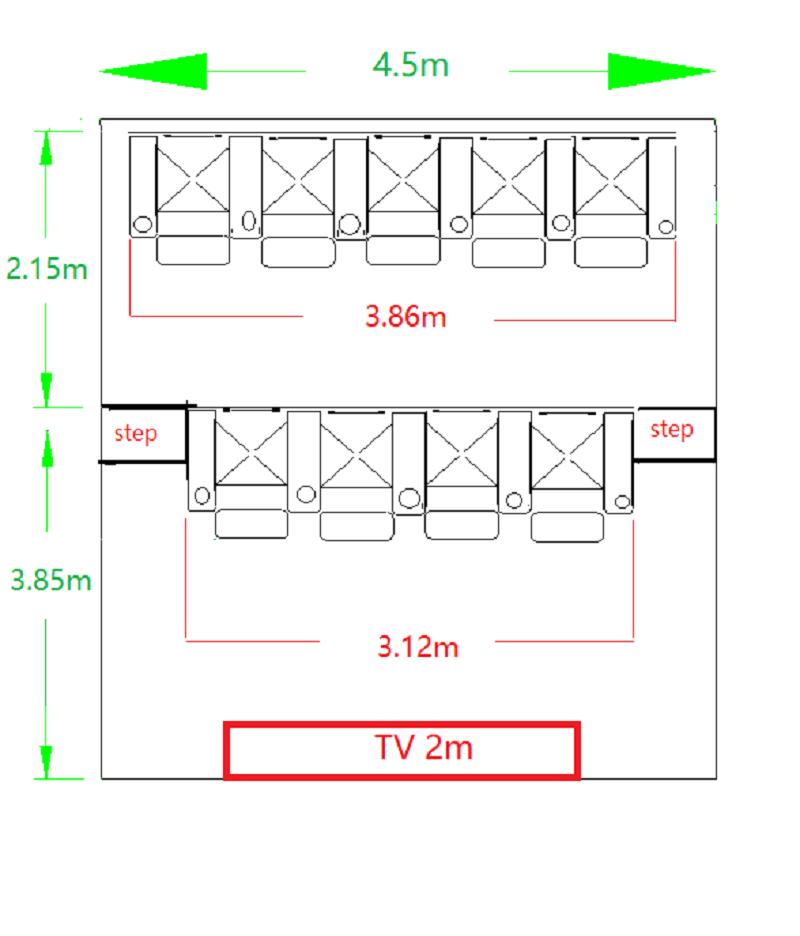 Frequently asked questions About Movie Theater Recliner LS-876B

1. Does this chair have a power recliner? — Yes. It is the power recliner.
2. Is it with power lumbar support? — It is available to be with lumbar support.
3. Is it with LED light under the seat? — It is available to be with LED lighting and controlled by the button on the chiller cup holder.
4.Is this a leather movie theater recliner with a USB charge station? –Yes. No matter which standard, it is with a USB outlet.
5. Is the chair electricity 220v? —Generally, it is 220V. But we can customize it according to your standard.

Corona Viruses have been sweeping the globe this year. People have to stay at home to reduce the infection risks. For those who used to have fun outside, and those who were busy with work before, staying at home is a big challenge. But people are also trying to brainstorm to work out very good activities to make life more colorful. One of the most popular things is to improve the home furniture and equipment to enjoy the movies at home just like the way in the commercial movie theaters. If you also have this plan, come and talk to us. We will help you build up an amazing home theatre.
About Linsen Seating Furniture
Linsen Seating Furniture is the professional home theater recliner chair manufacturer for more than 15 years. Located in the biggest furniture base Longjiang Town, Foshan City, China, we have been adhering to the principle of " quality is guaranteed and customers are supreme". We accept OEM&ODM. Welcome to contact us for cooperations and growing business.
Send Us Inquiry
Other home movie theater recliners for sale