Fabric home theater seating LS-822P is covered with high density velvet farbric which is very soft and durable. Its arm is with shining stainless steel cup holders. It is not only good for home theater rooms but also suitable for living area where you want to display a functional electric recliner sofa.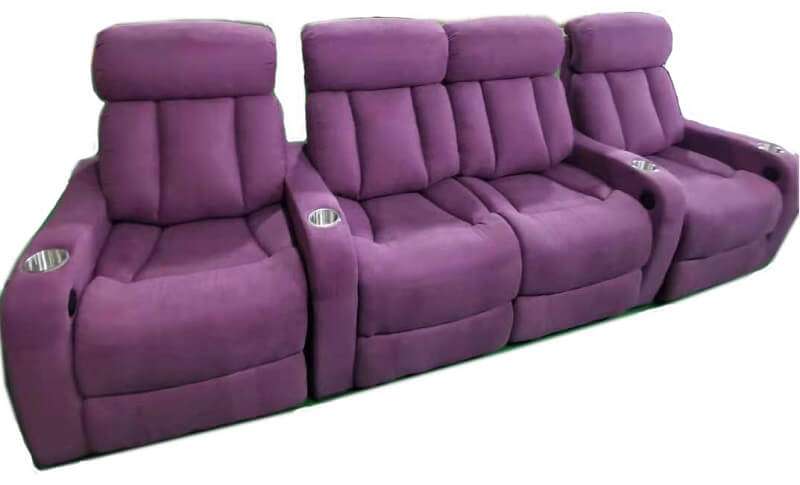 Brief Introduction
Color: Purple
Upholstery: Velvet fabric
Weight: 52.5 KGS
Recline: Electric recline
USB Port: Yes
Tray Table: Available
Cooling Cup Holder: Available
Massage Function: Available
Motorized Headrest: Yes
Fabric Home theater seating features
Adjustable headrest – Home theater recliners LS-822P is with motorised headrest which can support your head better. You can adjust your head to the most comfortable position that fits you best when you are watching the movies or TVs.
Electric recliner – The seat and backrest of home theater recliner sofa is also equiped with electric recliner inside of the chair frame. When you want to lie down, you just need to put the buttons on the switch in the arm. The chair footrest go out and backrest will go down at the same time.
Cheap home theater seating – Compared to leather theater recliner, fabric home theater seating is cheaper. But it still keeps the comforts. It is very good option when you don't have enough budget but also want a good home theater recliner chair.
USB port – There is a USB dock in the button for you charging mobile divices.
Diverse configurations – Here you can see in the picture, it is a 4 seat theater seating. In the middle there is a loveseat. If you have enough space, you can also make an armrest. While if you don't have enough space but also want a arm, we have removable armrests for you. It is very smart. You can take it out when you don't want it. When you need it, you just need to insert the arm. Besides, we can also customize different layout and different seating size for you according to your home theater space. So home theater seating dimension won't be a trouble for you if you come to us to buy home theater seating.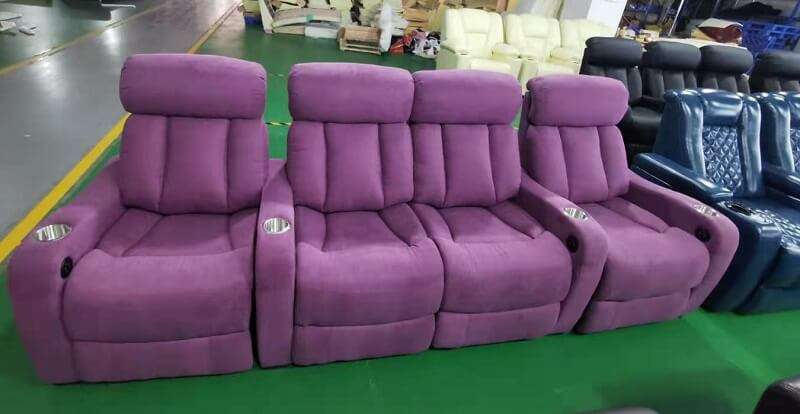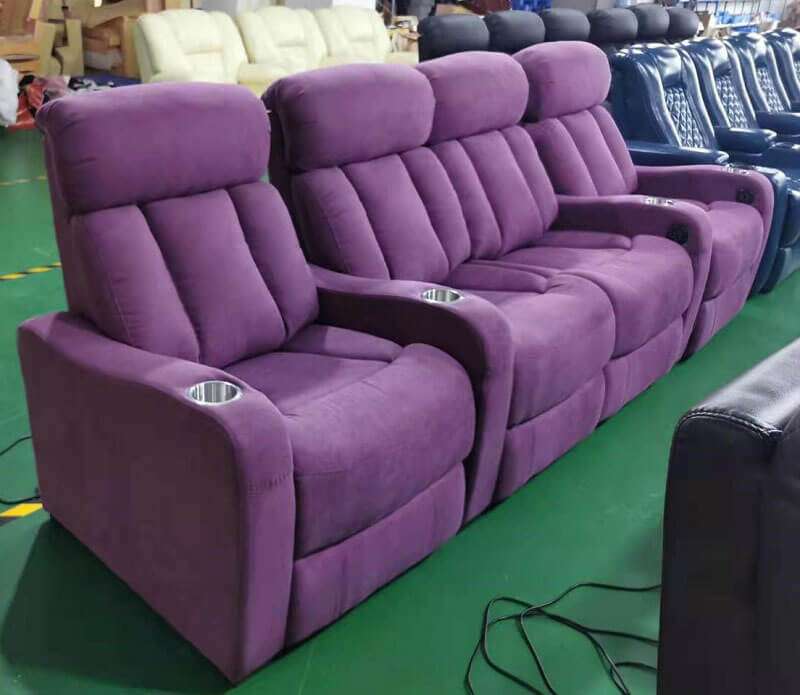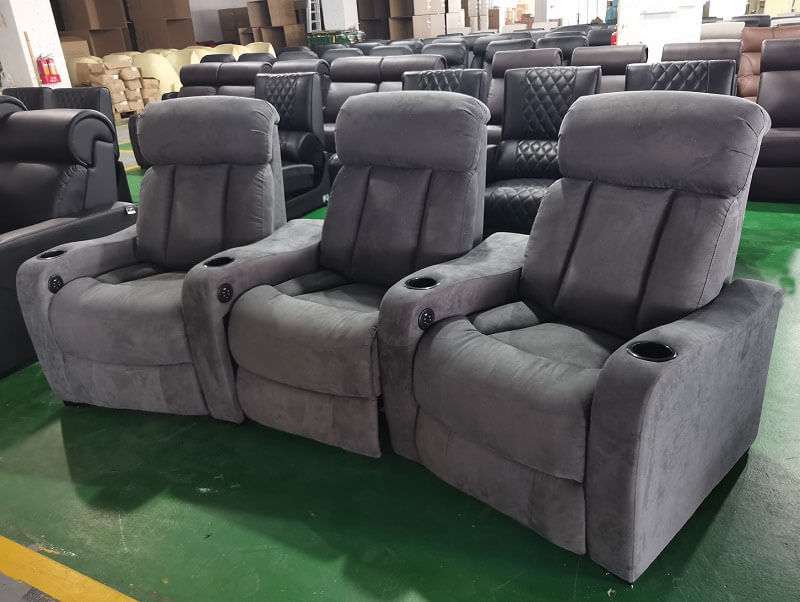 Quality And Warranty of fabric theater seating for home
Linsen Seating is committed in making premium home theater chairs with selected premium materials.Our home theater recliners can hold its shape after years of using. Even after 4 years, the chairs still looks like new after cleaning. It is beacause our foam in the seat back cushion is chosen to be comfortable yet ergonomic, maximizing the enjoyment of your movies while minimizing fatigue. The seating rest is made with special high density foam that will be supportive yet remain in great shape throughout the lifetime of 10 years.
Why choose us and our theater recliner
Located in the largest furniture production base Foshan city, Linsen Seating Furniture has 5 production lines including research and development, cutting, sewing and stitching, upholstery and cleaning and packing. Aside from our normal models, we can also customize for our customers. Our research and development department will customize perfectly what you want. Our staff in other dept. are very experienced and they all work here for a long time with very good skills. So the design and quality are very impressive. Choose us, you will be surprised.
Send Us Inquiry