Home theater sofa LS-881 is covered with genuine cow leather. You can choose any color you like to fit your home theater decoration. The most features of it are the motorized headrest and removable tray table. The adjustable headrest offers very good support for the head. The tray table is very strong and big enough to hold many foods, plates or laptops. When you don't need the tray table, you can also take it out and replace it with glass holder for a cup of red wine.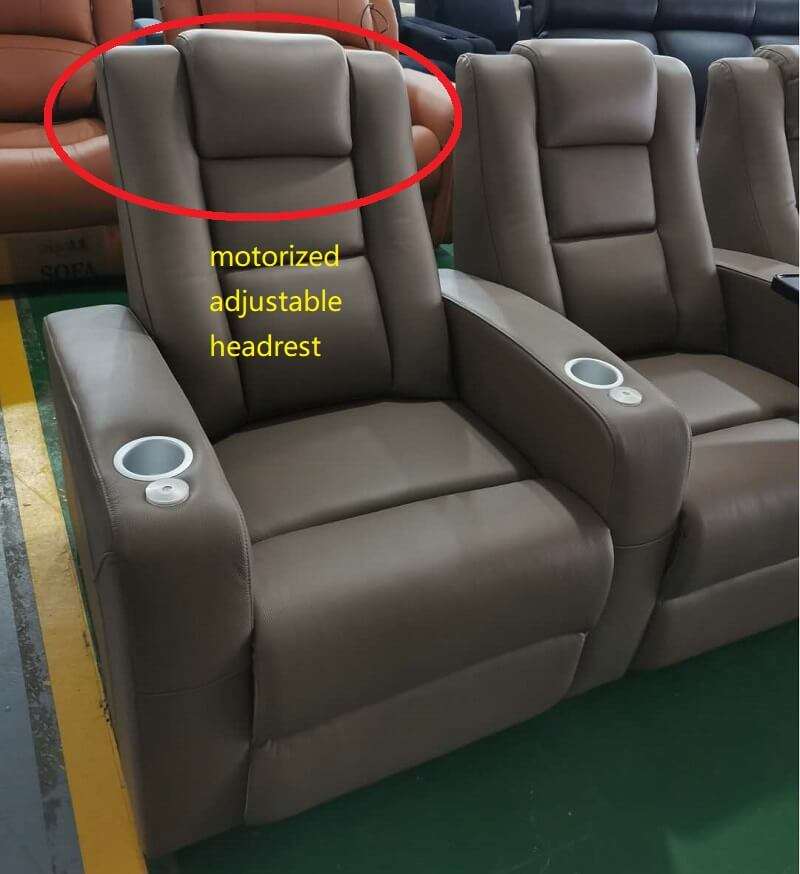 motorized adjustable headrest
controlled by switches right at your fingerprints
wood removable tray table
supported by thick metal plate under the wood pad, it is strong and big to hold many heavy stuff.
home theater sofa 4 seats
you can have a row of 4 chairs, 3 chairs, 5 chairs or even more. Here it is straight row. You can also have it with curved row.
Back side of the home theater sofa chairs
With nice stitching and upholstery, it looks nice either from the front side or the back side.
Nice design arms on home theater chairs
The arms of the home theater seating is slim which is artistic. The width can fit very well because it is not too wide but also offers enough space for the hand.
Home theater sofas from LINSEN SEATING are designed with the goal of combining comforts with sense of beauty to make the home cinema theater the best entertainment space. This requires good quality materials and workmanship. Choose LINSEN SEATING home cinema seating is choosing qualified life style.
We also offers many options for the chair parts. So you can design and make the a home theater sofa by yourself in a certain according to telling us your needs. For example, you can choose different kind of cup holders, tray table, upholstery colors, functions and so on.
Welcome to leave us a message if you want to design your own home cinema theater chairs.
Send Us Inquiry