LS-849 is a home cinema chair upholstered with white color/ cream color. It is a quality & comfortable electric cinema recliner with USB outlet. Designed to cater to your every need, these cinema chairs have garnered immense popularity among home theater lovers.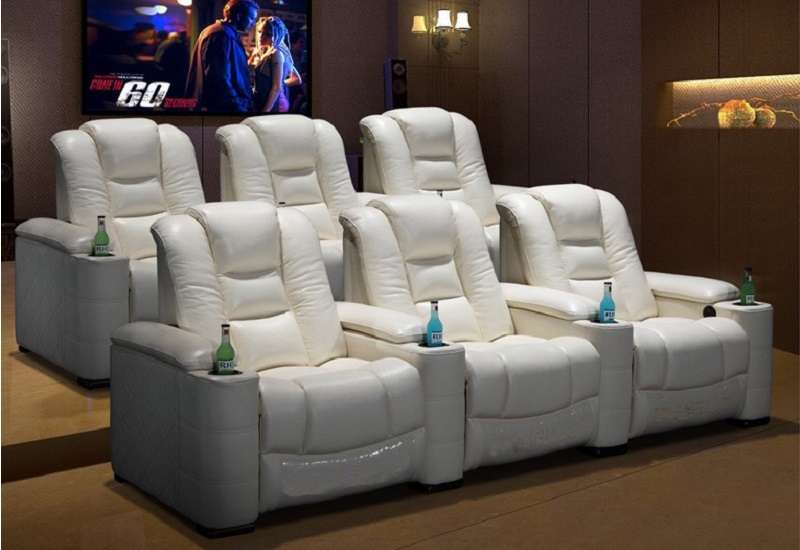 Brief Introduction
Color: White
Upholstery: Top grain cow leather
Weight: 55 KGS
Recline: Electric recline
USB Port: Yes
Tray Table: Yes
Cooling Cup Holder: Available
Massage Function: Available
Adjustable Headrest: Available
Different Color & Layout Combinations For Options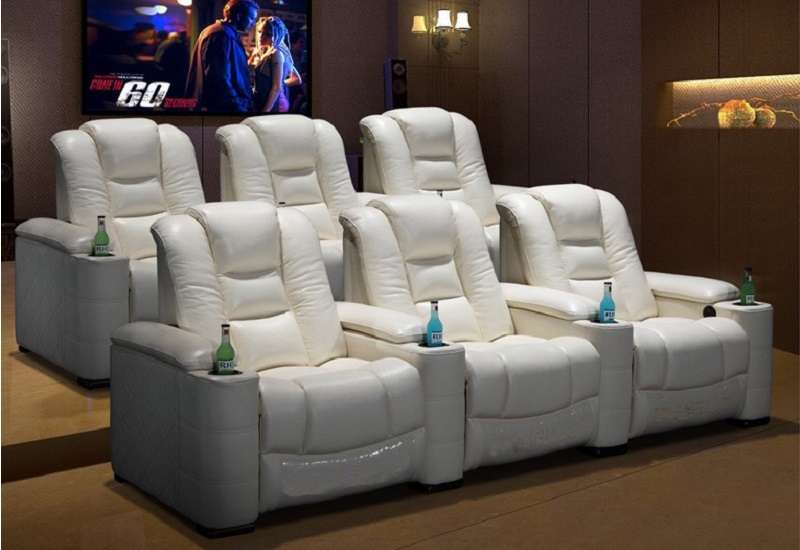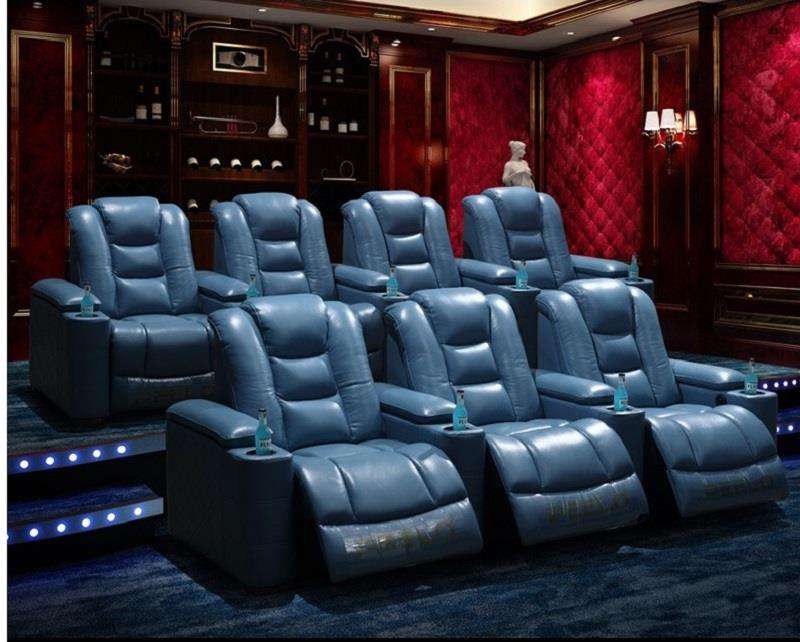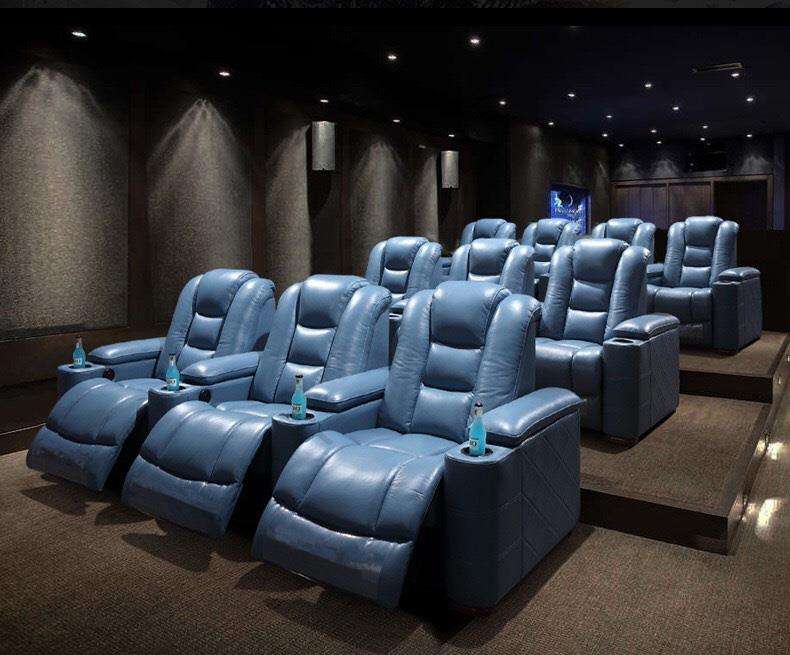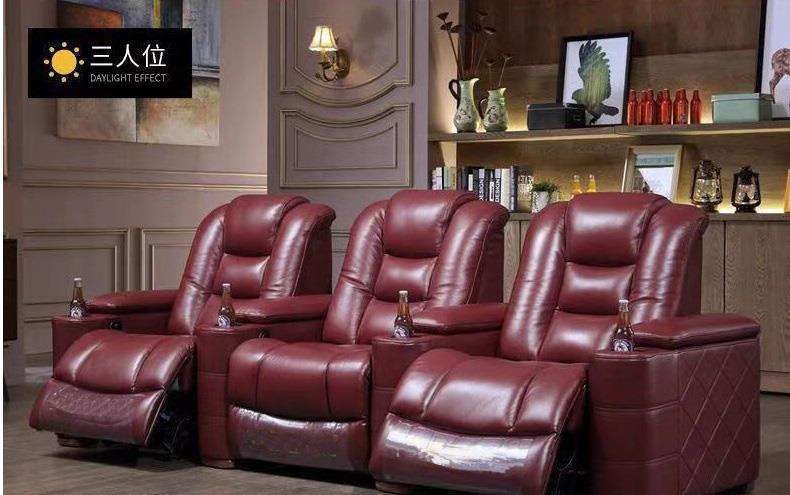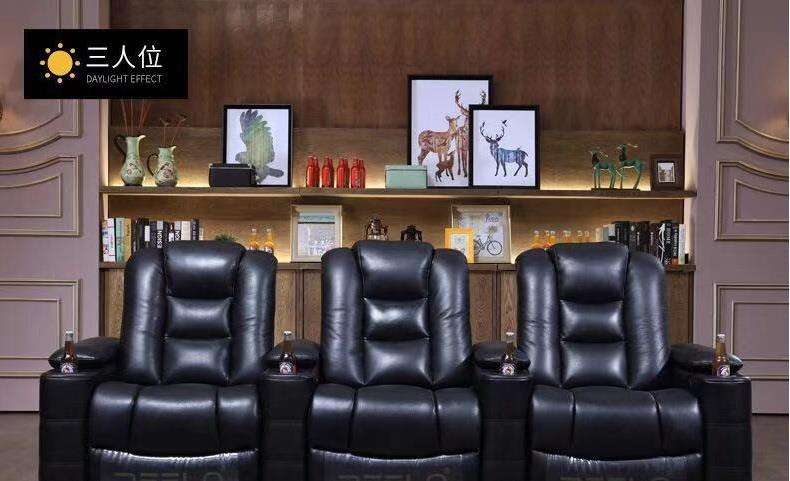 Details displaying of LS-849 Cinema Chairs For Home
The backrest of the home cinema seating is filled with high-density foam with good quality wood and sinus spring support. The lines on it are nicely stitched.
The seat cushion is made of high-density foam which rebounds slowly and can help you release the exhaust. It is very soft, you can feel you are surrounded with softness. It is supported with strong cold rolled steel and solid wood inside.
Headrests can be fixed and adjustable according to your requests. It is nicely upholstered and stitched.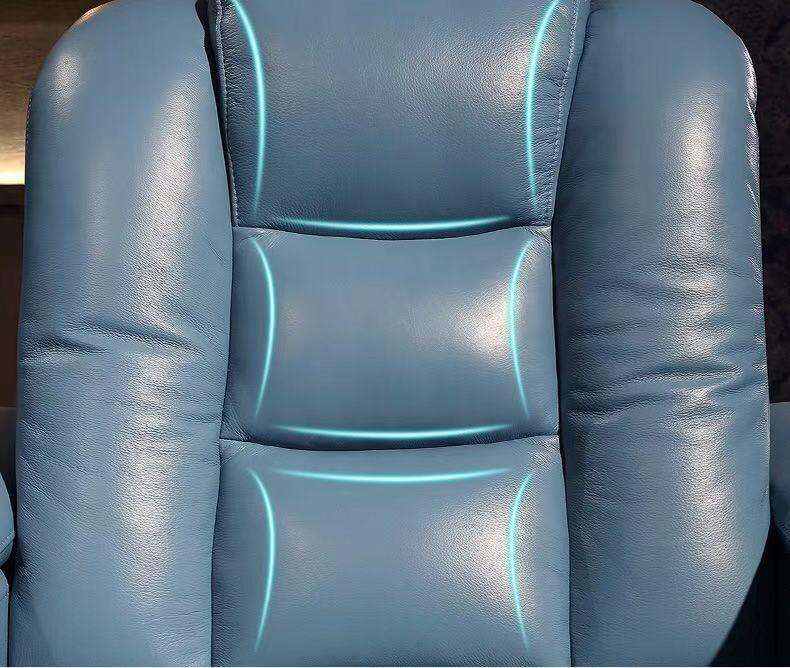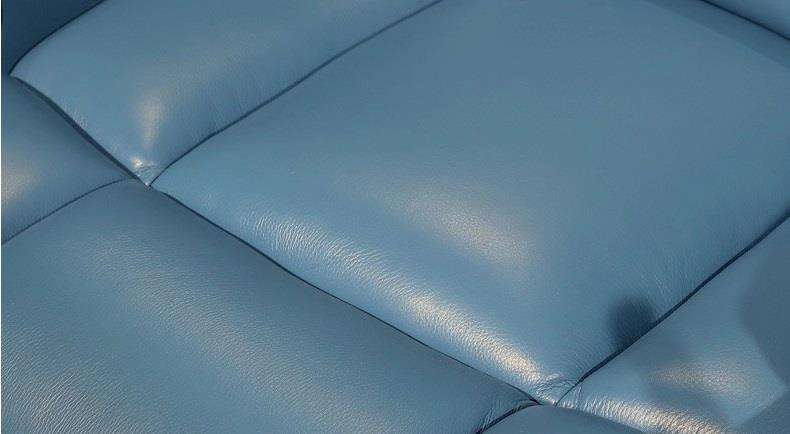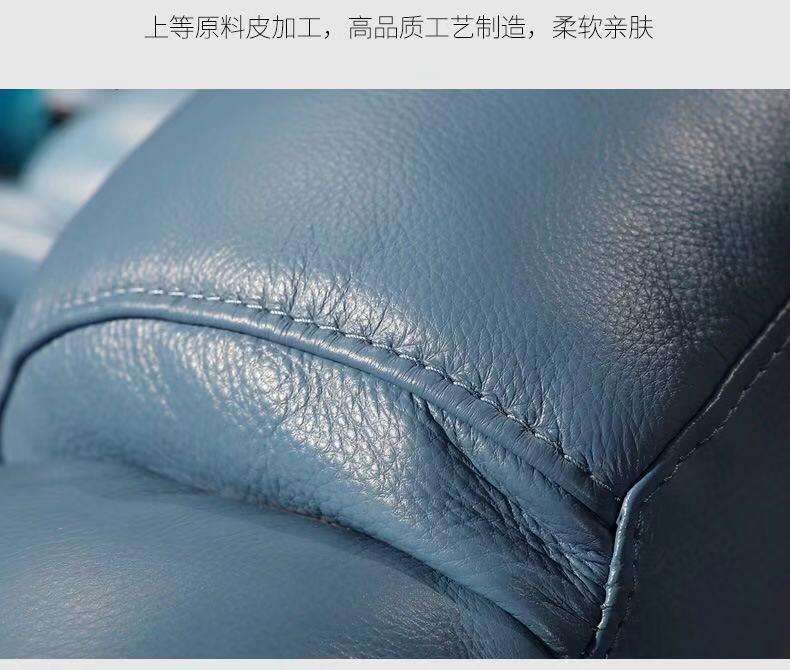 Features And Functions of LS-849 Home Cinema Chairs
With cup holders – The cup holder is just at your fingerprint. You don't even need to move from the recliner sofa to take a sip of a drink.
Ultra comforts – It has Unparalleled comfort and luxurious design. You can lie down when wanting to take a nap or get up to watch TV at any time you want. All you need to do is just sit or lie in the right position you want. It moves and stops at any position for you
More private space – Home cinema seats are most commonly used in the home theater. You can enjoy the movies as much as possible with many good friends together without any disturbing by strangers.
Big & sofa armrests – Big armrests help you better relax and make you feel more comfortable. 
Nice switches – Black switches are with ambient light on when it is plugged in.
Fully recline – Electric reclining feature for personalized comfort. The backrest goes down when the footrest stretches out.
USB port – There is a built-in USB outlet to keep your devices powered.
Versatile Applications – Perfect for both home movie theaters and living rooms.
Diverse finishing & colors – Customizable covers to match your home decor
Why Choose LS-849 Cinema Chairs For Home Movie Theaters
Unparalleled Comfort and Versatility
The LS-849 genuine leather home cinema reclining chairs are not limited to just your movie-watching sanctuary. Their luxurious design and unparalleled comforts make them an excellent addition to your living room as well. Imagine a row of 2-seaters in your living space, it is more than just a place to sit, it is even a heaven of leisure and rejuvenation. Transcend the limitations of conventional living room couches and welcome a new echelon of coziness through our LS-849 Cinema Chairs.
Immerse Yourself in Luxury
These electric cinema recliner chairs redefine opulence. Crafted to provide maximum comfort, LS-849 boasts an array of premium features that will make your movie nights truly special. Kick back and let the electric recline functionality transport you to a state of utter relaxation. With an integrated USB outlet, you can conveniently charge your devices while enjoying your favorite films.
Aesthetics That Complement Your Style
We understand that aesthetics play a crucial role in any home decor. That's why our LS-849 Leather Cinema Recliner for Home comes in a variety of covers, allowing you to customize and match it to your unique preferences. Whether you prefer a contemporary, classic, or eclectic style, these reclining cinema chairs effortlessly blend in with any interior theme, adding a touch of elegance to your space.
Indulge in the Luxury You Deserve
The LS-849 Electric Cinema Recliner Chairs are the perfect addition to any home theater or living area. Take advantage of the superior comfort they provide and your movie evenings will be transformed. Gather your loved ones for a movie-watching experience unlike any other.
Investing in a set of LS-849 Cinema Chairs is a quick and affordable way to improve your home theater's aesthetic. Feel the thrill of the theater without leaving your comfortable home.
Upgrade your home entertainment experience with LS-849 Cinema Chairs. Create a cinematic haven right in the comfort of your home and make every movie night an extraordinary event. Embrace the luxury of cinema-style seating and elevate your home decor with these exquisite cinema chairs. Experience the LS-849 difference today – where comfort, style, and entertainment meet in perfect harmony.
Dimensions of LS-849 Home Cinema Reclining Seating
Here are the dimensions of different configurations. Dimensions can be customized also. Usually, our standard home cinema recliners can meet most of the requests. The hardness of the chair is medium soft. It can be made very soft or harder according to your requests. But the medium soft or medium firm is suggested because it is better for our health.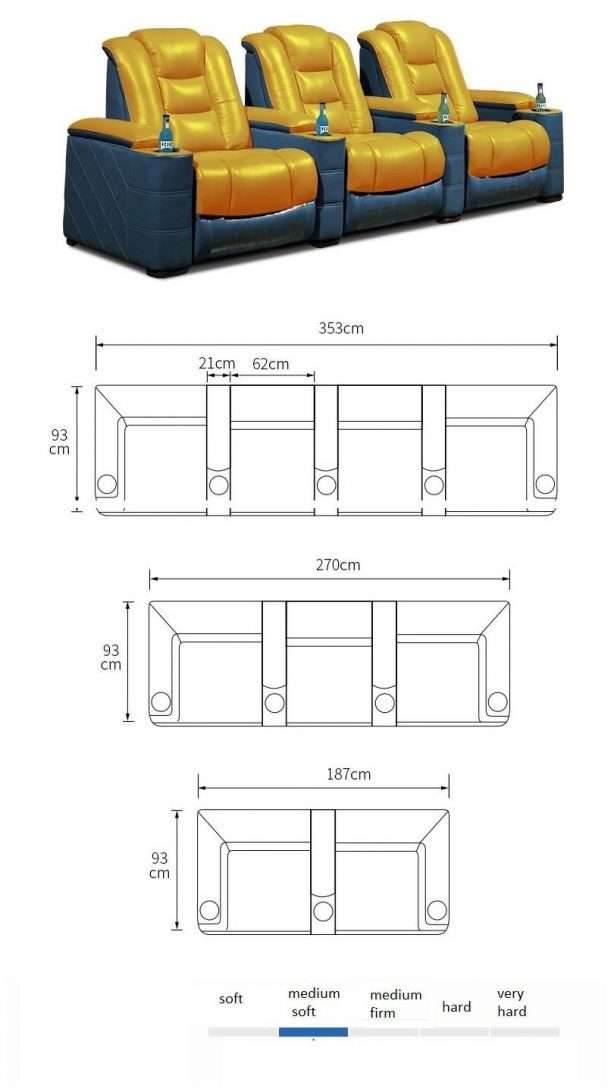 How To Assemble LS-849 Home Cinema Chairs?
LS-849 home cinema sofa is very easy to assemble. We pack it with a carton box, usually one box on the seat. All you need to do is just take the cinema chair out from the carton box, and follow the steps below. You even don't need any tools to assemble it.

Home theater sofa has been very popular with the young age generations, especially during the covid viruse situation period. People realize life at home is very boring and they need to find something interesting to make their life more colorful and enjoyable. If we have a home theater, they can enjoy the movies at home with their families or friends. They can also play games in the home cinema. Do you want a home theater? Then welcome to talk to us to find your most satisfied home cinema recliners.
About Linsen Seating
Linsen Seating is a professional manufacturer of home cinema sofas for sale with an experience of 15 years. We have been working hard all the time to meet our extraordinary customers' satisfaction. Free layout solutions can be provided before the order and satisfaction is guaranteed. If you are thinking of setting up your own home theater, don't hesitate to contact us for consultations.
Send Us Inquiry
More Home Cinema Sofa