Recliner home theater seating LS-882 is an exquisite piece of furniture that combines simplicity, elegance, and versatility to enhance your home theater experience. With its contemporary appearance, this theater sofa recliner adds a touch of charm and comfort to your entertainment spa.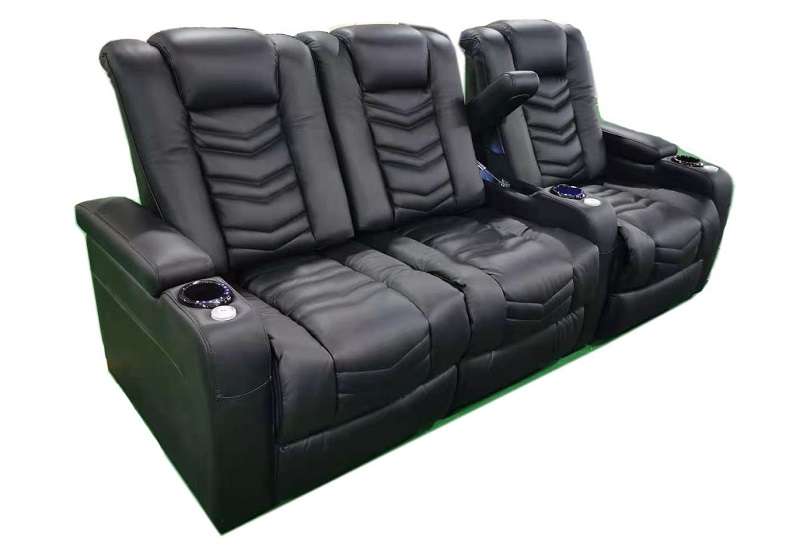 Brief Introduction
Color: Black
Upholstery: Top grain cow leather
Weight: 57 KGS
Recline: Electric recline
USB Port: Yes
Accessory dock: Yes
Cooling Cup Holder: Yes
Massage Function: Yes
Adjustable Headrest: Yes
With Storage: Yes
Buy Best Quality Home Theater Sofas & Chairs With Reclining Functions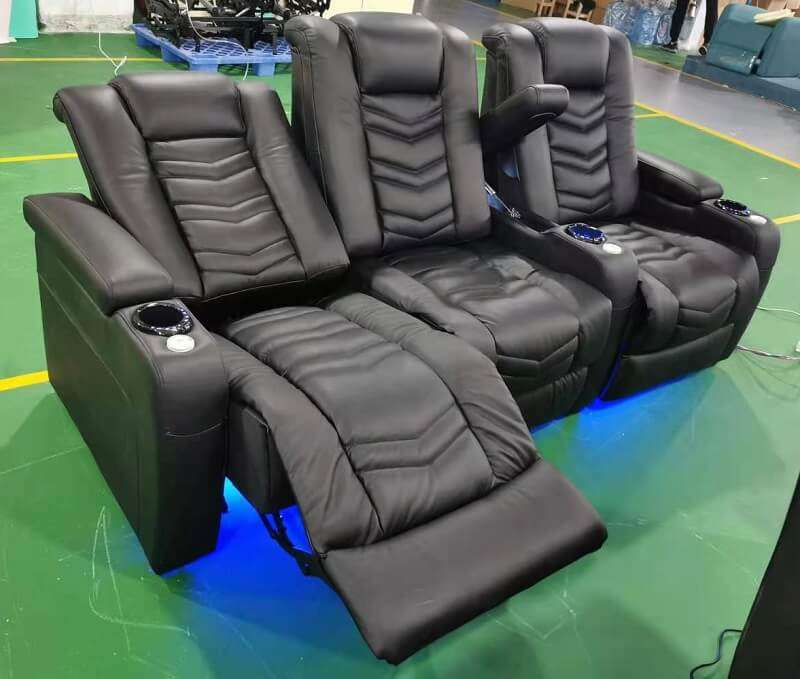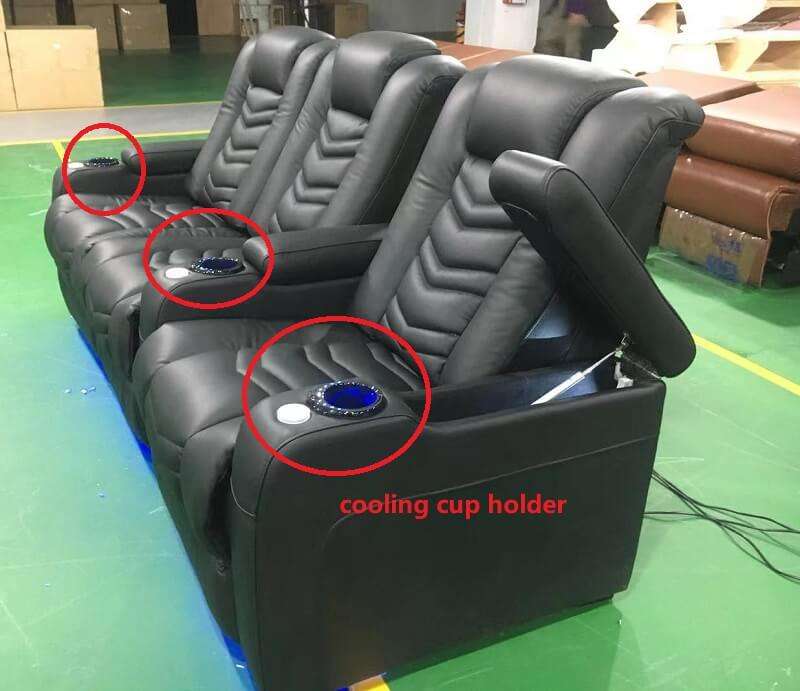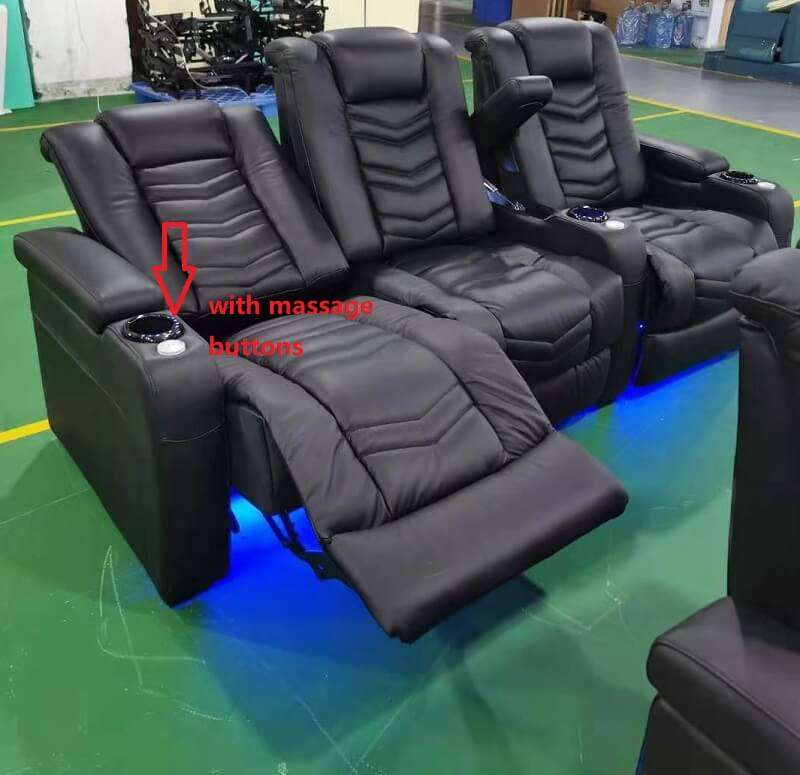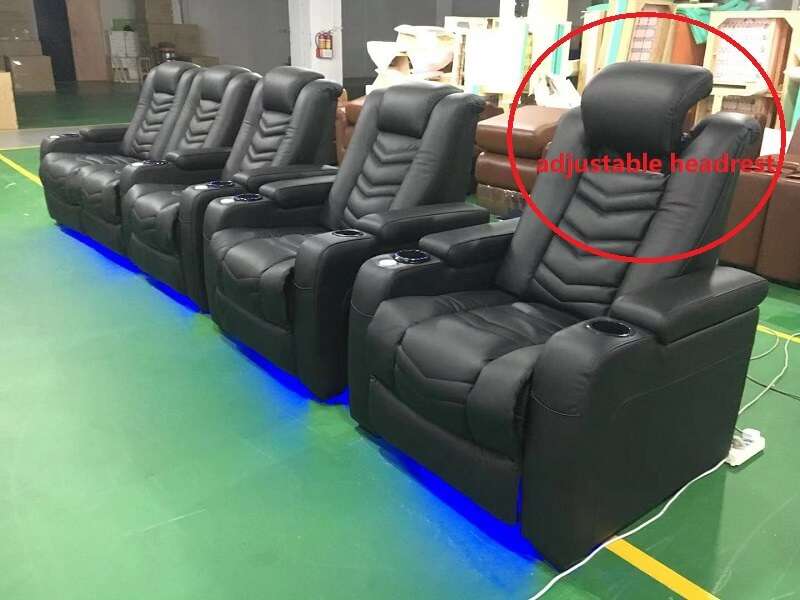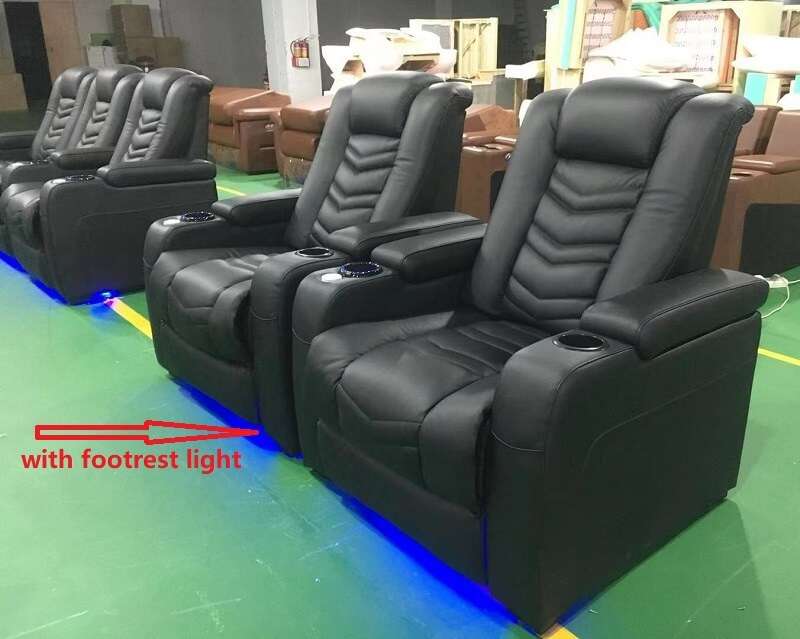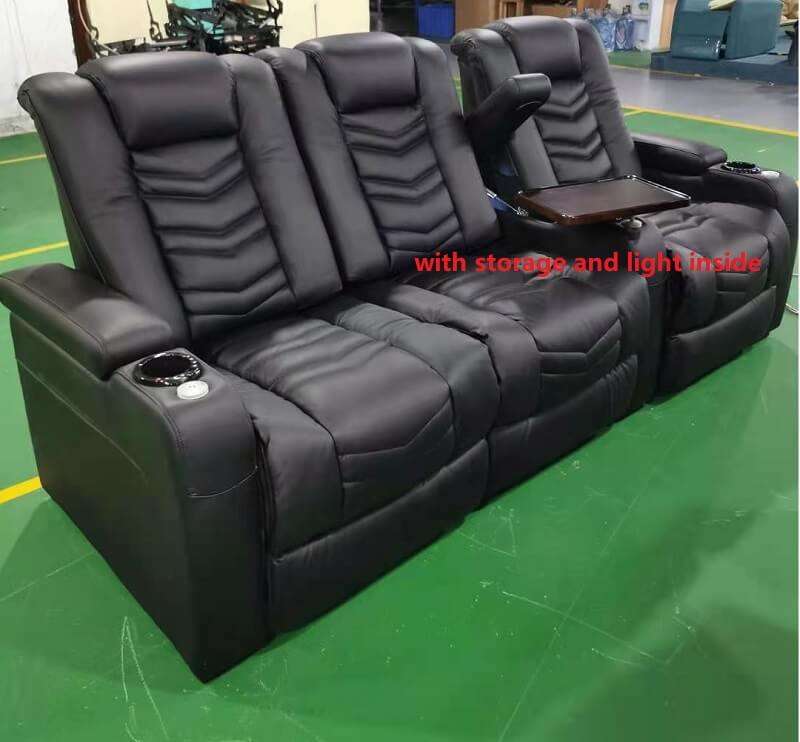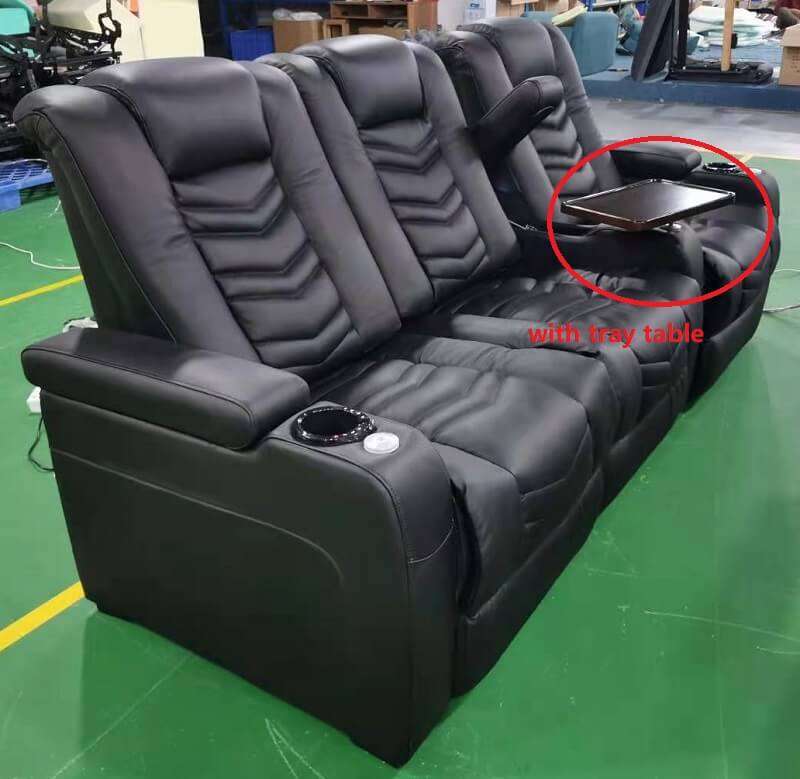 The Functions Of Electric Home Theater Chairs LS-882
Power theater recliner LS-882 makes life smarter with its versatile functions. It is a fantastic piece of furniture and makes your life easier and more convenient. The features are below.
● The movie recliner chair stretches out and comes back once you put the buttons on it.
● Its cup holder can chill your beverages if you touch the cooling button.
● It is also with massage functions.
● Moreover, the headrest can go up and down according to your needs.
● With footrest light
● With storage
● With tray table
● Wine glass holder available
● Phone/ Pad holder is available
● With an accessory dock for accessories you want
Constructions Of Recliner Home Theater Seating LS-882
Crafted with meticulous attention to details, the recliner home theater seating LS-882 is upholstered with full top grain cow leather, offering a luxurious and cozy seating experience. Its sturdy solid wood and metal frame provide excellent durability and stability, ensuring that this home theater power recliner will be your go-to seat for years to come.
Linsen Seating is a leading home theater seating manufacturer and supplier in China that designs the best quality home cinema seating chairs to accommodate your friends and loved ones. LS-882 creates an enjoyable environment for movie nights, sports viewing parties, and gaming sessions. But LS-882 is not just a visually appealing black leather home cinema recliner — it's an intelligent furniture piece that offers a range of convenient features to make your life easier and more convenient.
Product Details Of Home Theater Recliner LS-882
Our leather recliner home theater seating is made of many selected materials. All of our materials are premium.
● Solid wooden frame
● Strong cold rolled steel frame
● High-density foam
● Thick sinuous spring
● Good quality upholstery
Features Of Theater Recliner Sofas LS-882
● Fire Retardant Design: The movie theater recliner sofa is built with fire-retardant materials, ensuring an added layer of safety in case of any unforeseen incidents.
● Variety of Colors: Our movie recliner chairs are available in a range of different colors, allowing customers to choose a color that complements their home theater decor and personal style.
● Luxurious Top Grain Cow Leather: The recliner home theater seating with USB port is upholstered with full top-grain cow leather, providing a luxurious and premium feel. Top-grain leather is known for its durability, softness, and natural aging patina, ensuring long-lasting comfort and elegance.
● Electric Reclining Mechanism: The home theater chairs are equipped with an electric reclining mechanism, allowing users to effortlessly adjust their seating position to their preferred angle. This feature enhances comfort during movie sessions and relaxation.
● Home Theater Style: The design of the recliner sofa is tailored to enhance the home theater experience. It provides ergonomic support and comfort, ensuring viewers can fully immerse themselves in movies or gaming.
● Plush Cushioning: The seating features generous padding in the seat, backrest, and armrests, offering optimal comfort and support during extended periods of use.
● Sturdy and Durable Construction: The recliner sofa is built with a robust frame and high-quality materials, ensuring its longevity and ability to withstand regular use.
● Easy-to-Clean: The top-grain cow leather upholstery is easy to clean and maintain, making it convenient for busy households.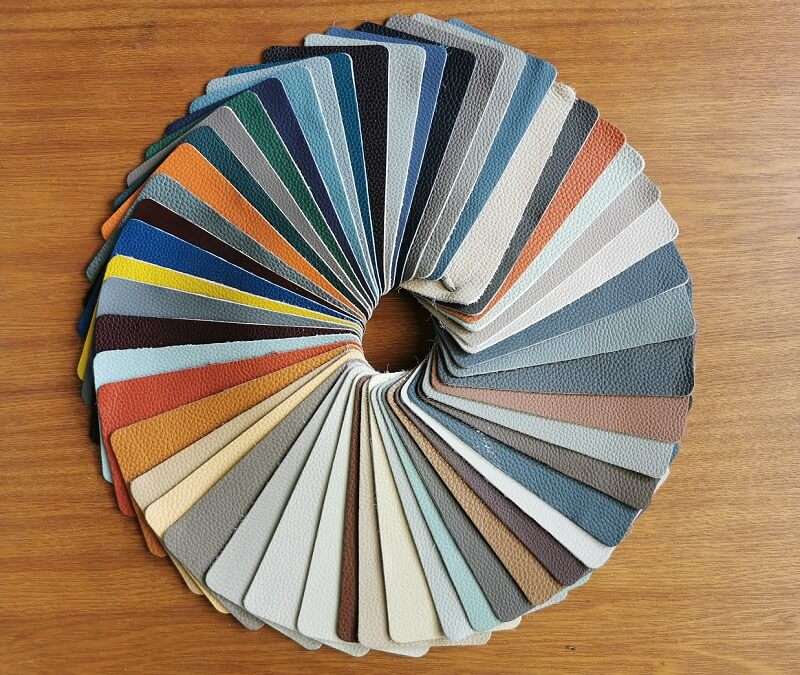 Why choose Linsen Seating Home Theater Recliners
Linsen Seating Furniture wholesale home movie theater chairs. We accept OEM & ODM as we have strong and experienced development and research team. We are customer focused and meet customer requests as much as we can. The quality control in our factory is very strict but the price is very reasonable based on very good quality.
Warranty
Linsen Seating has always offered a warranty of 12 years. Our frame has a warranty of 15 years. If something is wrong with the quality problem, we will offer you new parts or totally new chairs to replace them.
Delivery
Our production time is usually 18-35 days. It depends on the quantity and design, if you want to know more, pls feel free to contact us.
Packing
We use 7 layer hard carton box to pack the chairs and for some LCL cargos, we also make a wood pallet to protect the chairs while transportation. The logo and shipping marks are acceptable according to requests. So don't worry about the delivery.
Trade Terms
We accept EXW / FOB / CIF / CNF terms. 30% deposit once confirmation of order details, 70% paid after finishing the production.
Professional Service
We would like to help you make the CAD layout of your movie theaters before the order. Or if you are not sure about how many chairs can fit in your room, you can tell us your room dimension and requests or send us your layout so that we can check if it is workable. We can make the CAD layout until you are satisfied.
You won't regret buying LS-882 from us, a professional leather theater seating supplier. Elevate your leather home theater seating to new heights and create cherished memories with loved ones. Immerse yourself in the ultimate relaxation experience and embrace the convenience of modern living. Choose Linsen Seating for exceptional quality and an unparalleled home theater experience.
Send Us Inquiry
Other Similar Home Theater Recliners