Reclining home theater seating LS-870 is covered with blue top grain leather. It features with electric reclining mechanism which is controlled by the chilling cup holder on the armrest. If you want any functions when sitting in the reclining theater seats, all you need to do is just touch the buttons on the cooling cup holders.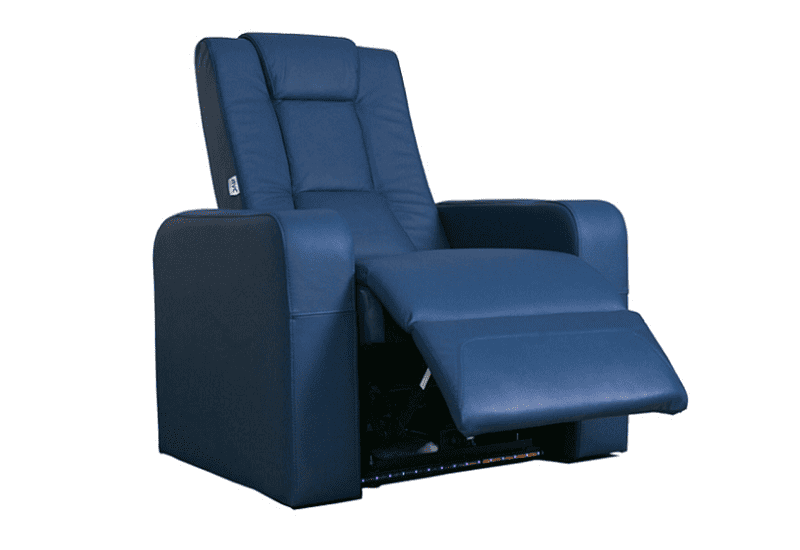 Brief Introduction
Color: Blue
Upholstery: Real leather
Weight: 54.5 KGS
Recline: Electric recline
USB Port: Yes
Tray Table: Available
Cooling Cup Holder: Available
LED footrest light: Yes
Wine Glass holder: Available
Tablet holder: Available
Power Reclining home theater seating with led light
People who shop for new home theater seating are usually looking for a perfect reclining home theater sofa that offers a lot of features. Most people want it that looks exclusive, feels great and relaxed, and is made to be durable as well as can fit into their budget. The blue leather home theater seating almost fits all. The unique design has more to offer. Especially the functional cup holders and their headrest design. It can be made into a motorized headrest on request.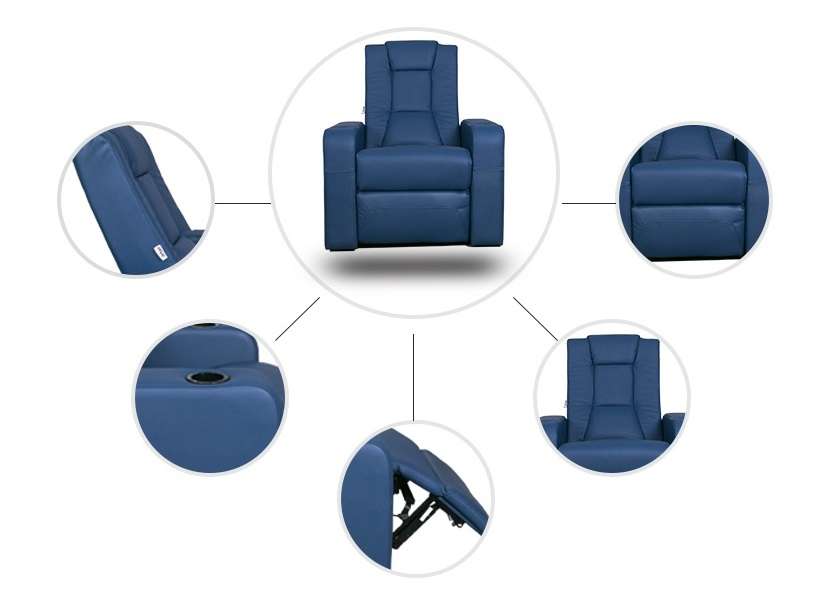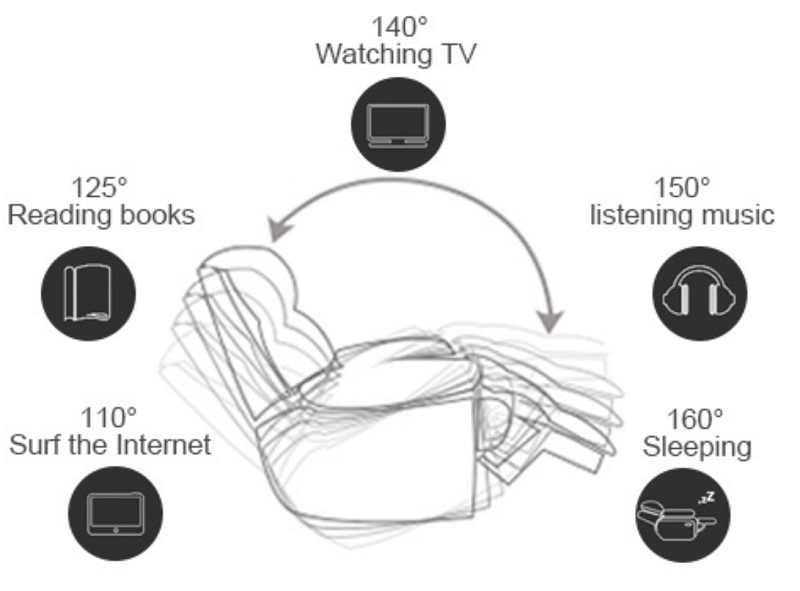 Adjustable function – 110°-160° chair angle is adjustable according to your needs. Sitting or lying down comfortablely to read, watch TV or relax.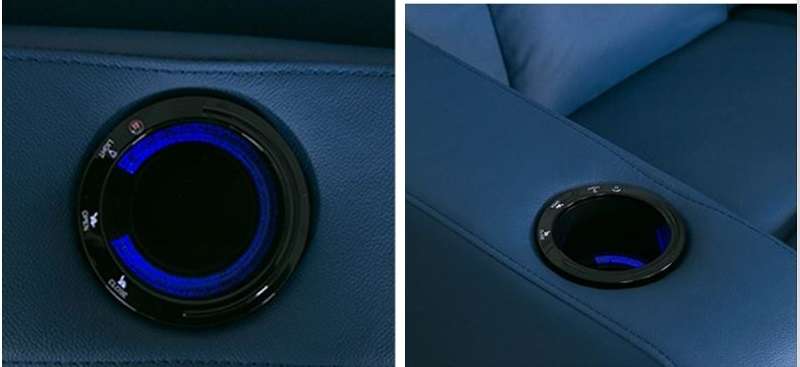 Cooling cup holder – The cup holder is with touch button for the ambient light under the seat. You can contol all the functions just by touching the button on the cup.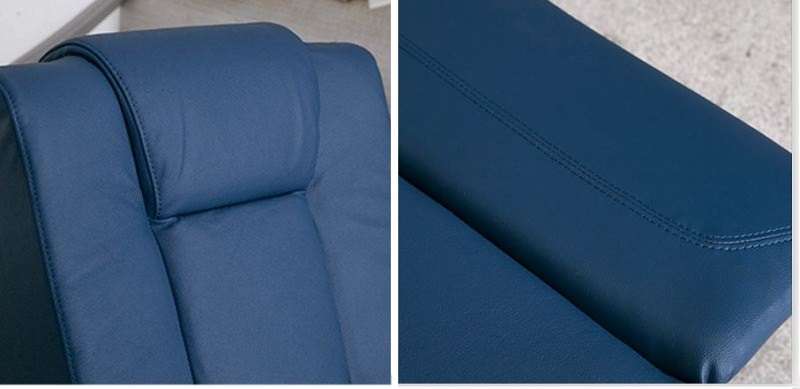 Nice details – The stitching lines is beautifully arranged in the arm and other chair parts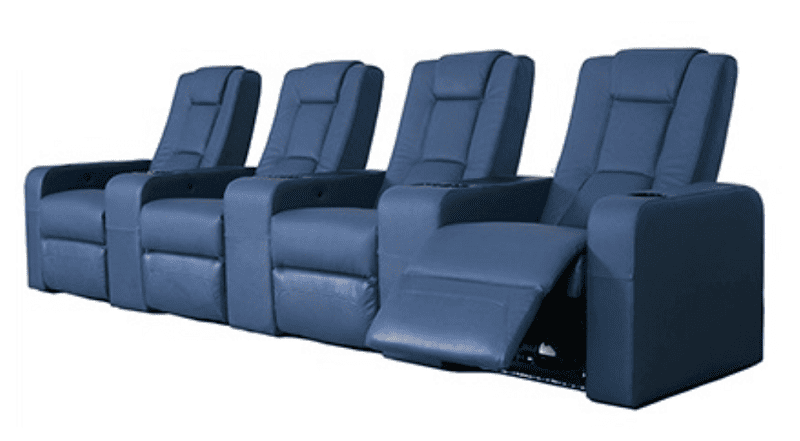 Comfortable headrest – Full headrest design to fit in neck, better support the head. Optional by power headrest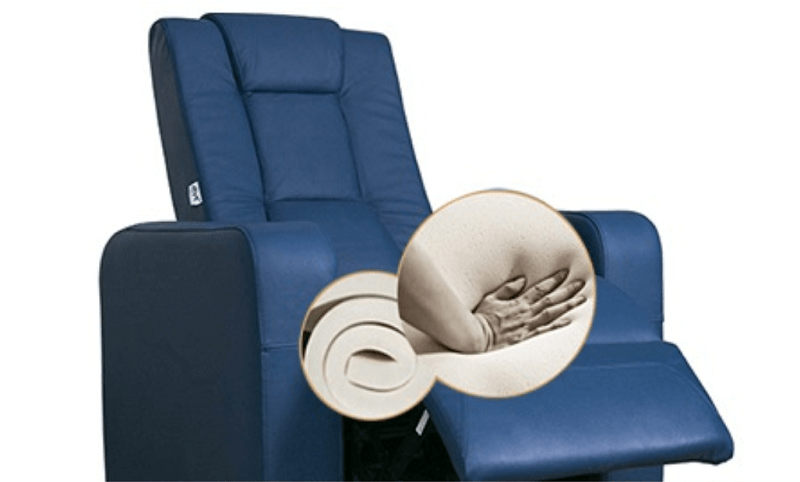 High density foam – Thick high density foam. There are 3 kinds of firmness for options.
Different Kinds Of Configurations
The leather theater recliner LS-870 also comes in different configurations. It can be 1 single sofa, 2 seats, and even 4 seat theater recliner. It depends on your home theater space. Let us know your width, then we will discuss with you to work out the best and most suitable layout for you.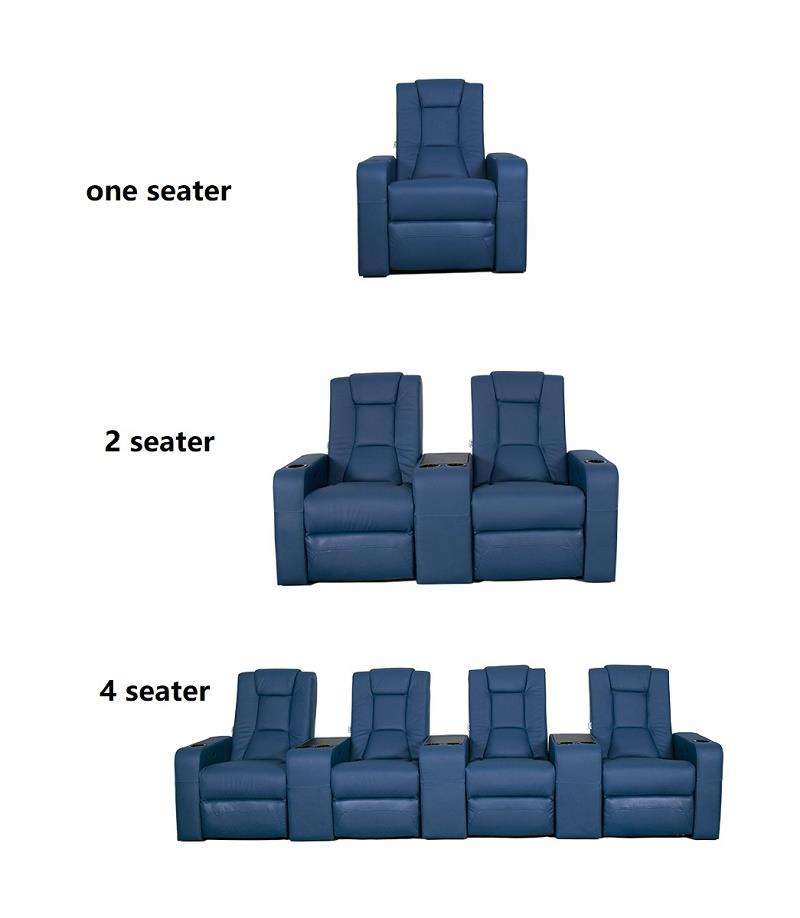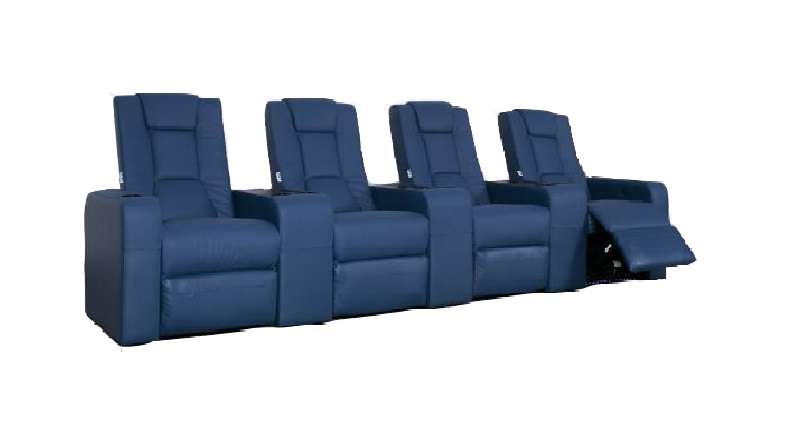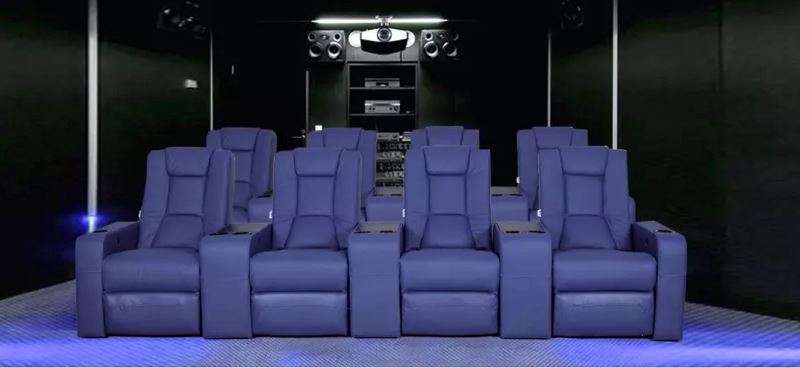 Enjoy Ultimate Comfort and Luxury with LS-870 Reclining Home Theater Seating
Want to get the best home cinema seating for your media room? Look no further than our LS-870 Reclining Home Theater Seating! Crafted with the finest materials and cutting-edge technology, this premium power recliner is designed to provide you with an unparalleled movie-watching experience right in the comfort of your own home.
Reclining home theater seating LS-870 is covered with blue top-grain leather. It features an electric reclining mechanism which is controlled by the chilling cup holder on the armrest. If you want any functions when sitting in the reclining theater seats, all you need to do is just touch the buttons on the cooling cup holders.
Other information about reclining theater seats lS-870
| | |
| --- | --- |
| Upholstery | Top grain genuine leather |
| Color | More than 40 colors available |
| Reclining | Yes |
| Recline type | Electric recline with silent motor |
| Cup holder | Chilling cups |
| Tray table | No. but available on requests |
| LED light | Yes |
| Material | Wood+foam+spring+metal+leather |
| Stlye | Modern |
| Adjustable headrest | Available |
| MOQ | 3 seats |
| Warranty | 10 years |
| Lead time | 18-25 days |
| Trade term | EXW/ FOB/ CIF/ CNF |
Dimensions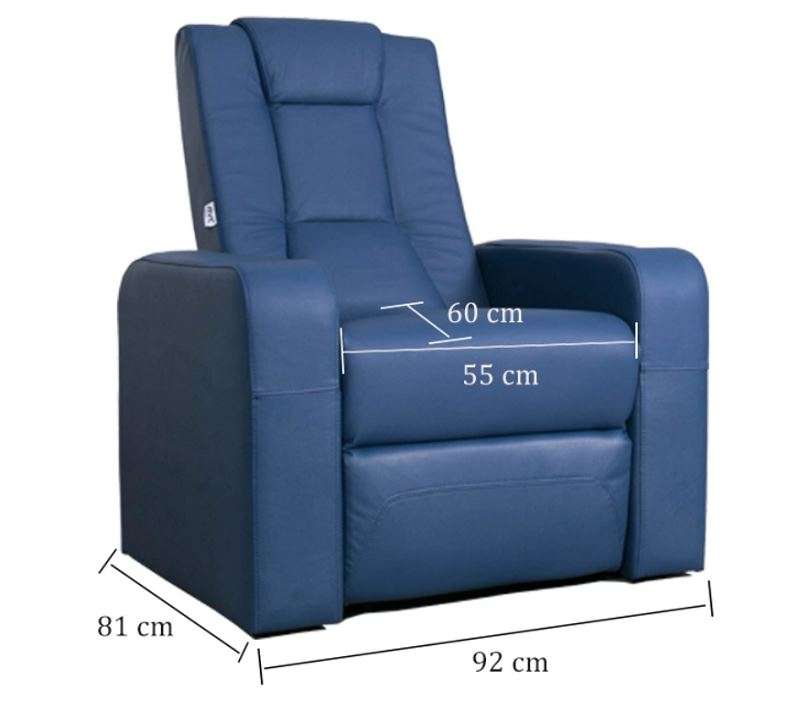 Unmatched Elegance and Style
The LS-870 leather reclining home theater seating is not just your ordinary home theater seating; it's a statement of luxury and style. Covered with luxurious blue top-grain leather, this recliner adds a touch of elegance to any home theater or living room. The smooth and supple leather not only looks stunning but also ensures durability, promising years of exceptional performance.
Electric Reclining Mechanism for Effortless Comfort
Say goodbye to manual levers and knobs! The LS-870 leather power recliner for home theatre is equipped with an innovative electric reclining mechanism, allowing you to adjust your seating position with just the touch of a button. Whether you want to kick back and relax after a long day or find the perfect viewing angle for your favorite movie, the electric recliner function makes it effortless and seamless.
Chilling Cup Holder with Touch Control
Forget about the inconvenience of getting up to grab your drink or adjust the recliner. The LS-870 comes with a built-in chilling cup holder on the armrest, keeping your beverages refreshingly cool throughout the movie. Not only that, but the cup holder also acts as a control panel for various functions, making it easy to customize your seating experience without leaving your seat.
Enhance Cinema Atmosphere with LED Lights
Immerse yourself in a cinematic ambiance with the LED lights integrated into the LS-870. The soft LED illumination not only adds a touch of sophistication to the recliner but also enhances your overall movie-watching atmosphere, creating an unforgettable theater-like experience.
Unrivaled Functionality at Your Fingertips
Whether you're seeking the perfect reclining position or want to adjust the LED lights to match your mood, the LS-870 puts all the control at your fingertips. Simply touch the buttons on the cooling cup holder, and the recliner will effortlessly adapt to your preferences, providing you with the ultimate in-home theater experience.
Quality Of The Genuine Leather Power Reclining Sofa LS-870
Materials such as wooden frames, leather, and foam are selected as good materials. The metal frame has a warranty of 12 years and the other material has a warranty of 5 years. We guarantee the motor and electronics for 3 years. The motor is the best motor – Okin Motor.

Theater Seating Covers – Upholstery
The covers can be any color real leather, microfiber leather, or fabric. But we suggest genuine leather for your home theater to make your home theater more fancy and quality with elegance. Here are some color swatches for your choice.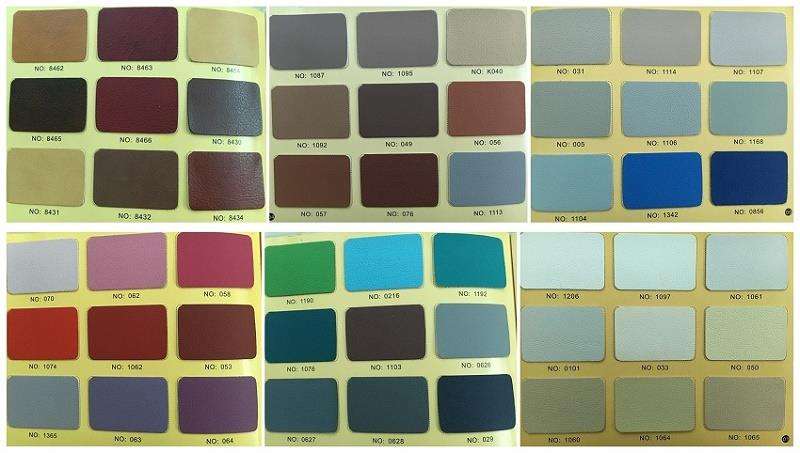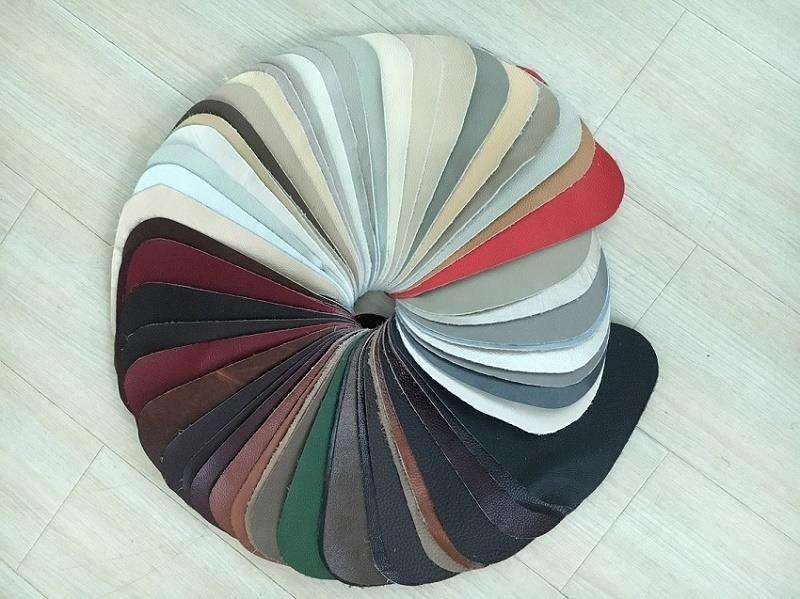 Home Theater Power Recliner with LED Light: Your Ticket to Comfort
The LS-870 Reclining Home Theater Seating is not just furniture; it's an investment in comfort, luxury, and convenience. Elevate your movie nights, gaming sessions, and relaxation time with this state-of-the-art power recliner. So, why wait? Treat yourself to the ultimate home theater experience with the LS-870 today!
Our Service
"Customer-focused" & "Quality First" is our principle as an enterprise. Our sales will listen to your needs and clear your doubts with our 15 experience. We can also offer you free layout solutions. Of course, we also pay high attention to our after-sale services. If any quality problem happened, we will send free chair parts to you to replace them. If for those not be able to be changed, new chairs will be sent to you.
If you want to set up a new home theater, come to the right place to find the right home theater seating is very important. Come to Linsen Seating Furniture, we can help you realize your dream home cinema seating.
Send Us Inquiry
Other similar reclining home theater seats