Electric theater recliner LS-6102 from Linsen Seating is in red leather which is the top five most desired colors for home theater seats. It is a vibrant and stylish red power theater recliner that pairs well with various interior decors. Breathable and soft premium leather makes it ultra comfortable and durable, guarantees the longevity of use.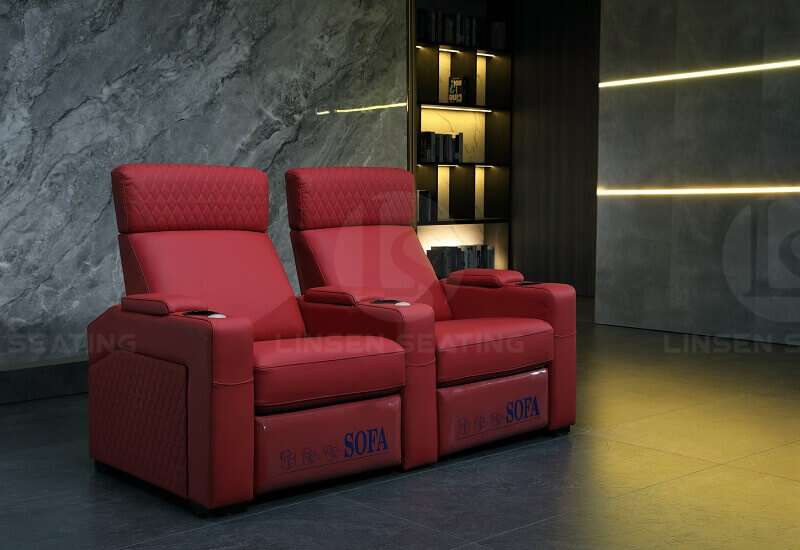 Brief Introduction
Model No.: LS-6102
Power theater recliner chair
With power headrest
With storage
With wine glass holder
Top grain cow leather upholstery
With cup holder
MOQ: 2 chairs
Delivery: Shipping by sea
Details Of Red Leather Theater Seating LS-6102
Red Home Theater Recliner Chair With Removable Tray Table: It comes with a big tray table that can support a laptop, making it a functional space to work or enjoy snacks while watching your favorite movie.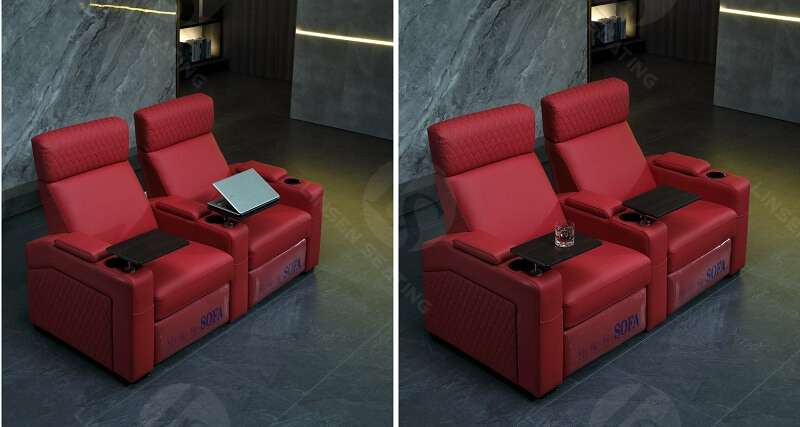 Red Leather Home Theater Couch With Wine Glass Holder: The Home Theater Couch Includes A 360° Swivel Wine Glass Holder, Allowing You To Conveniently Place Your Glass Without The Fear Of Spillage.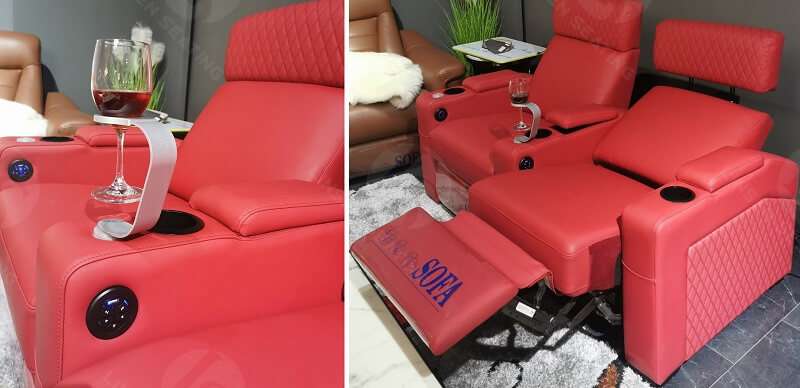 Electric Theater Recliner With Hidden Storage: Each armrest features hidden storage where you can keep your belongings like USB cables, mobile phones, and books, ensuring a clutter-free space.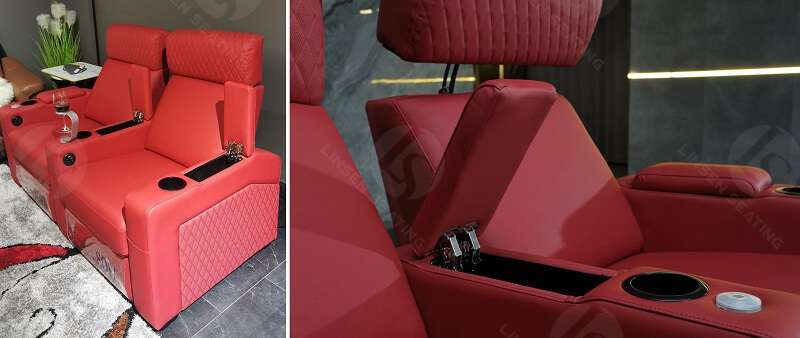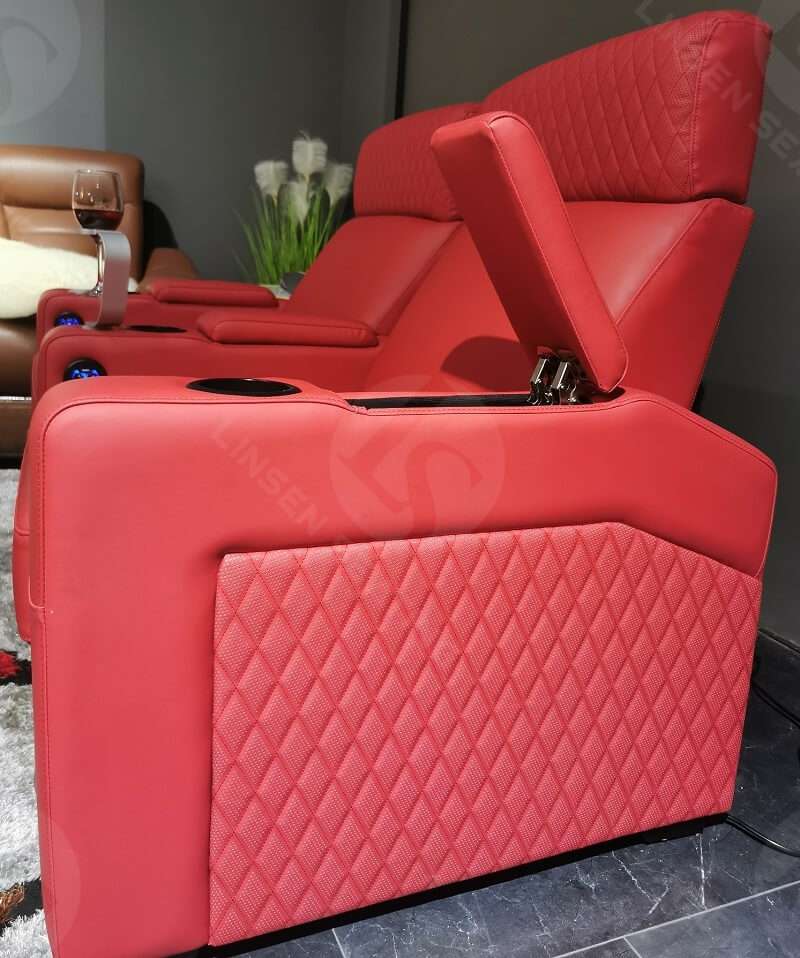 Red Power Theater Recliner With Power Headrest: Our home theater recliners are fully electric, with a footrest and backrest that can be adjusted to your comfort. The power headrest provides neck support, perfect for long movie marathons.
Perforating Red Leather Theater Recliner: The recliner features perforated leather which offers increased breathability and comfort, creating a more enjoyable seating experience.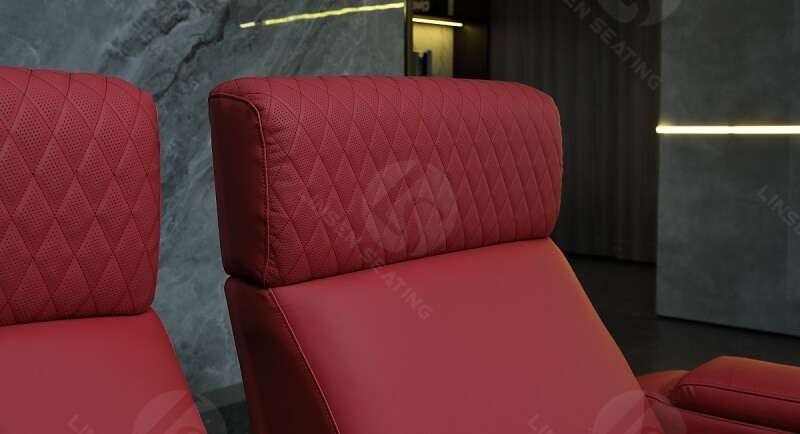 Nice stitching: Each stitch all over the chair is neatly and nicely stitched with very strong and good quality threads.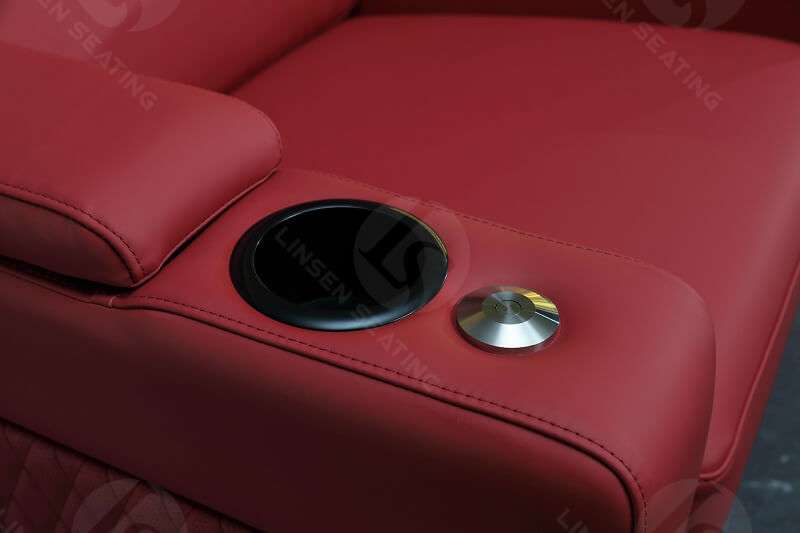 Quality Assurance: With a reputation built on high-quality materials and excellent workmanship, Linsen Seating guarantees a top-notch home theater seating experience.
Why Purchase Red Leather Recliners From Linse Seating?
Buy Red Movie Theater Seats online comes with a host of advantages that will elevate your seating experience and enhance the ambiance of your living spaces. Here are some key advantages of buying our red leather recliners for sale.
Supreme Comfort
Comfort is paramount, and luxury red leather home theater seating is designed with plush cushioning and ergonomic support to provide you with the utmost comfort. The reclining feature allows you to find your perfect relaxation angle, promoting a sense of relaxation and well-being.
Durability and Longevity
Leather is known for its durability and resilience. Our home theater sofa recliner is crafted from high-quality leather materials, ensuring they stand the test of time and retain their beauty and comfort for years to come.
Easy to Clean and Maintain
Red leather is not only beautiful but also easy to clean and maintain. Spills and stains can be effortlessly wiped away, making it a practical choice for households with children or pets.
Wide Variety of Styles
Whether you need a traditional recliner, a sleek modern design, or a plush pad-over-chaise recliner, Linsen has a style to complement any home. With sizes, colors and features to choose from, you are sure to find the perfect red leather recliner to suit your needs and taste.
Best Customer Service
Linsen Seating is dedicated to complete satisfaction. Our expert staff of furniture specialists will help you select the ideal recliner and make sure you are completely happy with your purchase. Linsen Seating also stands behind their products with an excellent warranty to protect your investment for years to come.
How To Decorate Your Home Cinema With Our Red Leather Recliners?
Your home cinema is meant for total relaxation and entertainment. What better way to enhance the experience than with plush and stylish red leather recliners from Linsen Seating? Here are some tips on how to decorate your space:
​Add Accent Pillows: Include some throws and decorative pillows in coordinating red tones. This will tie everything together visually.
Accessorize the Seating: Fluffy blankets, cup holders, and trays let you watch in total comfort. Don't forget the mandatory popcorn bowl!
Incorporate Film Posters: Frame and hang up favorite movie posters on the walls. Linsen Seating recliners lend a film-theatre feel.
Include Ambient Lighting: String lights or lamps create a relaxing glow without disrupting the picture.
Add an Area Rug: A plush rug anchors the space and makes it cozy underfoot. Dark colors hide spills.
Step-by-Step Cleaning Process Of Red Home Theater Seating
Dust and Vacuum: Start by using a soft brush attachment on your vacuum cleaner to gently remove any loose dust, debris, or crumbs from the surface and crevices of the red leather movie theater seats. This step is essential before applying any cleaning solution.
Spot Test: Before cleaning the entire recliner, perform a spot test on an inconspicuous area of the leather to ensure that the cleaning solution does not cause any discoloration or damage.
Prepare the Cleaning Solution: Mix a small amount of mild soap or a suitable leather cleaner with distilled water. Follow the manufacturer's instructions for the appropriate dilution ratio. Avoid using harsh chemicals or products not intended for leather, as they can damage the material.
Wipe Down the Recliners: Dip a soft microfiber cloth or sponge into the cleaning solution and wring out any excess liquid. Gently wipe down the red leather surface, paying attention to any stains or spills. Avoid using excessive water, as leather should not be soaked.
Remove Stains: For stubborn stains, use a soft cloth slightly dampened with the cleaning solution and gently dab the affected area. Avoid rubbing vigorously, as it can damage the leather. Allow the solution to sit for a few minutes to lift the stain.
Dry the Leather: After cleaning, use a clean, dry microfiber cloth to wipe off any remaining moisture from the recliners. Make sure the leather is completely dry before using the seats again.
Condition the Leather (Optional): To keep the red leather soft and supple, you can apply a leather conditioner after cleaning. Follow the product instructions for application, and ensure that it is compatible with your specific type of red leather.
Keep the Recliners Away from Sunlight: Avoid placing your red leather recliners in direct sunlight, as prolonged exposure can lead to fading and damage to the leather.
Regular Maintenance: Perform regular dusting and light cleaning to prevent dirt and grime from building up. This will help maintain the beauty of your red leather home recliners over time.
Send Us Inquiry
Other Similar Electric Theater Recliners For Sale