Do you want to have a practical but different home theater sofa recliner? If Yes, take a look at LS-6100BTR power reclining theater sofa!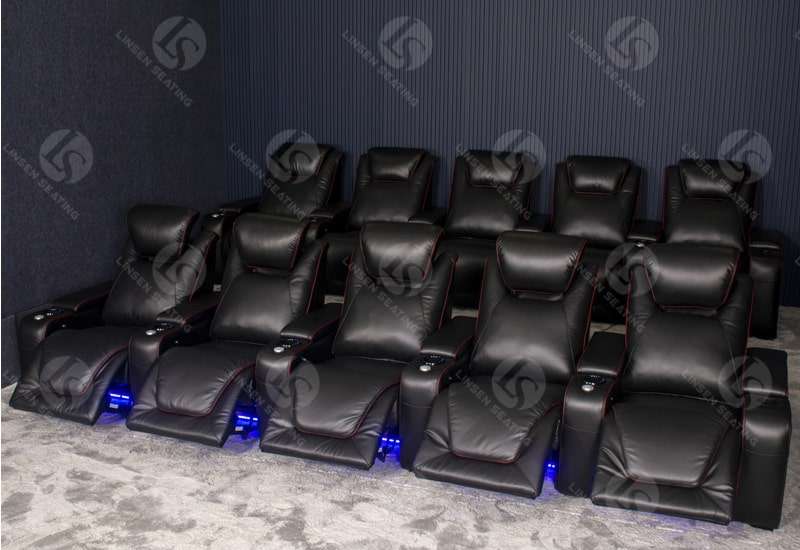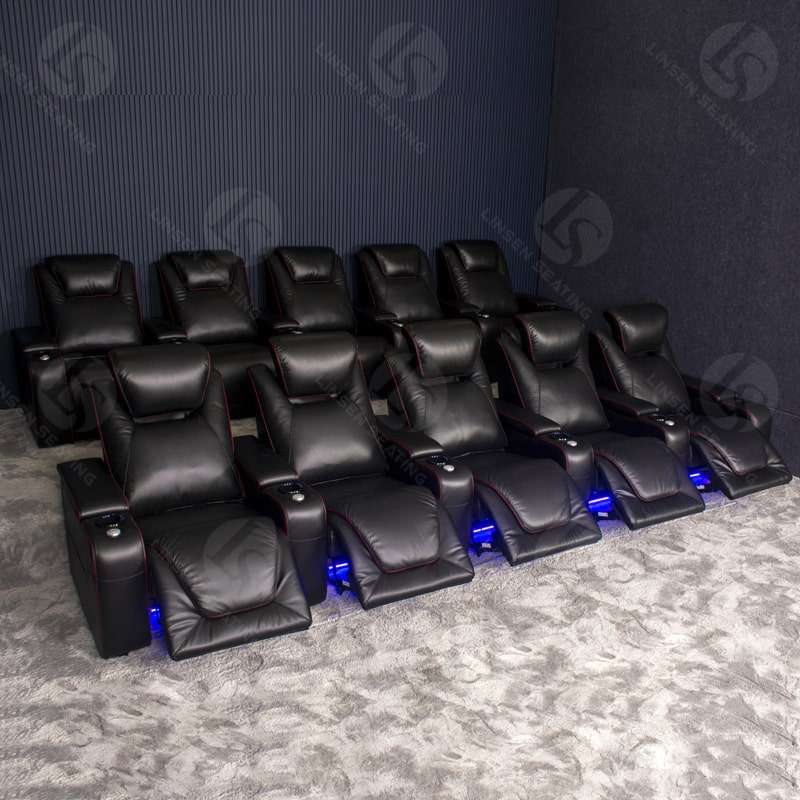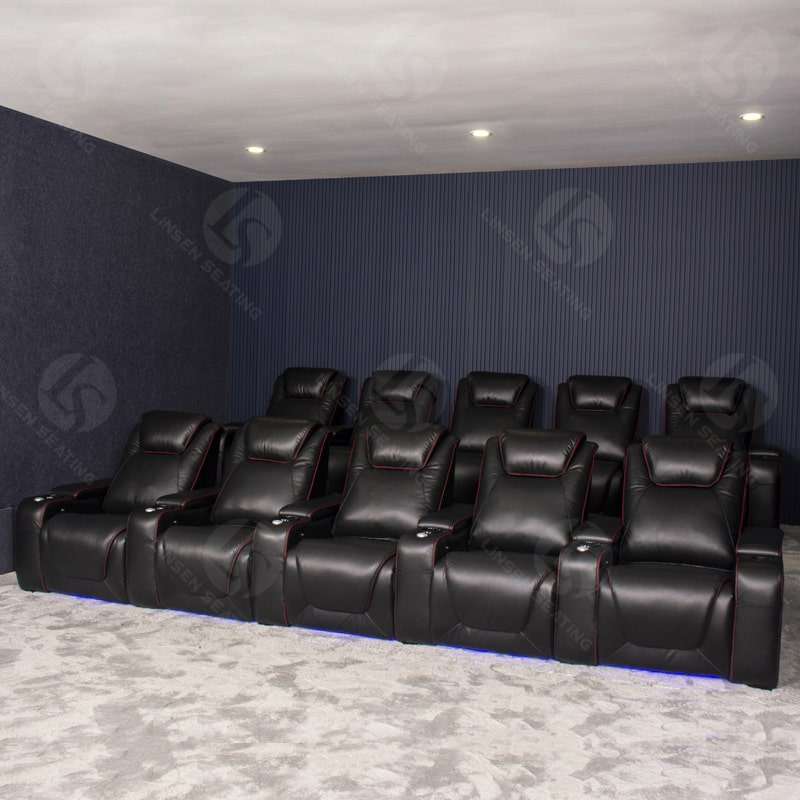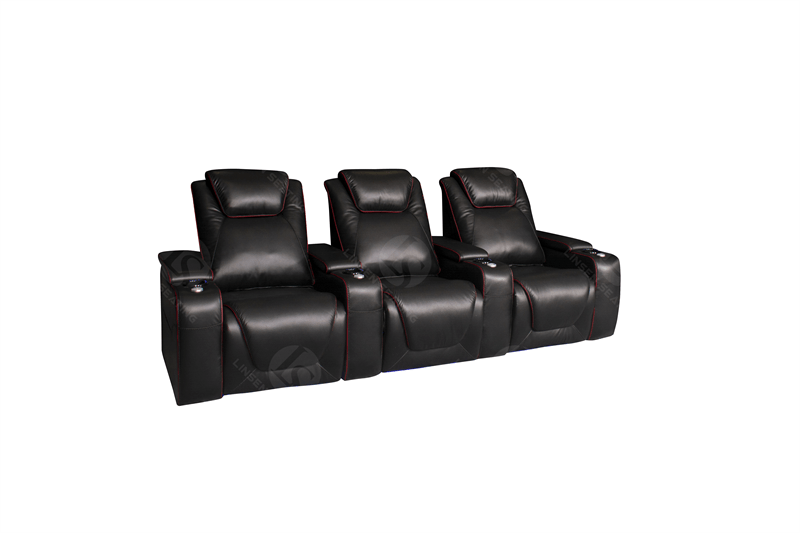 ---
LS-6100BTR Home Theater Recliner Sofa Features & Functions
Cow hide finishing – The upholstery is top grain genuine leather.
Power recliner – It is a power reclining theater sofa.
USB port -There is USB port for charging electronics in the switches.
Adjustable headrest – The headrest is motorized adjustable.
Storage – There is hidden storage compartment in the arm.
Accessories dock – It is installed with sockets for accessoreis like tray table, wine glass holder & tablet holder in the arm.
Cup holder – It is cooling cup with massage function.
LED lighting – There is LED lighting under the seat.
Medium soft – The seat cushion firmness is medium.
Contrast stitching – It is red stitching with black leather
Warranty – 15 years
Why Is LS-6100BTR Reclining Theater Sofa Practical?
1. LS-6100BTR Theater Reclining Sofa Is Very Comfortable
Made of soft high density foam, LS-6100BTR is also well constructed by good hand craft based on a very good supporting of timber frame + metal frame. You can choose firm, medium or soft firmness as your option. Generally medium is already very soft sitting there for your favorite movies. While different people has different taste and needs, the most suitable firmness is the most comfortable and best theater seats for you.
2. LS-6100BTR Is Equipped With Versatile Functions
As one of the best home theater sofa, LS-6100BTR has many fantastic features and innovative functions. It is firstly a power recliner sofa with basic functions like USB port, storage for stuff and motorized adjustable headrest. The cup holder in it is cooling cup with buttons which can control LED light, and even the moving of the whole chair. Especially in hot days, you can keep your beverages cool with this chiller cup. Besides, the metal dock in the arm makes removable tray table, wine glass holder and tablet holder all possible. This adds a lot of convenience when sitting in such a cozy home theater sofa recliner.
3. LS-6100BTR Is Very Durable
One of the main standard of practicability of goods is if it is durable. The longer it lasts, the more practical it is. LS-6100BTR has a warranty of 15 years for its selected materials and good workmanship. You will never be worried about its longevity of use. Because it has good frame supporting and fine construction and each part is well assembled.
Why LS-6100BTR Is Distinctive?
LS-6100BTR reclining theater sofa is not only good for use, but also stylish and unique on appearance. The whole design of it is simple but not dull. All is well upholstered with comfotable materials. It is most featured with red stitching around the seat. This home theater leather recliner sofa is covered black leather, while the stitching thread is red. It has a great impact on the eyes.
Dimensions
Here is our standard dimensions for LS-6100BTR leather theater sofa recliner. While as a pofessional home theater recliners manufacturer, we can also change dimensions in the arm or other possible parts. If you want a console in the middle of 2 seats, we can also customize it for you. Likewise, if you don't have enught space for this big chair, we can also make it narrow to fit into your home theater.
Full height: 108cm
Seat cushion width: 58cm
Arm width: 18cm
Arm length: 91cm
Arm height: 58cm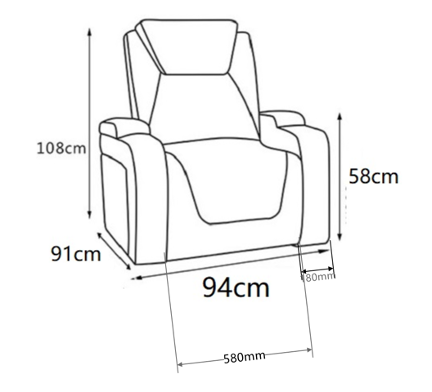 Other Home Theater Sofa Recliners For Sale