Theater seating styles are diversity now. Mainly there are 3 kinds of theater seats.
1. movie theater chairs with intergrated cup holder
It is a kind of normal cinema chair with moulded foam in the seat core and backrest. Covered with plastic covers to prevent damage on the seat and making it easier to clean, the movie theater chairs is compact so that the theater space can contain a large of audience. Many designs also don't use plastic covers. Instead, it is only fabric or leather on the seat cushion part.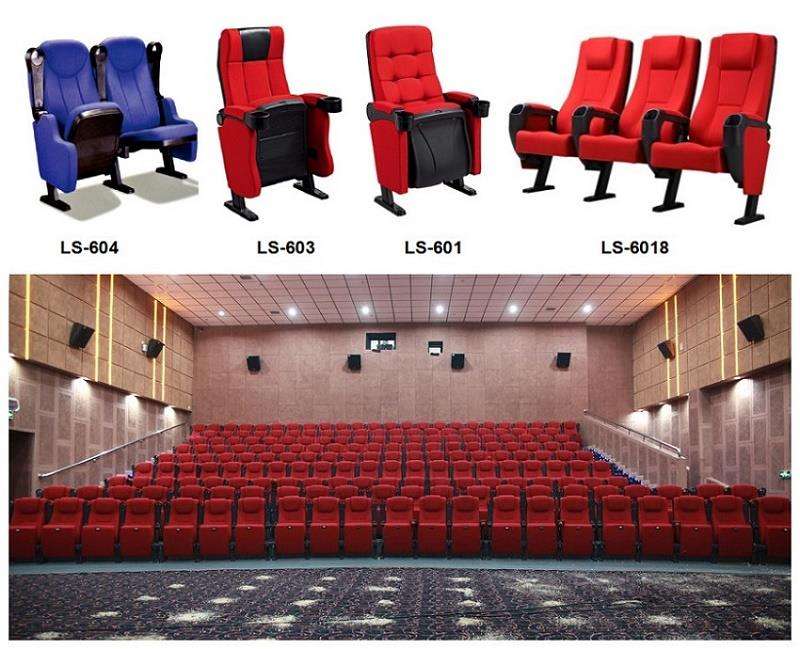 This kind of theater seating design are different from each other by the seat backrest patterns,seat cushion and backrest base, the side panels and sometimes the leg frame. But usually the leg frame design are almost no big differnces. So when you choose a cinema seat, you can compare and find the differnces from these factors. Linsen Seating makes sure top quality with top grade material and fine workmanship no matter which one you choose. Besides, our cinema chair price must be reasonbale and competitive. If you can not decide to choose which one, let us give you some suggestion.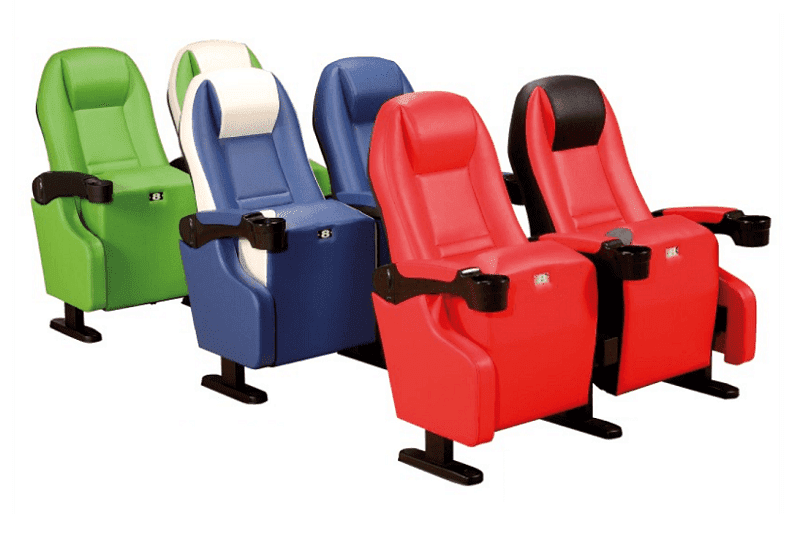 2. Auditorium Seating with wood armrests and hidden writing pad
This kind of design are almost same as movie theater chairs except the leg frame, side panels and armrests. They are also padded with foam and fabric or leather. It fit those theaters like performance centers, music halls, lecture halls art school theaters or township events center as well as some churches.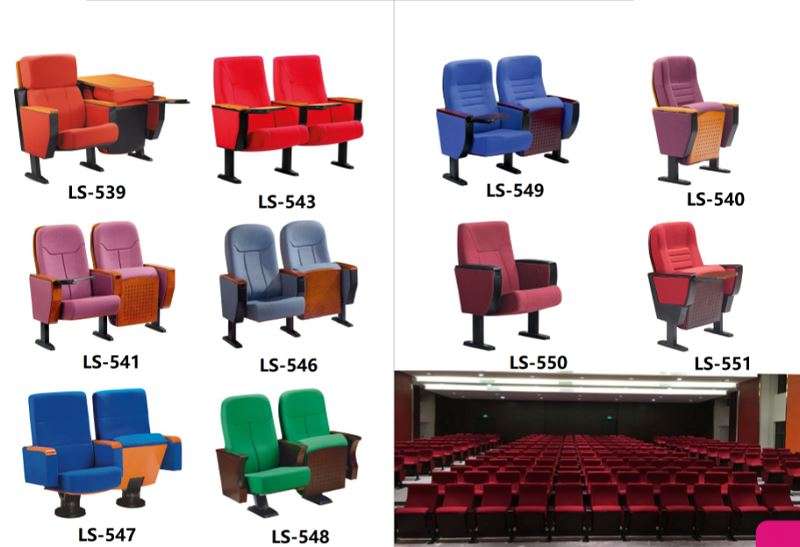 The seat base can be either plastic or wood after painting which is with many small holes that asbsob the noise in the theaters. Linsen Seating offers a veriety of fixed audidtorium seating and movable auditorium seating for your choices. No matter you want plastic outer shell or wooden outer shells auditorium seating style, you can always find many designs with different backrest patterns. We can cusomized the theater chair dimension you want to make it suitable for the people in your local, as well as the upholstery colors. We have hundreds of fabric or leather color swatch for your options. Each theater should be unique, let us know your requests, we can help you to make it different.
As to theater chair prices, it is hard to tell before you send us your exact requests. Because the chair price varies with many factors. First one is the auditorium chair design. So you need firstly choose a design that you like and suitable for your hall. Second is the chair accessories. What accessoris do you want to add? Such as the writing table in the armrests, the separate cup holder, the writing desk in the back, the book net and you want to fixed theater seating or motion auditorium chairs? Third is the auditorium seating layout. The price is different when it is more than 5 seats in a row and less than 5 seats in a row. So tha seating plan also affect the chair price.
3. Reclining theater sofa
The main material are the same, while Sofa style theater seating recliners is kind of upgrade of the 2 kinds theater seats above.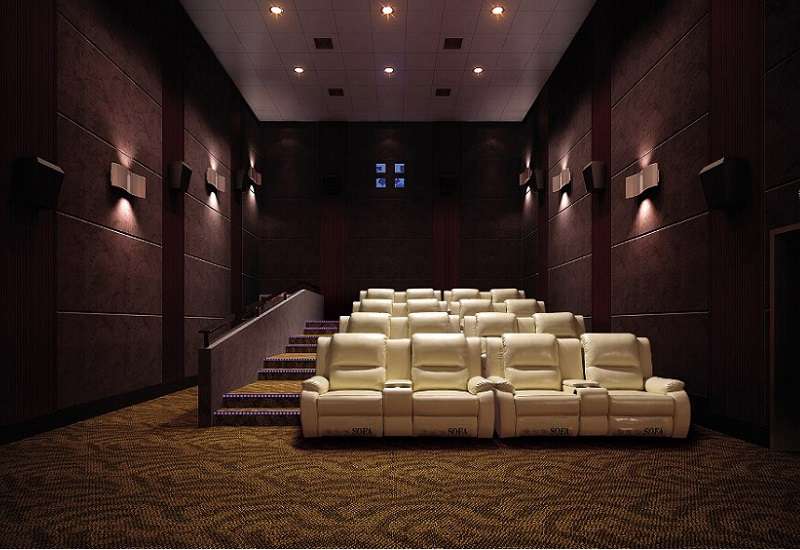 Firstly, it is more comfortable becuse it is just like a kind of sofa which is soft and bigger.
Secondly, it can be with recliners either manual recliners or power recliners, it can let you lie down when you are exhuaseted during the movie marathon.
Thirdly, it is more luxruy which atrracts more audience as well. People pay more and more for those luxruries or unique experience now, and the recliners can offer that.
Reclining cinema chairs are also known as VIP cinema seating because they let you feel comfortable like household sofa but also with many other customized functions that offer more and better movie experiences. It has many styles and upholstery in different colors. You can also arrange the rows or layout according to your cinema size or your ideas. No matter row of 1 or hundreds of seats, it is available. If you wan to make your cineplex more competitive, don't forget to set several VIP rooms with electric theater recliners.