Media room sofa LS-872 is the latest new arrival which was just born 5 months ago in April 2019. But the sales volume has surpassed a lot than the other media room recliners. The media room sofa ideas is featured with its wing backrest and good supporting for the back which makes them ultra comfortable. Bright blue lines based on the dark blue looks like waves on the sea. The end arm frame is also out of ordinary. The colour and shape of the arm is different from the normal ones. All these features make the media room furniture a totally high-end media recliner sofa.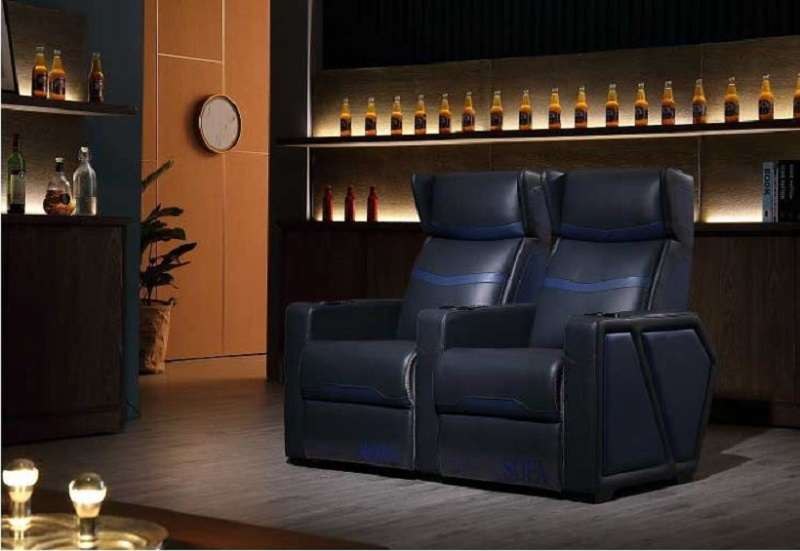 Brief Introduction
Color: Blue or other color is optional
Upholstery: Micorfiber Leather
Weight: 53.5KGS
Recline: Electric recline
USB Port: Yes
Tray Table: Available
Tablet holder: Available
MOQ: 2 seats
Warranty: 10 years
Features of Media room recliner sofa LS-872
Media room recliner LS-827 is a design with electric recliner with buttons on the arm frame.
The cup holder of the media recliners is with USB port for charging your mobile or other electric devices.
The headrest part is wing-back pattern. The stitching lines are straight.

Options for media recliner sofa LS-872
Electric recliner or manual recliner chairs are optional
You can choose USB outlet in the buttons or in the cup holders.
If you don't like black cups, you can choose silver stainless steel cup holders.
If you don't like the upholstery color, you can choose other colors you like to match. For example, this one below is customized by another customer.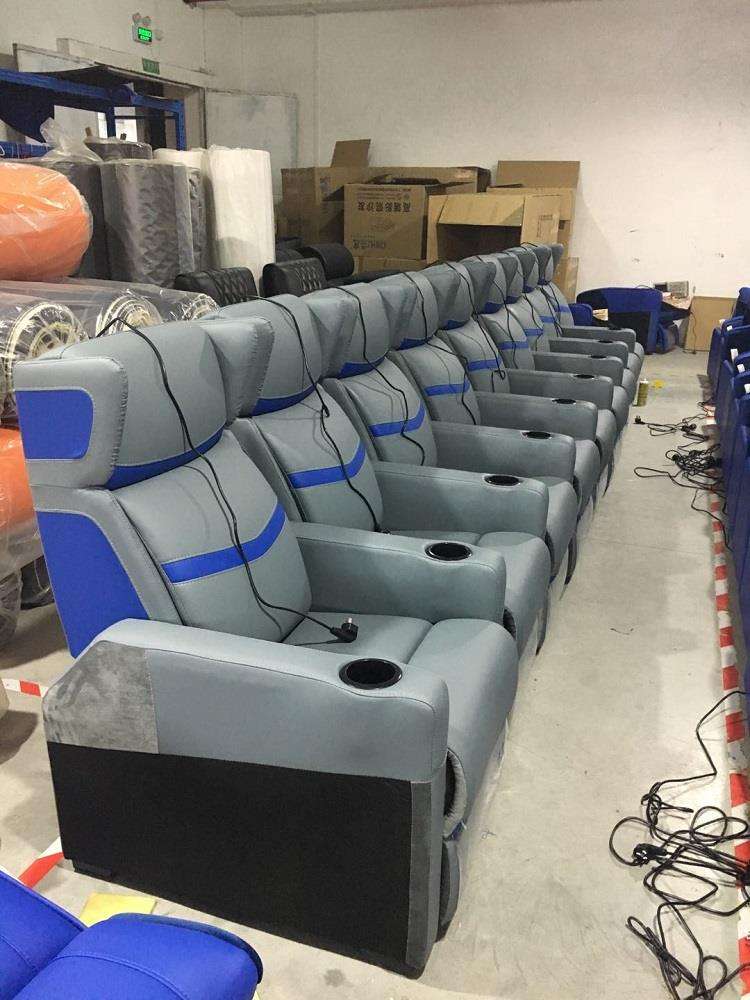 Other information you may want to know when you buy media room recliners
Warranty of the recliner sofa is 10 years for the frame and 5 years for the leather and mechanism
Production time will be about 15-20 days.
Payment term is usually T/T, but we can negotiate it according to specific order.
Packing is 7 layers hard carton boxes with PE bags on the chairs. One seat one carton.
We can make free layout if you if necessary.
media room seating configurations
Media room seating configurations depends on your media space. Usually 3 seater in a row is the most common one. You can arrange it according to the facts and your likes. Here are some more choices for references.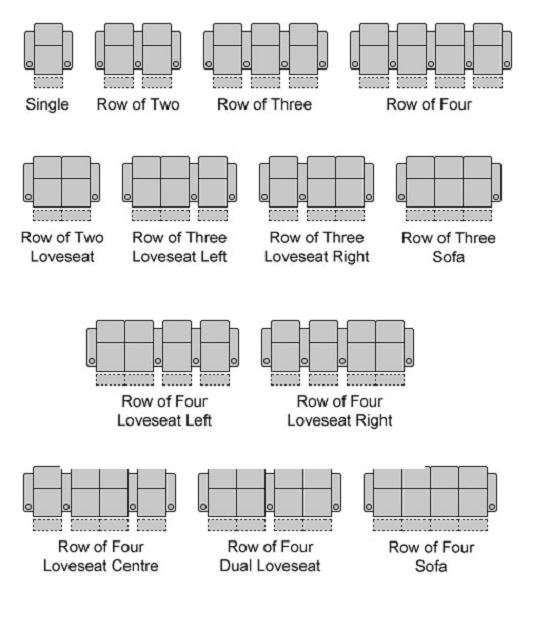 Why do you need to buy media room sofas instead of normal sofas?
Many people may ask " why do I need to buy a such a special media room sofa to replace the normal sofa in the home theater or living room?" If you never used such kind of media room sofas, you may think standard normal sofa is enough for your usage. While after you try it out, you will never forget about the comforts and convenience it brings you. Think about why you go to the cinema with your friends to see a movie, then you will know why you need such a perfect comfortable recliner sofa for movies.
1. Media sofa is more comfortable
Media room sofa offers you more comforts than the normal sofas. As a person who likes watching movies, you must want to be immersed in the film without any disturbing or troubles. While some commercial cinema rooms offered low-comfortable cinema chairs which won't provide you enough leg room, it is always hard to totally enjoy a whole movie with all these troubles.
Besides, the normal folding cinema seats is with small arms in the middle between 2 seats, you may always accidentally touch the arm of a stranger next to you and you both had a silent battel over for the little small arms. These all trouble you so that no joy at all.
While with media room sofa, you can not only strech out your leg with the footrest supported. But also you will have more arm space to rest on. Media room sofa is with good arms in between them. If you think this is not enough, you can also have a single chair for one person.
2. Recliner home theater sofa offer better atmosphere
Reclining home theatre sofa can be totally displayed in a layout make you just feel like in the cinema. With all lights off, the seat is with LED lighting under the seat. You can discuss with your friends more than the commercial cinemas and there is no need to pay overpriced popcons.
3. You can have more fun when watching sport games with media seating
Media seating is designed for entertainment. Sport games and some entertainments are very common for a few people to see together. They comment and enjoying the bears and foods. media recliner sofa offer them much more joy than a common household sofa.
They are perfectly good to use when you want to enjoy a movie or games with your families or friends in the comfort of your own home theater or living room. A true movie fan should not hesitate to invest in such a nice seating especially for home movie theaters.
Send Us Inquiry
Other media room recliners for sale