Buy best quality movie recliner chairs LS-6107E at Linsen Seating, the epitome of luxury and comfort in-home theater seating. Movie theater recliner sofa LS-6107E is a big comfortable sofa upholstered with top grain cow leather. This theater sofa design is bigger than the common movie theater seating. Plush the striking and vibrant orange color, LS-6017E is very comfortable and stylish and also practical. Crafted with meticulous attention to detail, this exceptionally designed home furniture is a true masterpiece that will elevate your movie-watching experience to new heights.
Buy Big & Tall LS-6107E Movie Theater Recliner Sofa Online
Product Details Overview
● Upholstery: Top-grain cow leather
● Color: Striking and vibrant orange
● Spacious and comfortable design
● High-density foam cushions
● Reclining function
● Suitable for home theater and living room use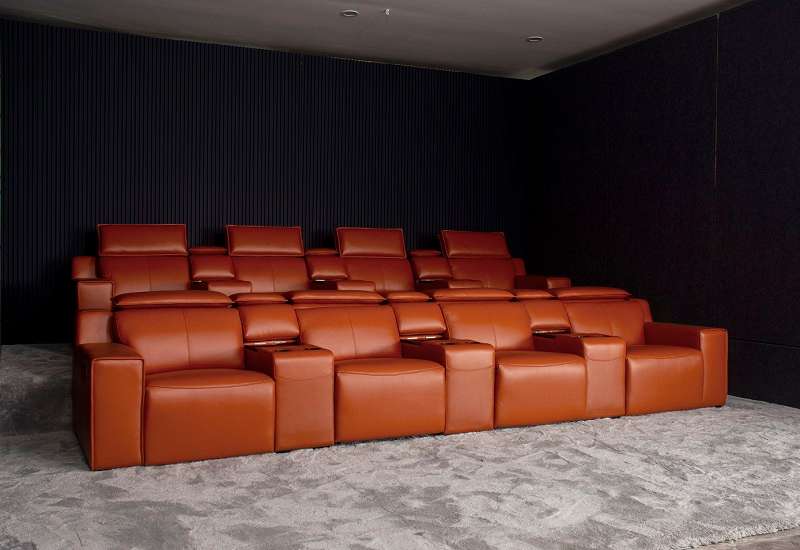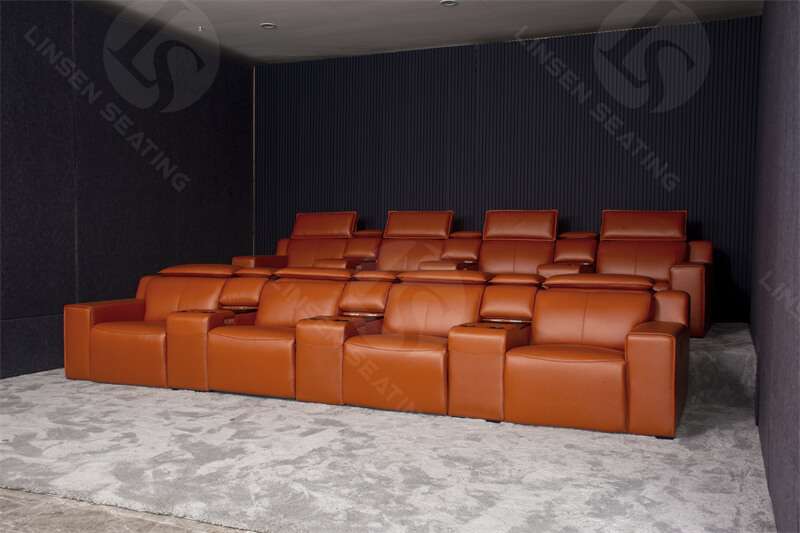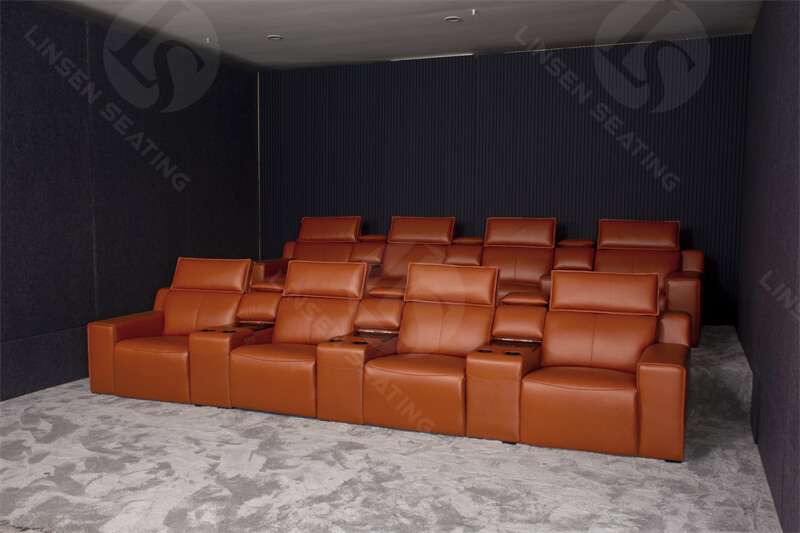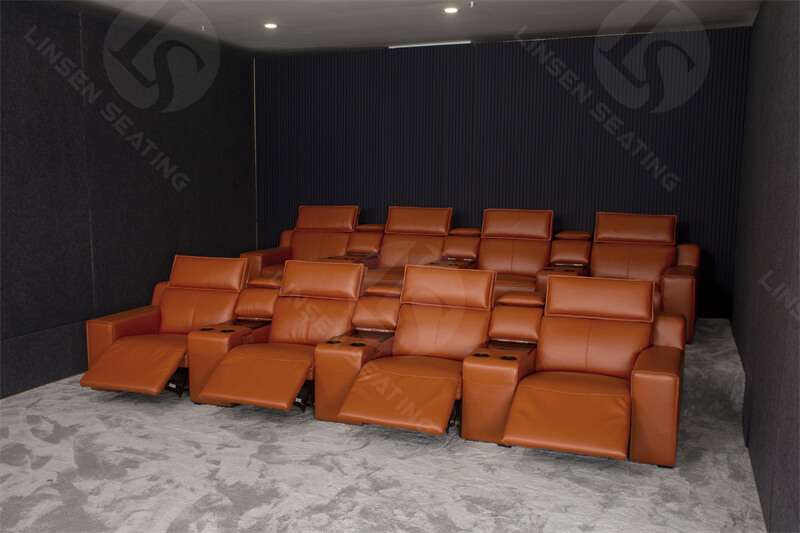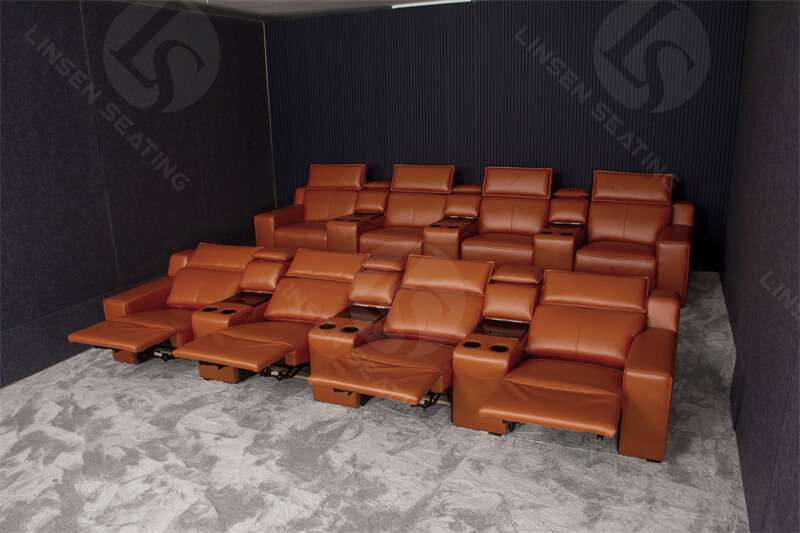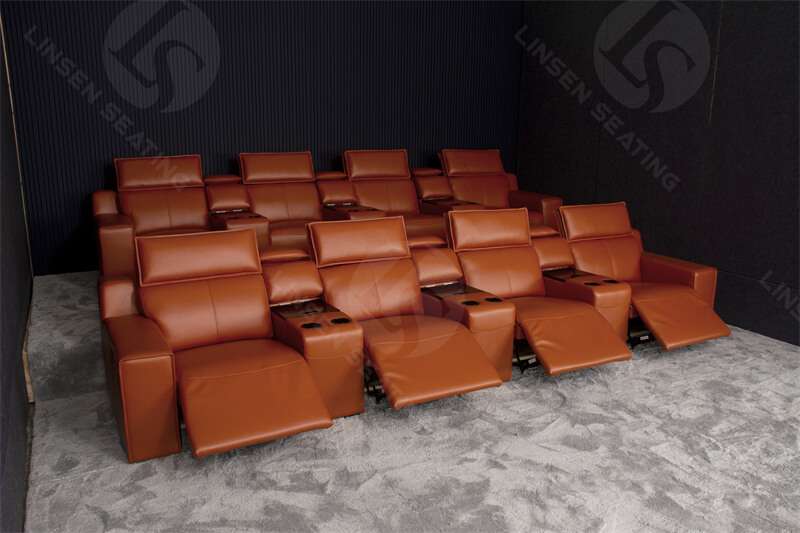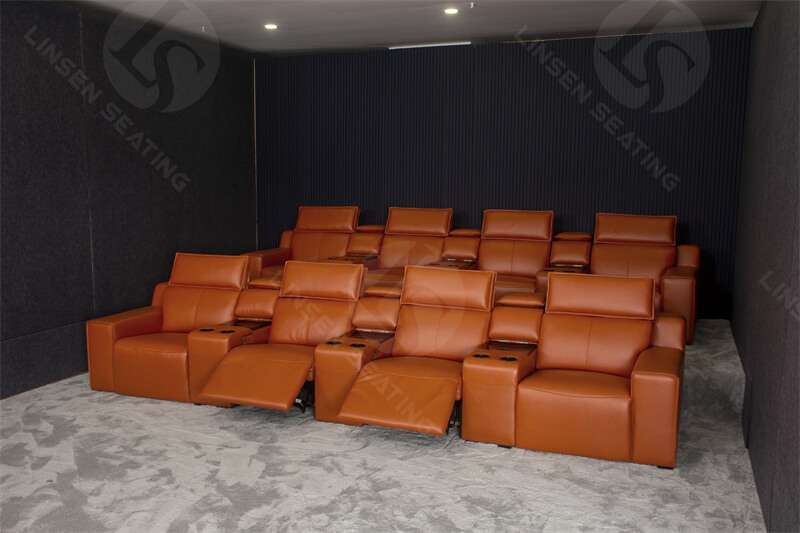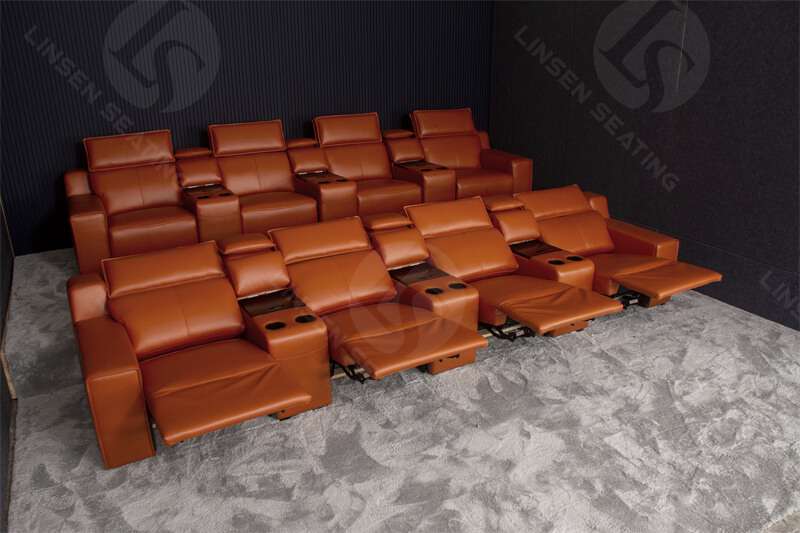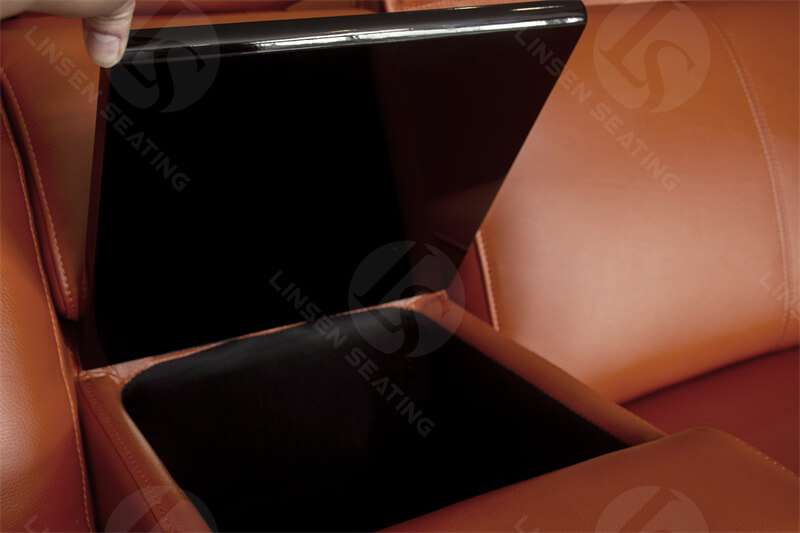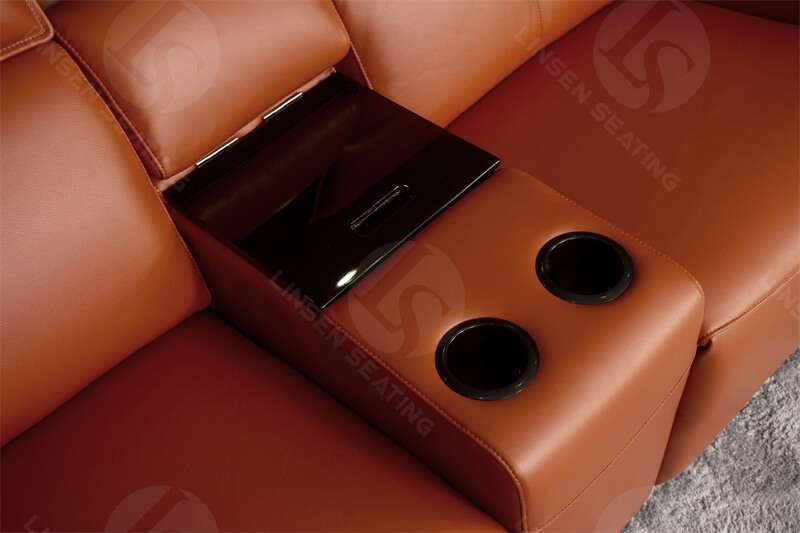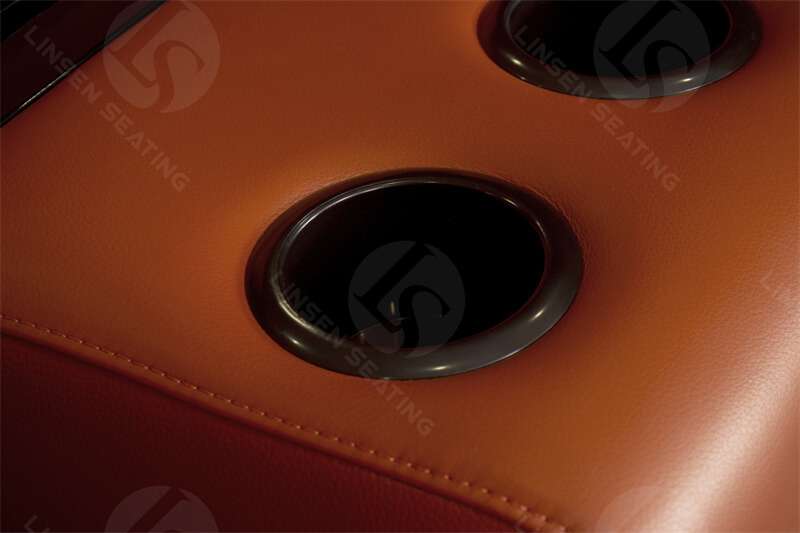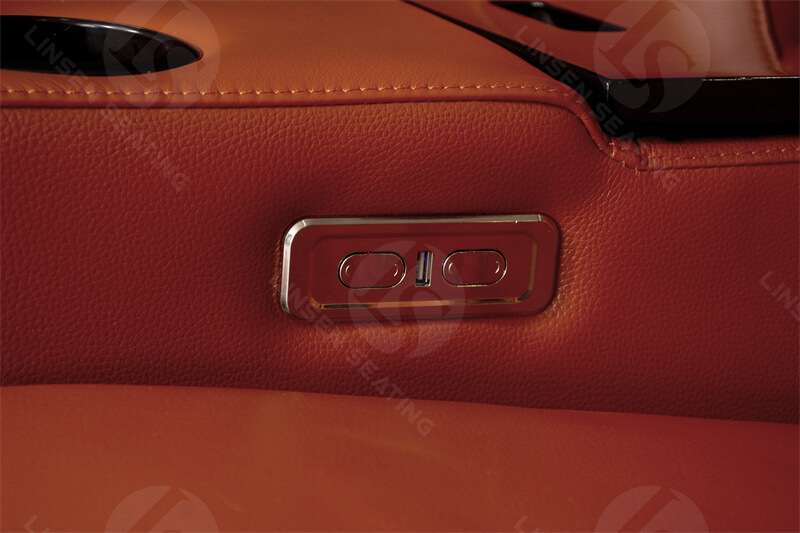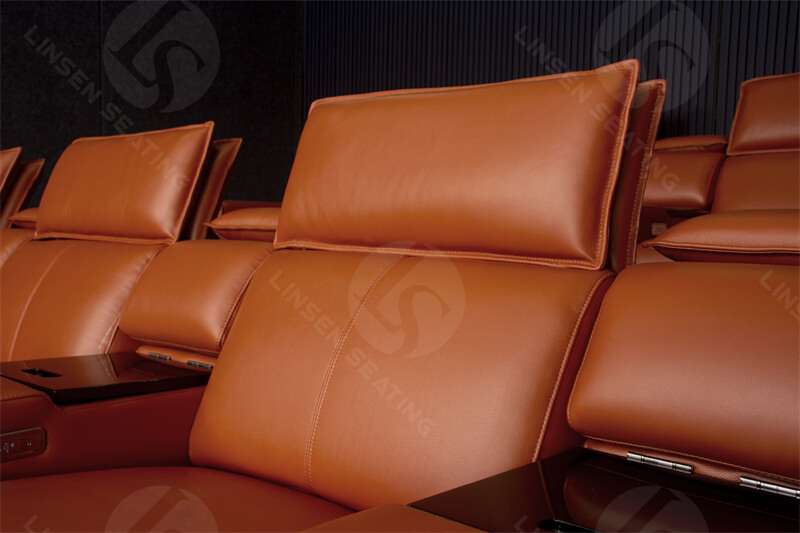 Movie theater sofa LS-6107E is designed for relaxation. Its generously sized and soft seats offer more comfort but are also supple to the touch. The sofa's high-density foam cushions provide ample support for the back and legs, while the reclining function allows you to find the perfect angle for maximum comfort. All materials are meticulously selected. So it is also very durable. What an amazing home theater with these seats! Of course, you can also use it as a living room power recliner sofa. The sofa's sleek and modern design makes it fit into any space and seamlessly matches with contemporary decor.
Why Buy the Affordable Oversized Movie Theater Recliner Sofa LS-6107E From Us?
The movie theater recliner sofa LS-6107E exceeds the standards of common custom oversized movie theater reclining seats for sale. Its spacious design ensures that you have ample room to stretch out and relax, while the plush top-grain cow leather upholstery adds a touch of sophistication and elegance. The vibrant orange color of the sofa brings a striking visual appeal to any space.

Unwind and indulge in pure bliss as you sink into the supple and irresistibly soft seats of the LS-6107E. The high-density foam cushions provide optimal support for your back and legs, ensuring maximum comfort during long movie marathons or extended relaxation sessions. With the reclining function, you can effortlessly find the perfect angle to recline and customize your seating position for ultimate comfort and relaxation.

Durability is a key feature of the LS-6107E. Every material used in its construction has been carefully selected to ensure longevity and withstand the test of time. These exquisite movie recliner chairs are built to last, allowing you to enjoy their remarkable comfort and style for years to come.

While specifically designed for home theaters, the versatility of the LS-6107E knows no bounds. With its sleek and modern design, this sofa seamlessly blends into any living space, making it an ideal addition to your family room or entertainment area. Its timeless appeal effortlessly complements contemporary decor, adding a touch of elegance to your surroundings.

The attention to detail in the movie recliner seat is evident in every aspect of its design. From the intricate stitching to the carefully crafted small details, this large home theater sofa exudes boutique-like quality. Linsen Seating takes pride in delivering top-notch craftsmanship, ensuring that your investment in this wild home theater recliner sofa is met with the highest standards of excellence.
Why Our Movie Recliner Seats The Most Comfortable On The Market?
Size and Proportions: Big and tall home movie recliner chairs are designed to accommodate larger and taller individuals, providing them with ample space and support. The dimensions of the seat, backrest, and armrests are specifically tailored to offer better comfort and prevent users from feeling cramped.

Enhanced Support: Larger individuals may require additional support to maintain a comfortable posture while seated for extended periods. Big man home theater seating often features extra padding and reinforced structures to provide better lumbar support and distribute weight more evenly.

Deeper Seats: Big and tall home theater seats often have deeper seating to accommodate longer legs and provide more thigh support. This helps prevent the legs from hanging uncomfortably over the edge of the seat.

Quality Materials: Comfortable home theater seating usually incorporates high-quality materials such as memory foam, plush cushions, and durable upholstery. These materials offer better support and help reduce pressure points.

Adjustability: Some large movie theater recliner sofas come with adjustable features, such as reclining mechanisms and headrests, allowing users to find their preferred sitting position for optimal comfort.
Wide Armrests: Big and tall theater seating often has wider armrests, giving users more space to rest their arms comfortably.

Sturdy Construction: The construction of the movie theater recliner sofa is typically more robust to withstand the additional weight and pressure that larger individuals may exert on the furniture.
Tailored for Home Theater Use: Buy Linsen Seating movie recliner chairs that are specifically designed for extended movie-watching or gaming sessions. It takes into account the ergonomics needed for these activities and aims to provide a more enjoyable and comfortable experience.
Transform your living space into an oasis of comfort and luxury with our large home theater chairs. Experience the ultimate relaxation as you immerse yourself in your favorite movies or simply unwind after a long day. Don't miss the opportunity to make your home theater the envy of all with this exceptional piece of furniture. Choose Linsen Seating the best movie theater reclining seat manufactuerer, and you'll never have to compromise on quality, comfort, or style.
Send Us Inquiry
Other Home Theater Sofa For Sale