Media recliner sofa LS-6100BM is a brown leather home theater recliner with cup holder and USB port. Classical brown leather matching white stitching brings a charming sense of fashion and big contrast to the eyes.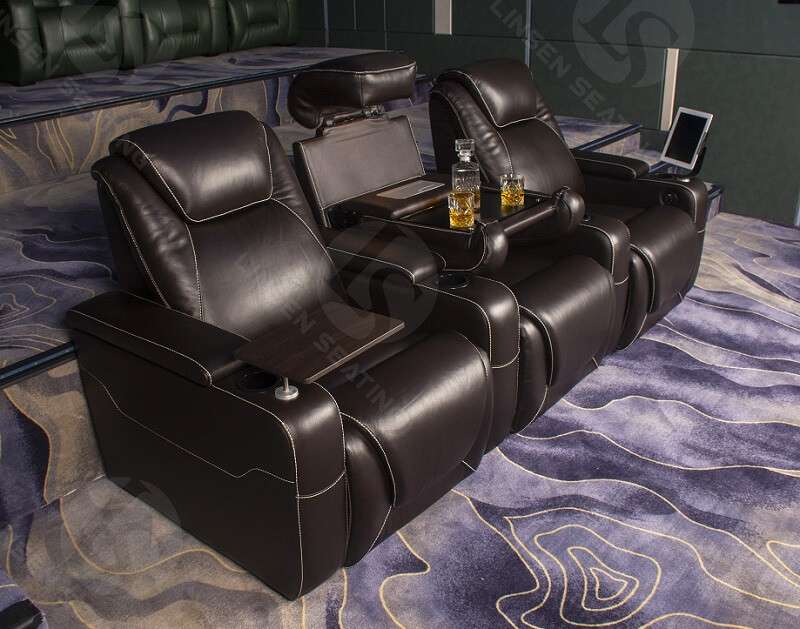 Brief introduction
With storage
With USB port
With cup holder
With Ipad holder
With brown Tray table
With hidden plug inside
Brown cow leather upholstery
Foldable middle seat
Electric recliner theater chairs
10 years warranty
Door to door delivery supported
MOQ 2 seats
Diverse color for options
6100BN is an amazing media recliner sofa design with many awesome functions
It is a media recliner sofa with tea table in the middle. Usually this kind of design comes in a row of 3. 3 seat theater recliner makes people closer.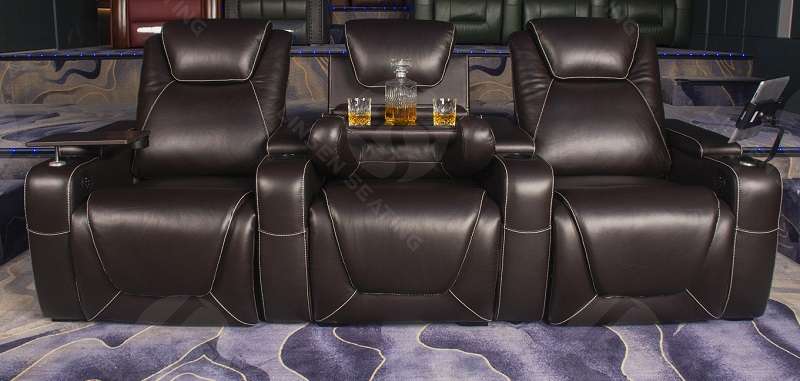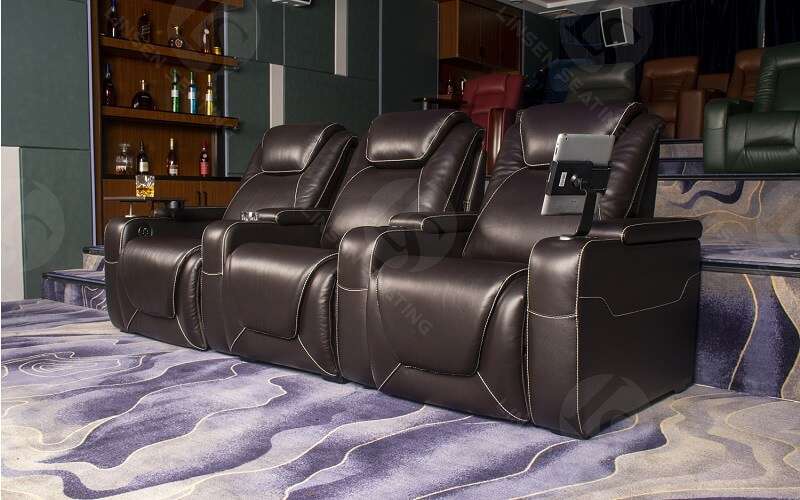 Tea table in the middel of the media recliner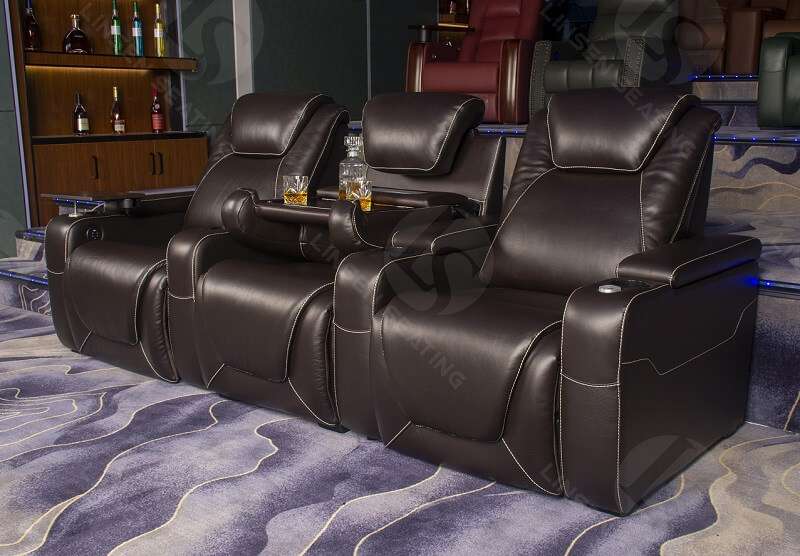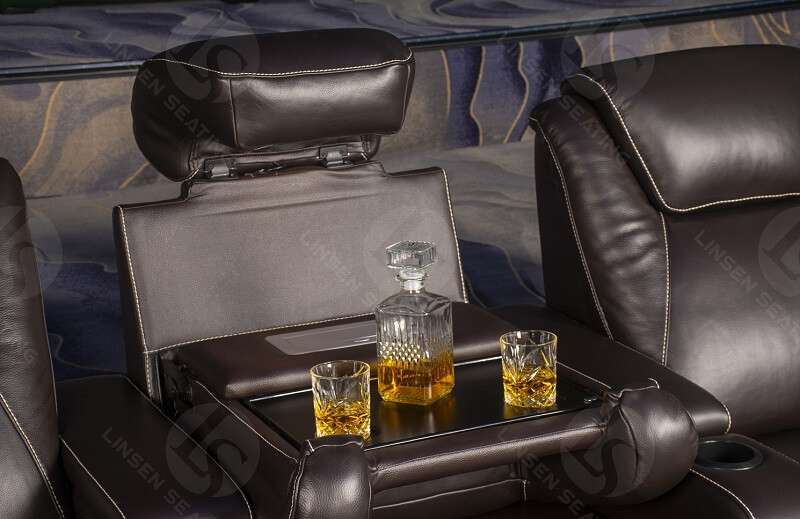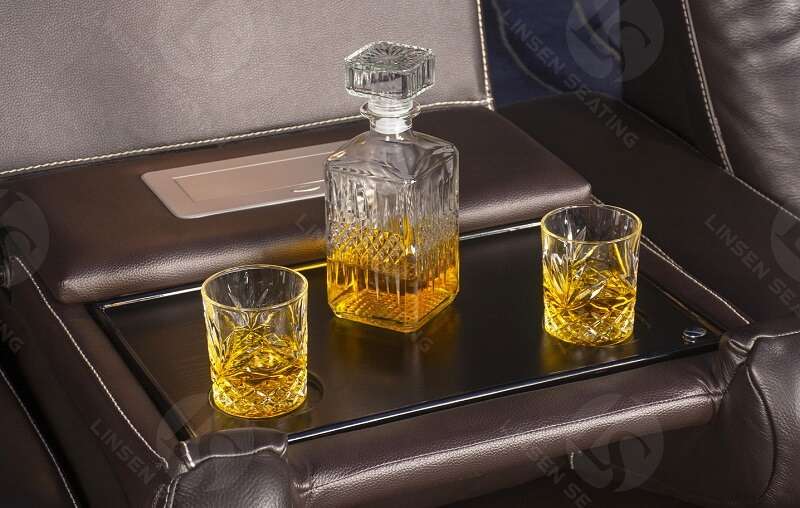 Middle chair is also a tea table when you open the backrest. You can put your drinks on it. There is a wood panel inside of it. It is easy to clean and even there is a little liquid, it is easy to wipe it away and keep chair dry and durable.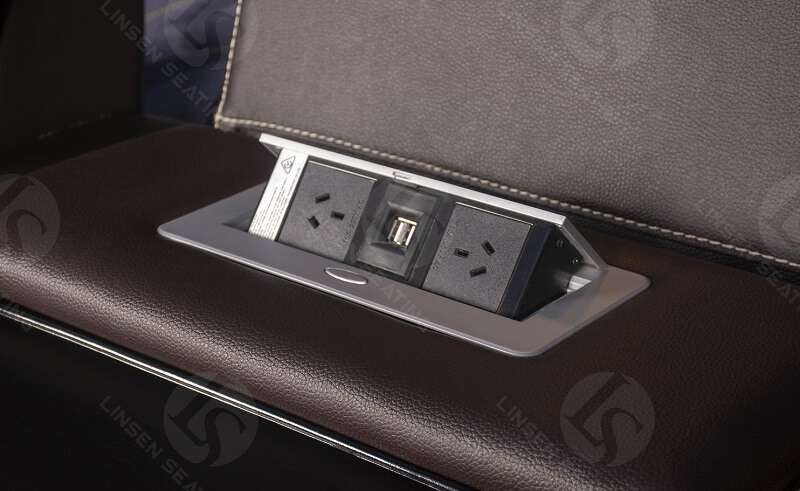 Hidden plugs and USB ports are also standing by the wood tea table. It is very conveinent for you to charge mobile devices. When you need it, you can just open it with the small button on it and close it by putting it back. It is so easy!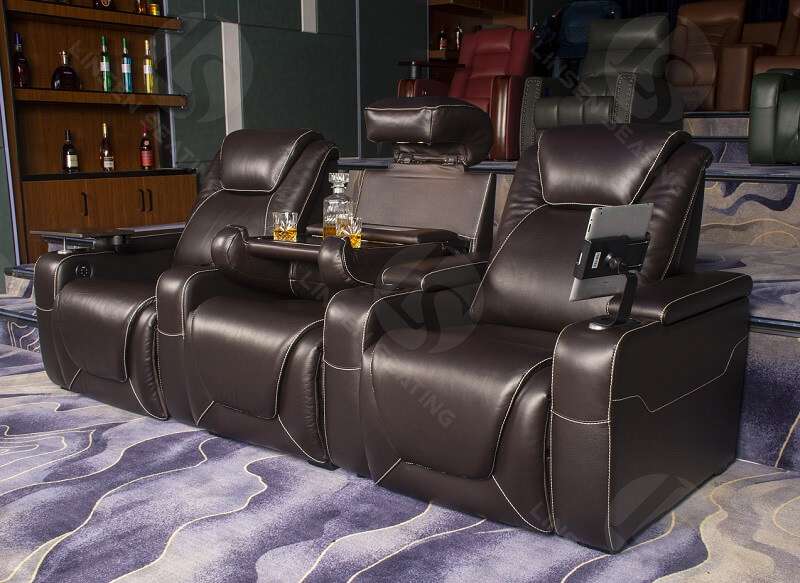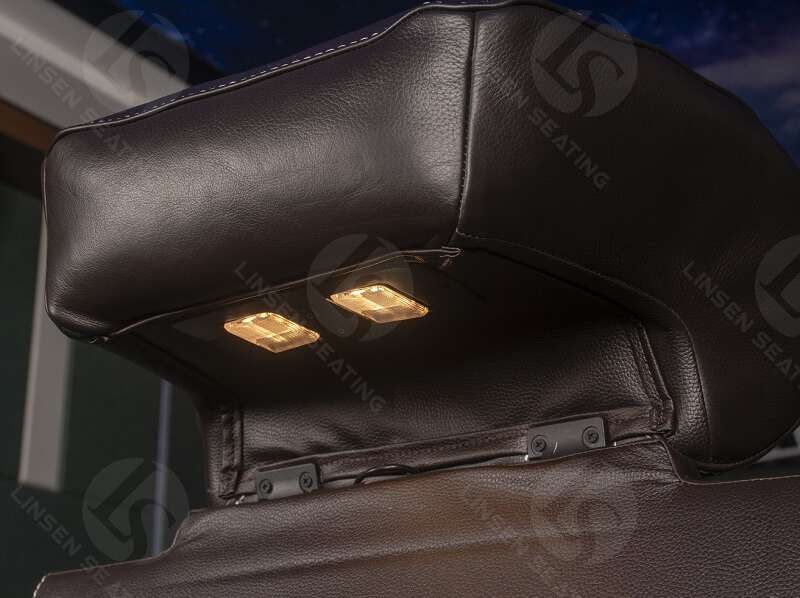 There are 2 small lights under the headrest when you open it. It is very good and convenient in dark light asmostphere like home cinema room.
Electric Media recliner sofa and power headrest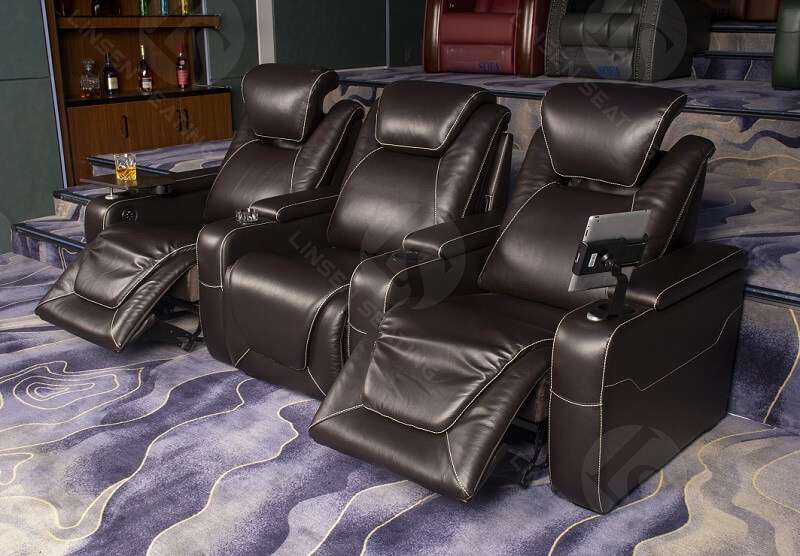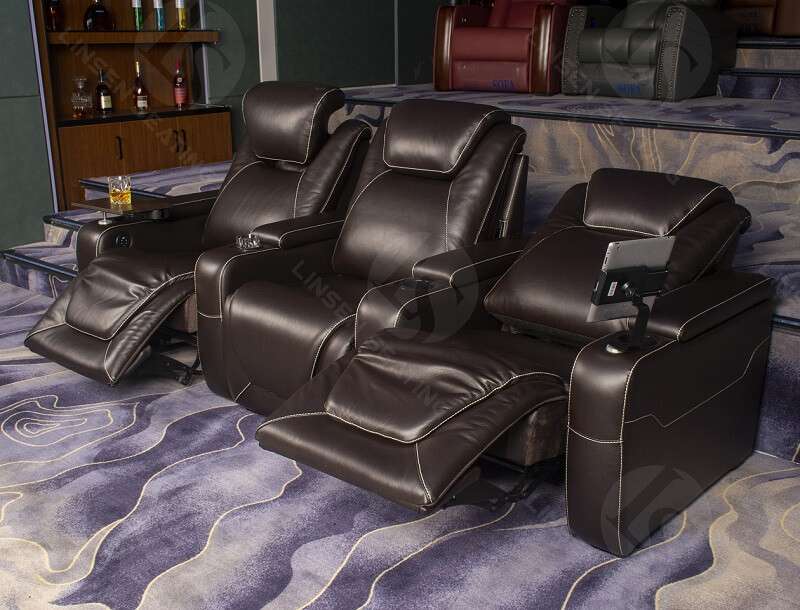 Ipad holder is also a phone holder in the arm dock
The Ipad holder is very flexible. It can support a Ipad but also a phone. You can adjust the holder according to your needs.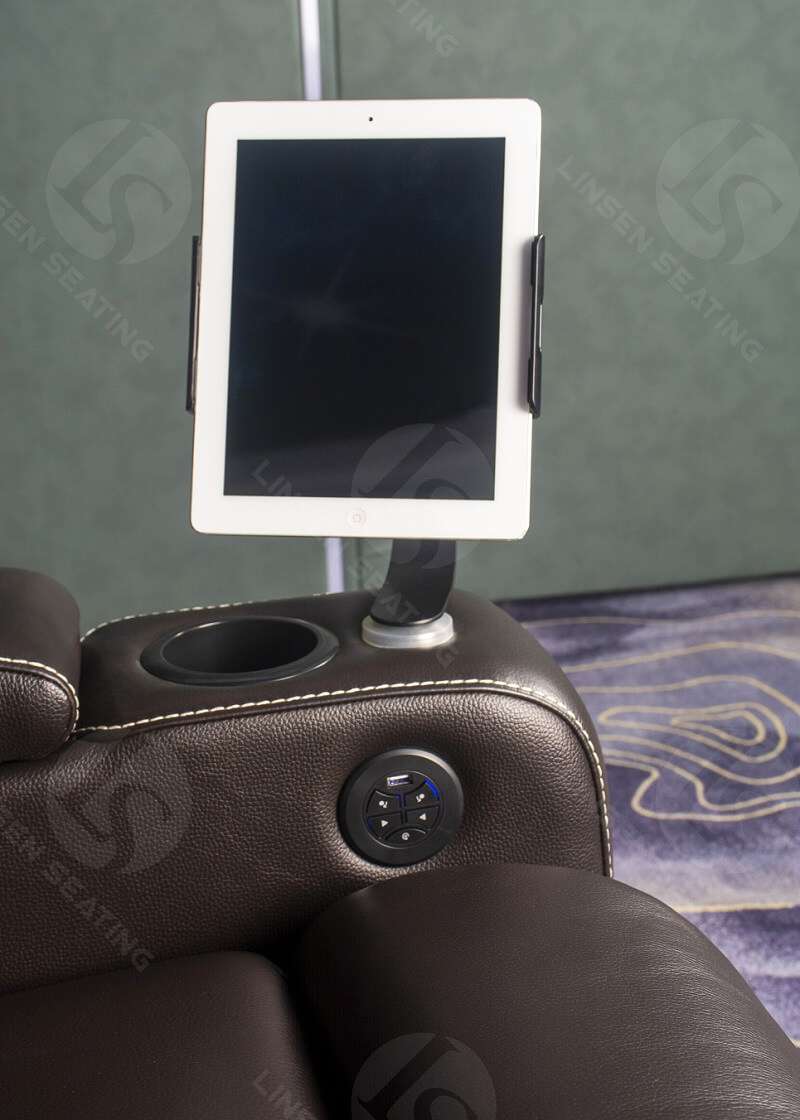 360° swivel removable tray table in the dock of media recliner sofa LS-6100BN
Dark brown tray table can not only hold your drinks and snacks but also a laptop. If you are tired of sitting in front of the computer desk, you can try to change a more comfortable and leisure place for your work at home. There are many other colors to choose from the recliner chair tray table.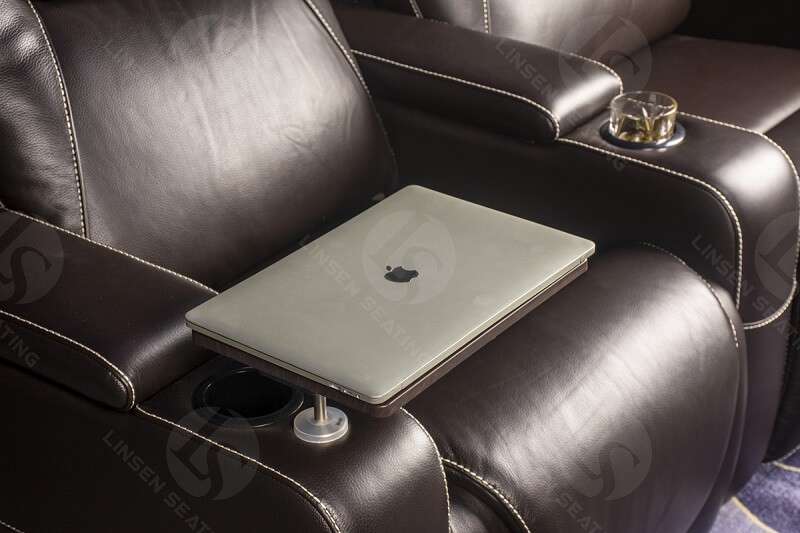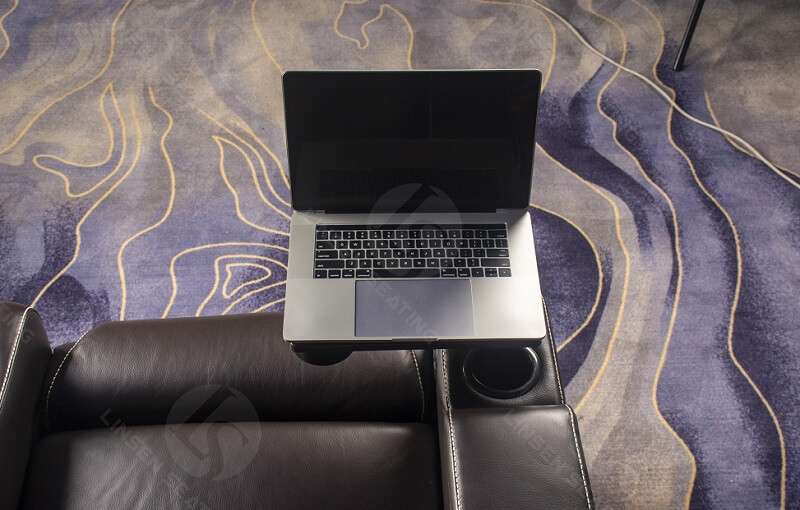 Big storage for different stuff
It is amazing to have a big storage if you are sick of being in a mess. You can get all them inside of the storage to make your home theater tidy and neat.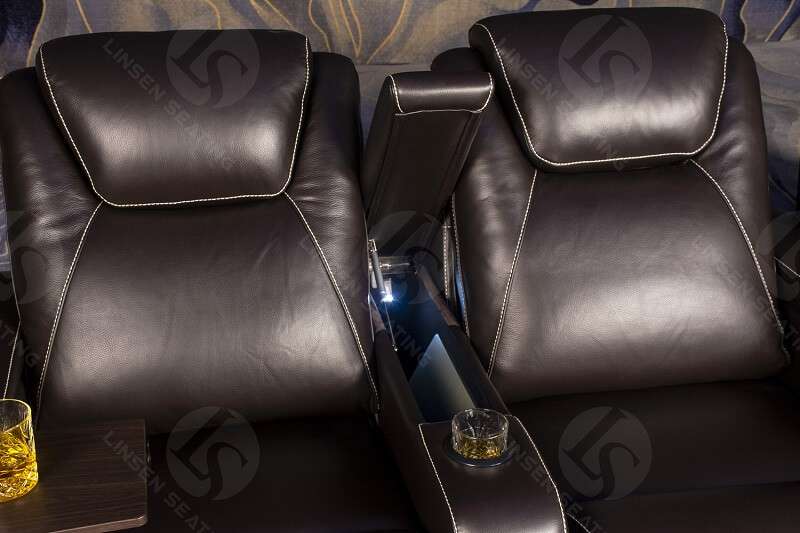 Nice stitching, design and other details
It looks great with brown leather matching white stitching. Good stitching makes the chair totally different and quality. Also there is a special switch which control both seat motor and headrest motor.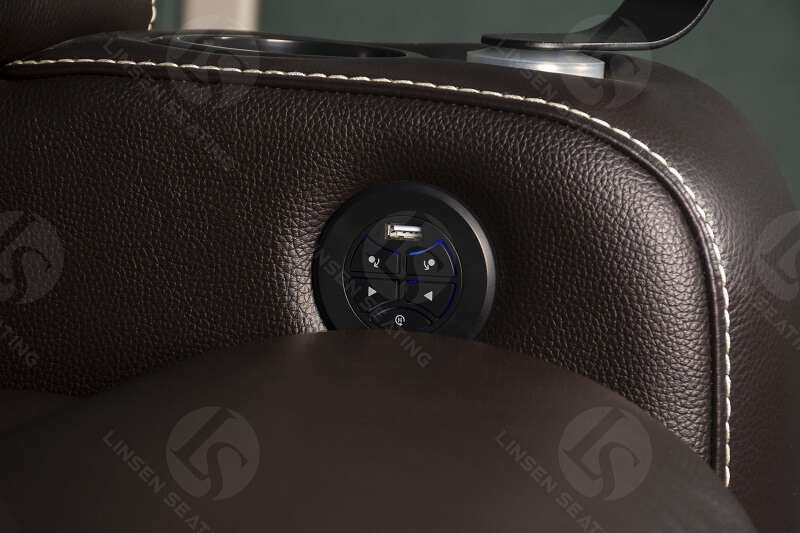 Want to know more about it? Welcome to send us email by info@lstheaterseating.com or send us inquiry.
Send Us Inquiry
Other similar media recliner chairs for sale