Featuring with white stitching, Linsen Seating's classic brown media recliner sofa LS-6100BN exudes a charming sense of fashion while providing a striking contrast that captures the eyes. This exceptional custom leather media sofa comes with a range of amazing functions as well, making it the perfect addition to your entertainment space.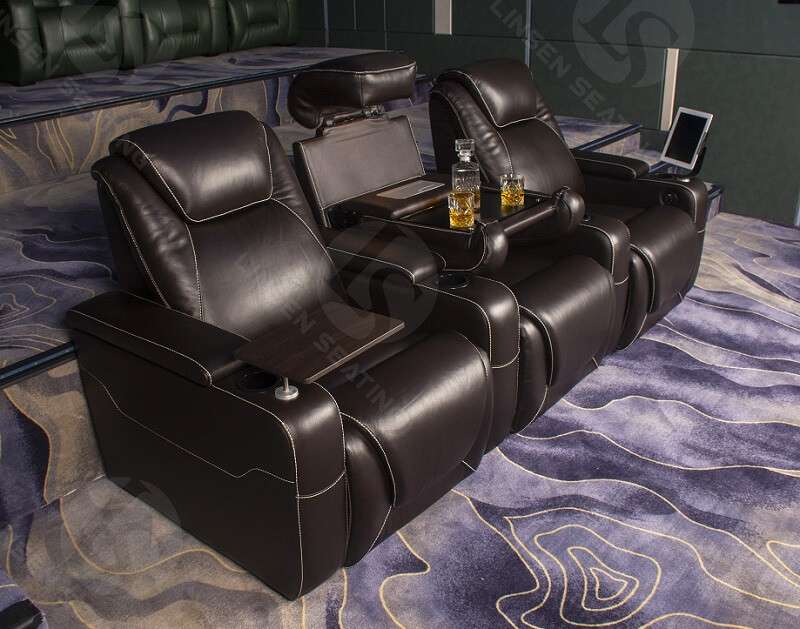 Brief introduction
With storage
With USB port
With cup holder
With Ipad holder
With brown Tray table
With hidden plug inside
Brown cow leather upholstery
Foldable middle seat
Electric recliner theater chairs
15 years warranty
Door to door delivery supported
MOQ 2 seats
Diverse color for options
LS-6100BN Media Recliner Sofa Images In Different Angles & Parts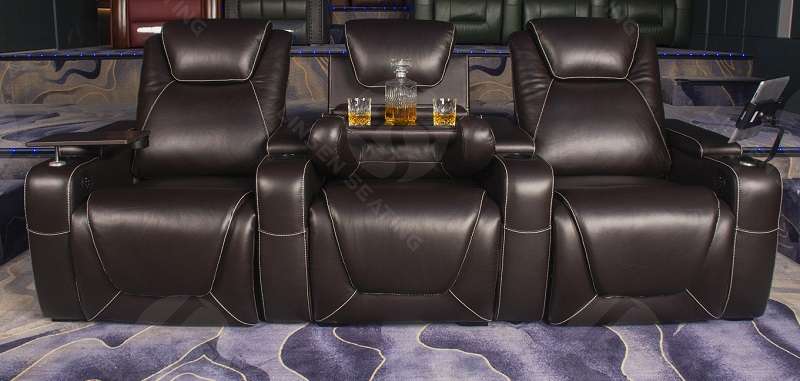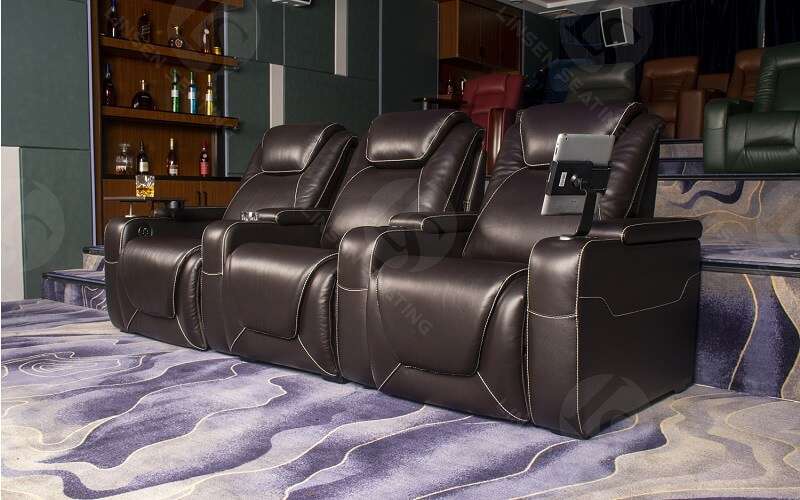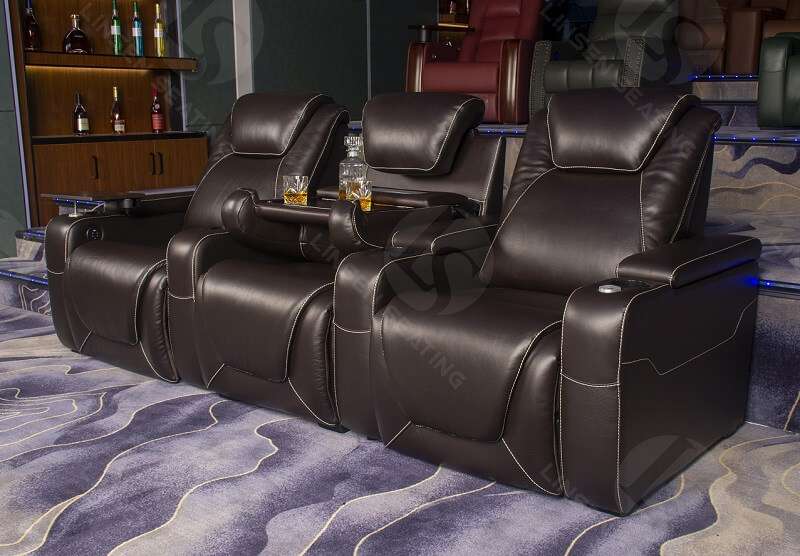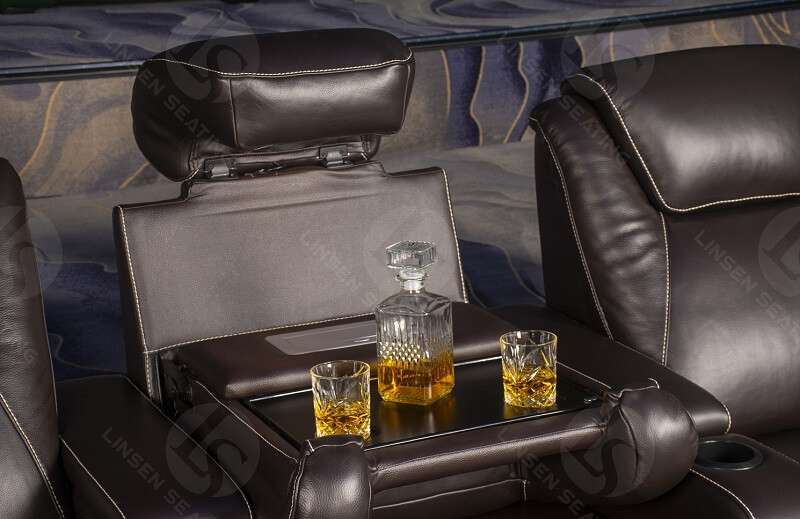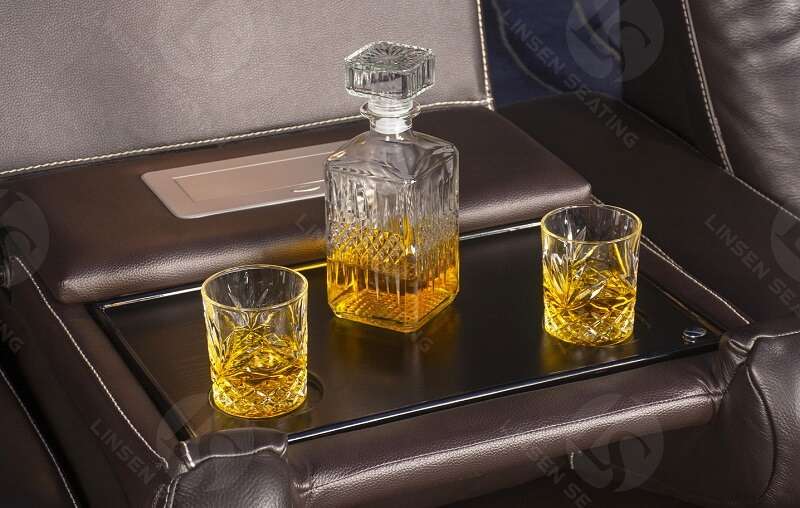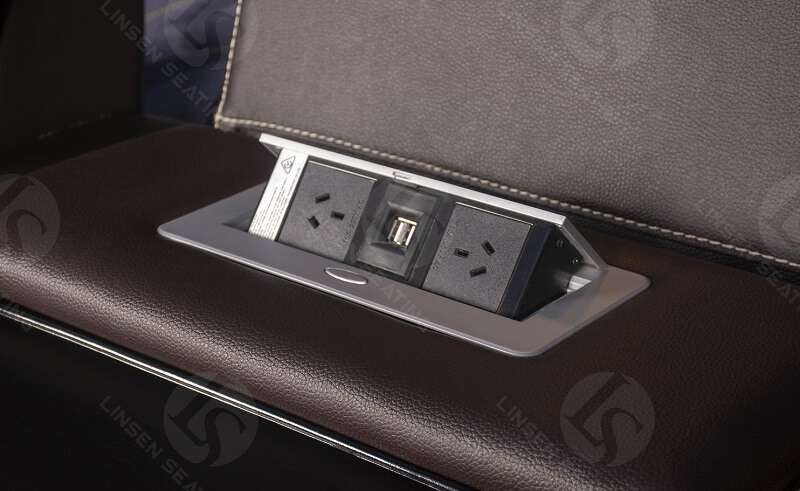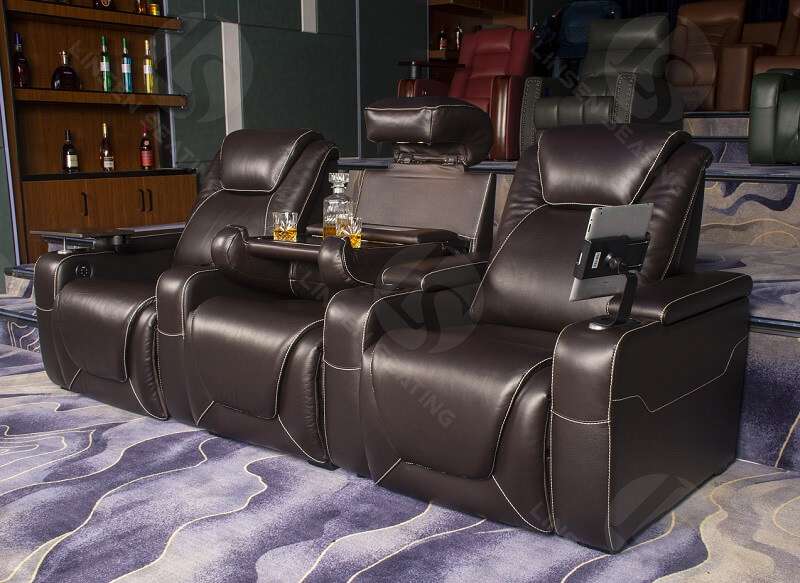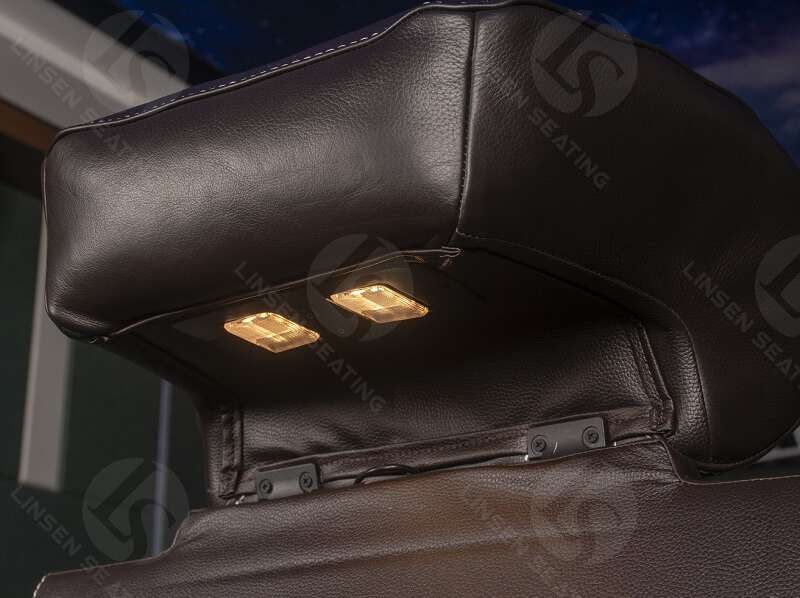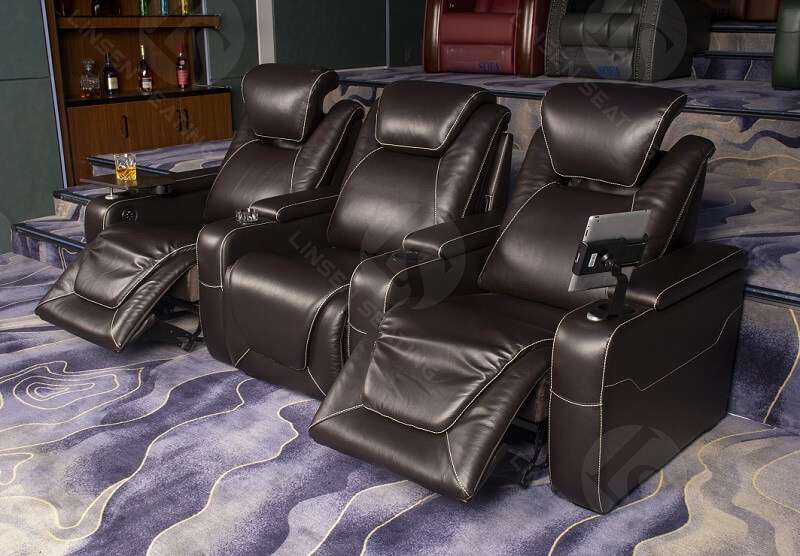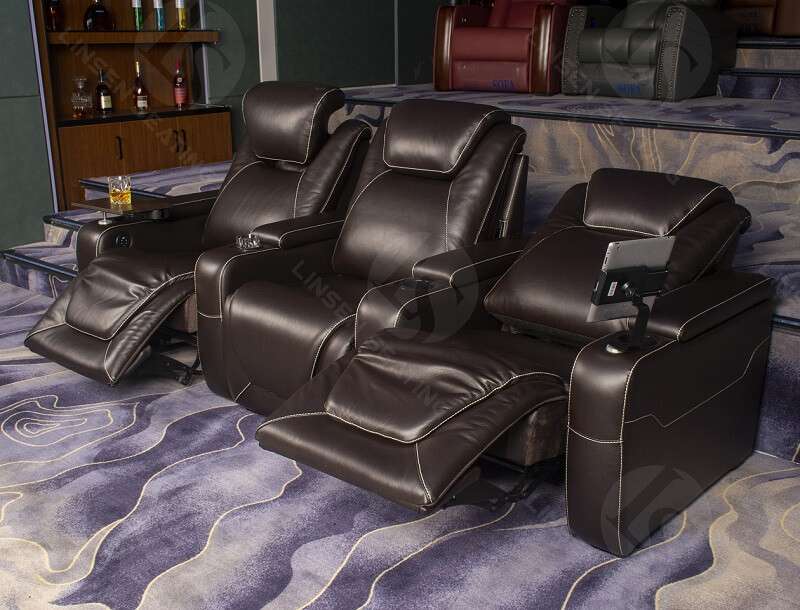 Functions & Features of LS-6100BN Brown Media Room Recliners
Tea Table Design in the Middle: The LS-6100BN is a leather media sofa thoughtfully designed with a tea table in the middle. In a row of three seats, this arrangement brings people closer, enhancing the sense of togetherness during movie nights or sports events. When the middle chair serves as a tea table, just open the backrest. Its wooden panel surface is easy to clean and maintain, making it a practical and durable addition to the recliner. Place your drinks or snacks on the tea table for easy access during your movie-watching sessions.
Hidden Plugs and USB Ports: The tea table comes equipped with hidden plugs and USB ports for added convenience. Charge your mobile devices effortlessly by simply opening the table with the small button and closing it when not in use.
Illuminating Lights Under Headrest: Discover the convenience of two small lights located under the headrest when opened. These lights create a comfortable and practical atmosphere, perfect for dark home cinema rooms or low-light conditions. When LS-6100BN is used as a living room sofa, it is a good place for reading a book with those lights open.
Electric Recliner and Power Headrest: With electric reclining functionality and power headrest adjustment,the home recliner media sofa LS-6100BN offers a personalized seating experience, allowing you to find the perfect position for maximum comforts.
Other Features & Functions – Home Theater Seating Assessories Added To LS-6100BN
Flexible Ipad/Phone Holder: The Ipad holder is ingeniously designed to support both an Ipad and a phone. Adjust the holder to your preference, ensuring easy access to your devices while you relax in the recliner sofa.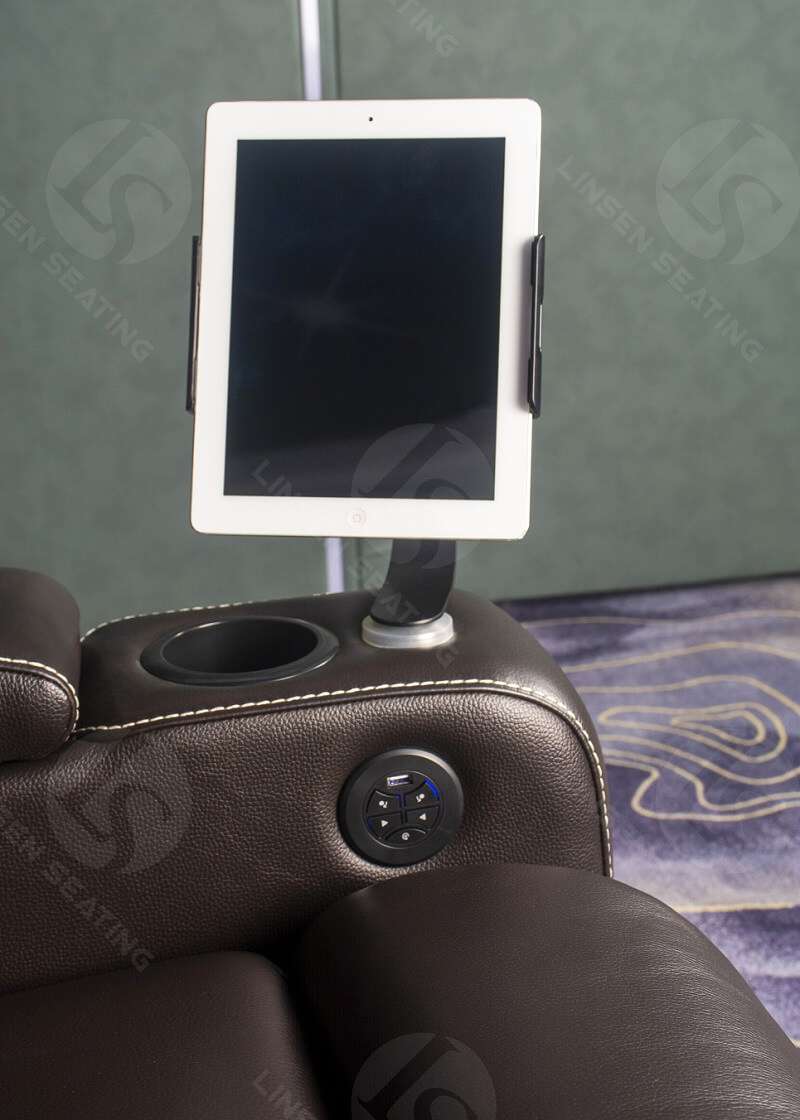 360° Swivel and removable tray table: The dark brown tray table is not only a convenient holder for drinks and snacks but also accommodates a laptop. Enjoy a comfortable and leisurely workspace at home by using the tray table as an alternative to your computer desk.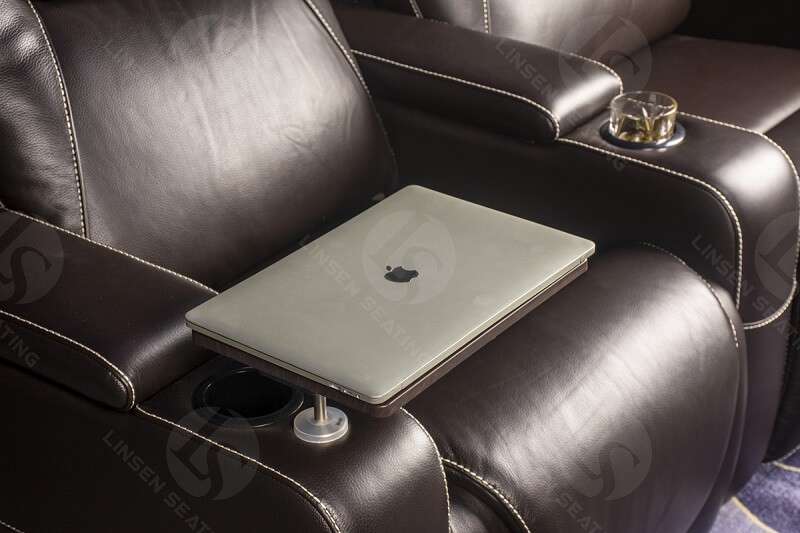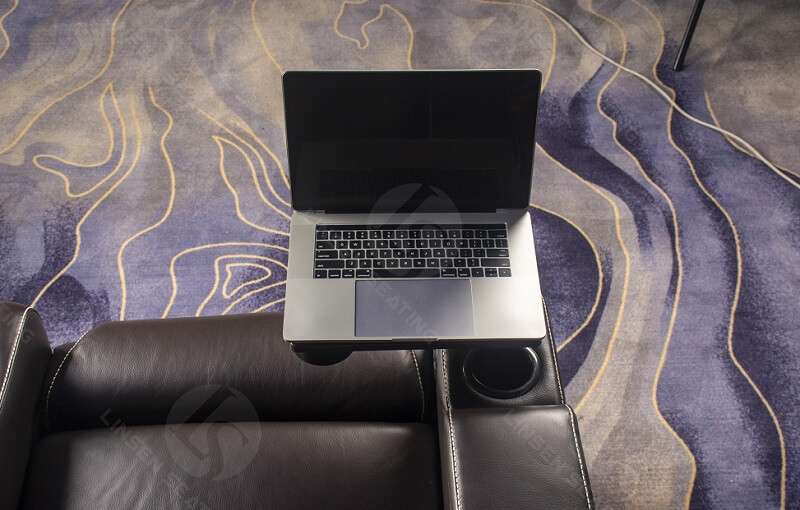 Deep storage for different stuff: Keep your home theater tidy and organized with the spacious storage compartment of our cost-effective media room couches. Store various items and declutter your entertainment space for a more enjoyable movie-watching experience.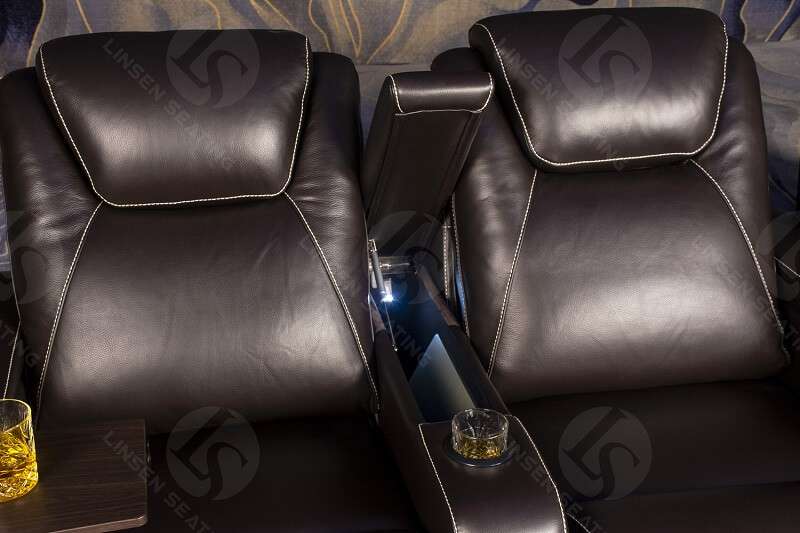 Exquisite Stitching and Design: The combination of brown leather with white stitching enhances the overall aesthetic appeal of the recliner, making it stand out as a premium piece of furniture. The meticulous stitching adds a touch of quality and elegance to the design.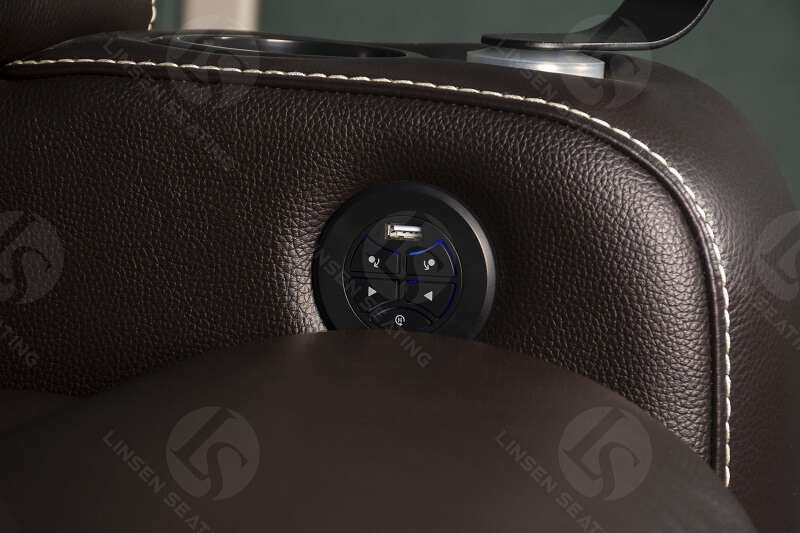 Why Are Brown Leather Media Room Recliners So Popular?
Comforts – Brown leather recliners offer unparalleled relaxation. The supple leather molds to the body's contours for pressure-free support.
Style – The rich, warm tones of brown leather lend abundant elegance and ambiance to a media room environment. It looks polished.
Durability – Top-grain brown leather is exceptionally durable and built to withstand wear-and-tear from daily use over many years.
Aesthetics – The natural brown hues complement various interior styles from traditional to modern. It pairs beautifully with wood.
Features – Leading brands offer power functionality, memory presets, cup holders and more for enhanced enjoyment.
Value – Quality brown leather recliners hold their value well. They become heirloom pieces that can be enjoyed by generations.
Versatility – From large movie theater styles to compact loveseats, configurations suit diverse spaces and family needs.
Trend Popularity – As more emphasize comfortable, relaxing destinations, brown leather fits the aesthetic preferences of today's consumers.
How To Maintain This Brown Media Room Seating?
Maintaining the Brown Media Room Seating LS-6100BN is essential to preserve its beauty, functionality, and longevity. Proper care and regular maintenance will ensure that your media room recliners remain in top condition for years to come. Here are some useful tips for maintaining this brown media room seating:
Regular Dusting: Dust the recliners regularly using a soft, dry microfiber cloth or a soft-bristled brush attachment on your vacuum cleaner. This will prevent dust and debris from accumulating on the surface of the seating.
Spot Cleaning: In case of spills or stains, attend to them immediately. Use a clean, damp cloth to gently blot the affected area. Avoid rubbing the stain, as it can push the liquid deeper into the leather. Dry the area thoroughly with a clean, dry cloth.
Leather Cleaner: Periodically clean the brown leather with a mild leather cleaner that is suitable for top grain cow leather. Follow the manufacturer's instructions for proper dilution and application. Test the cleaner in an inconspicuous area before applying it to the entire seating.
Avoid Harsh Chemicals: Avoid using harsh cleaning agents, abrasive cleaners, or products containing ammonia or bleach on the leather, as they can damage the finish and color.
Condition the Leather: Consider applying a leather conditioner specifically formulated for top grain cow leather. Conditioning the leather helps to keep it supple, prevents drying and cracking, and maintains its natural luster.
Protect from Sunlight: Avoid placing the home media theater recliner in direct sunlight or near heat sources, as prolonged exposure can lead to fading and damage to the leather. Use curtains or blinds to protect the seating from harsh sunlight.
Keep Away from Sharp Objects: Be cautious and avoid contact with sharp objects that may scratch or puncture the leather surface.
Use Coasters and Trays: When using the recliners for drinks or snacks, use coasters and trays to prevent spills and stains. The built-in swivel tray table is particularly useful for this purpose.
Maintain Electronics: If using the USB ports and plugs in the tea table, ensure that they are kept clean and free from dust or debris to maintain proper functionality.
Regular Inspection: Periodically inspect the home theater recliners for any signs of wear or damage. Address any issues promptly to prevent further damage.
Want to know more about it? Welcome to send us email by info@lstheaterseating.com or send us inquiry.
Send Us Inquiry
---
Other Similar Media Recliner Chairs For Sale