Leather theater recliner is one of the most popular reclining theater seating for theater room, especially for home theaters. Even some cinema VIP rooms, it is a hot choice. While do you know the advantages and disadvantages of leather theater recliners?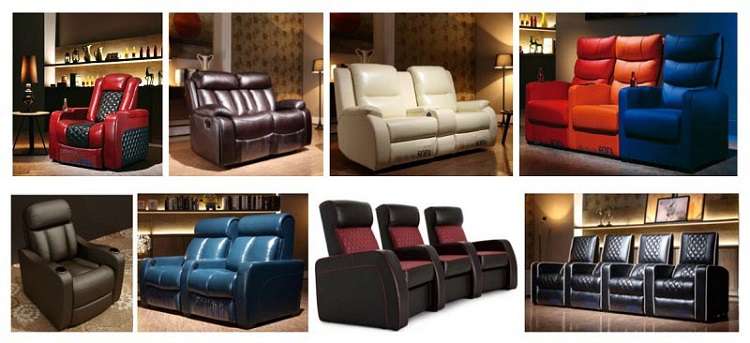 Leather theater sofa recliner is so prevalent because it has many advantages. Here below are some points.
1. Leather Theater recliner is easier to clean
Compared to fabric theater seating, leather theater recliner is easier to clean. When it is contaminated by juice or other drinks, all you need to do is just clean the reclining theater sofa with a towel. When naught children write on it with a pen, you can remove it with wet towel. While fabric is not available. It is very hard to clean. Even you buy something specially for cleaning, you may not be able to clear it.
2. Leather theater seating is water proof
There is no need for you to worry about how it will be when the movie theater couch is wet when cleaning or having some beverages. Leather theater recliner is water proof. It will be fine just keeping the room ventilated. The leather keeps the material of the theater chair dry all the time, which can extend the life span of the reclining theater chairs. While if it is a fabric theater recliner, it get all wet from outside to inside when the beverage is pulled down. This will lead to the material wet and go bad because the materials inside can not be dry soon.
3. More qualified and high-end
Genuine leather theater seating looks more qualified compared to fabric recliners. It feels better when touching on it. It is smooth but durable.
Is there any disadvantages of leather theater recliner? Sure. Let us take a look.
1. Expensive
Leather theater seating is good but it is also more expensive compared to a fabric one. Especially top grain leather theater seating, and when it comes with full leather on all surfaces, it is much more expensive than a fabric one. But usually half leather home theater seating is enough for the general use. In this way, the cost won't be too high but also you can enjoy the advantages of the leather theater recliner.
2. Not so air permeability
Compared to fabric, leather is not so air permeability because fabric usually is not so high density as leather. So you may feel hotter in summer when sitting on a leather theater chairs. But many homes had air-conditioner. So this won't be a big problem for users.
Linsen Seating Furniture is the professional theater recliner for many years. Our electric theater recliners designs are comtemprory and meet many home theater styles. Here below are some reference.