LS-856LB is a classic home media room seating covered with brown genuine leather, featuring with diamond stitching and a convenient folding tea table which is multi-functional and smart. It is one of the most popular home theater recliners.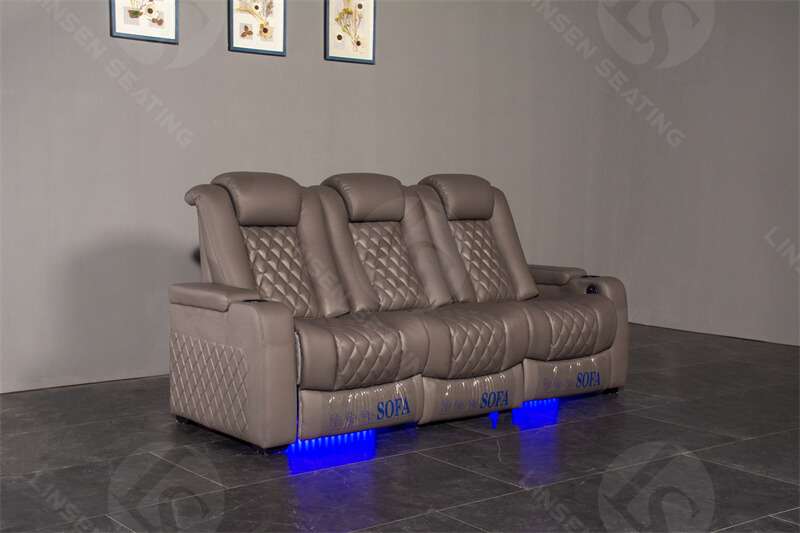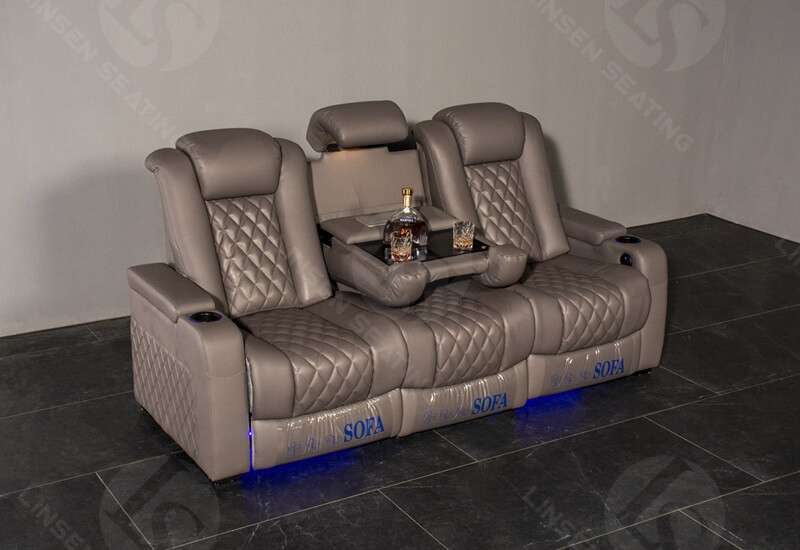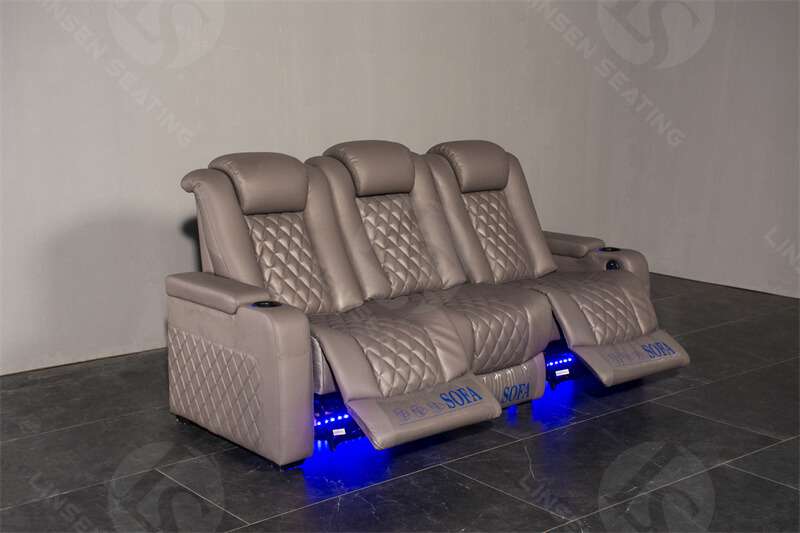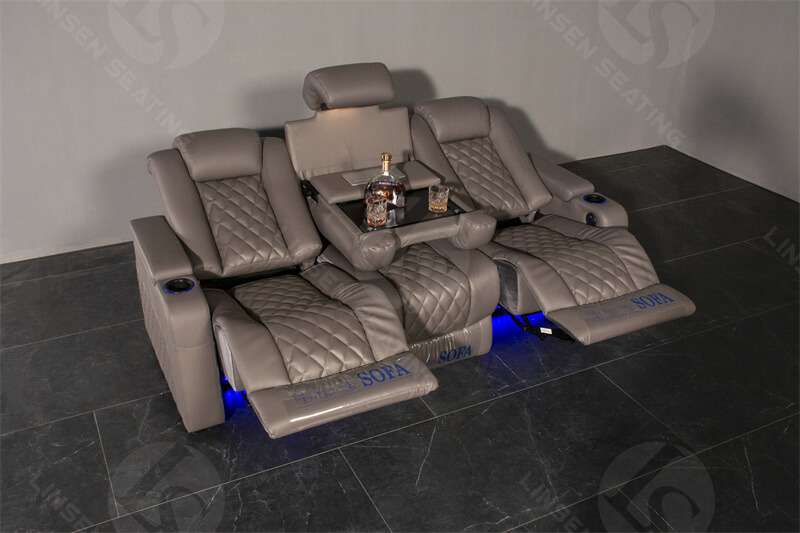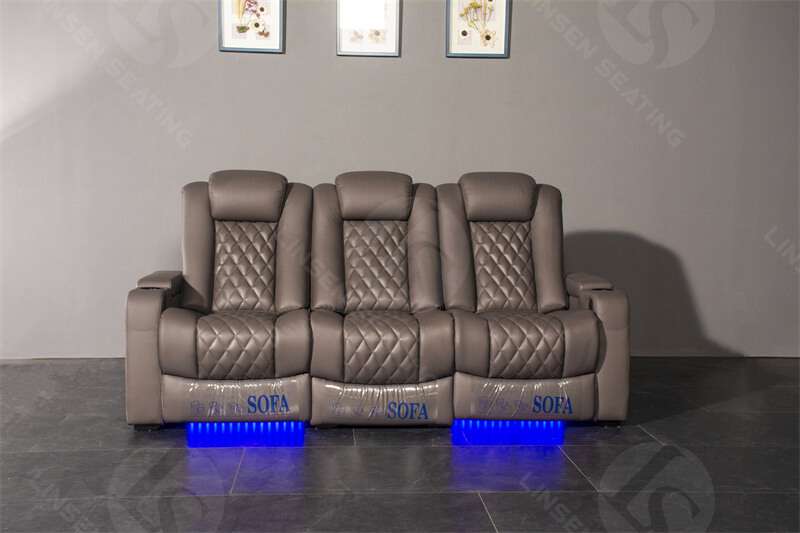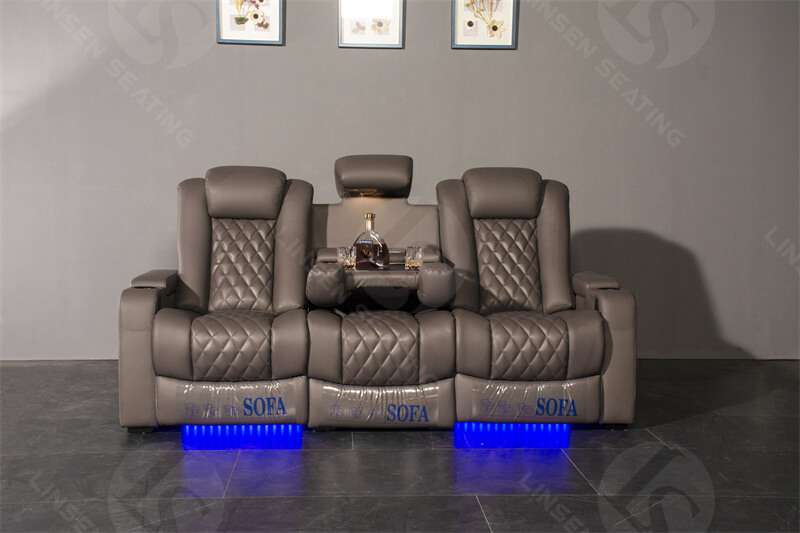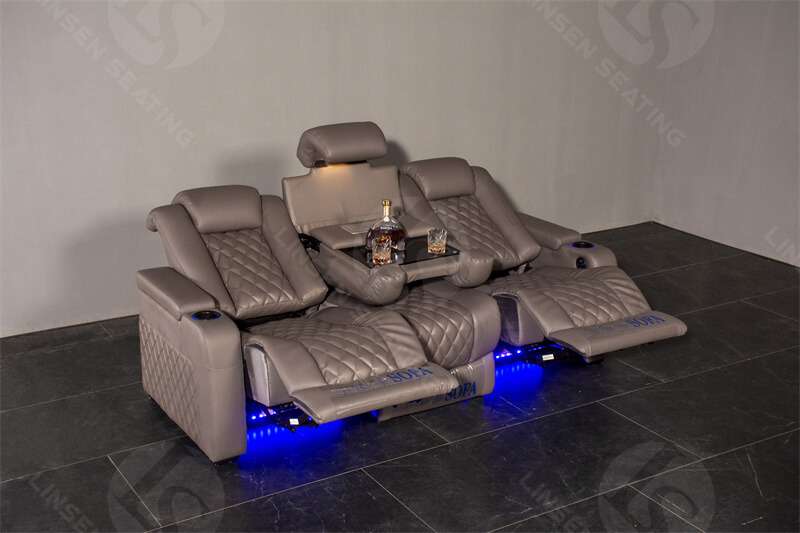 ---
Creating a perfect media room involves more than just audio system. The right furniture can also significantly enhance the overall experience, adding comfort, style, and functionality to your space. What if you spend a lot on the audio system but you can not sit long for without a good media room seating? It will a big loss for the other equipment. So of course you need a seating for your media room. LS-856LB is such a good home media room seat.
Features of LS-856LB Brown Leather Media Room Seating
Power reclining media room seating
Genuine leather upholstery
With hidden arm storage
With luminous cup holder
With LED lighting under the seat
With power headrest
With diamond stitching
With folding tea table in the middle seat
With 2 USB ports
With 2 extra plugs for charging
With reading lighting
15 years warranty
With so many functions all in one, Brown media room seating LS-856LB is a combination of luxury with practicality.
Details of LS-856LB Brown Media Recliners
1. Folding Tea Table
The middle seat can also be served as a tea table when you open it in the backrest. It is with various functions inside. It provides a convenient space for placing cups and wine. The tabletop features a finely painted finish, exuding a high-end aesthetic. Imaging yourself and your spouse seated, enjoying a movie with your favorite beverages within easy reach— how enjoyable!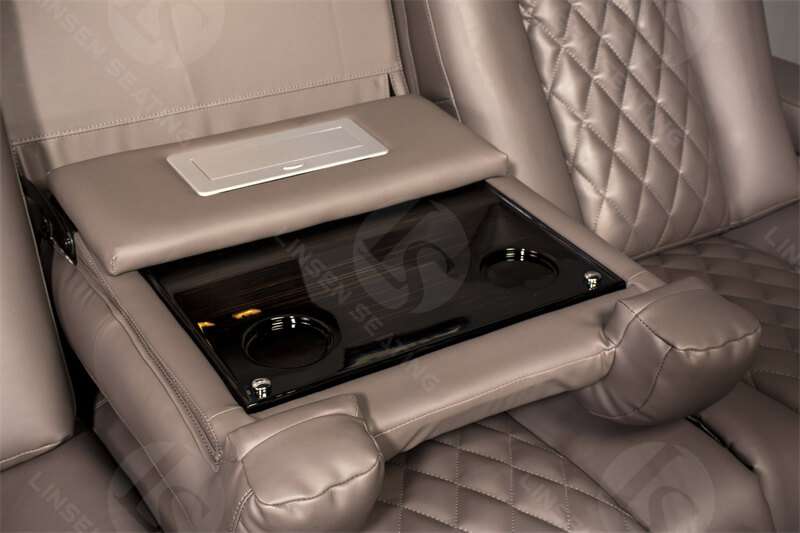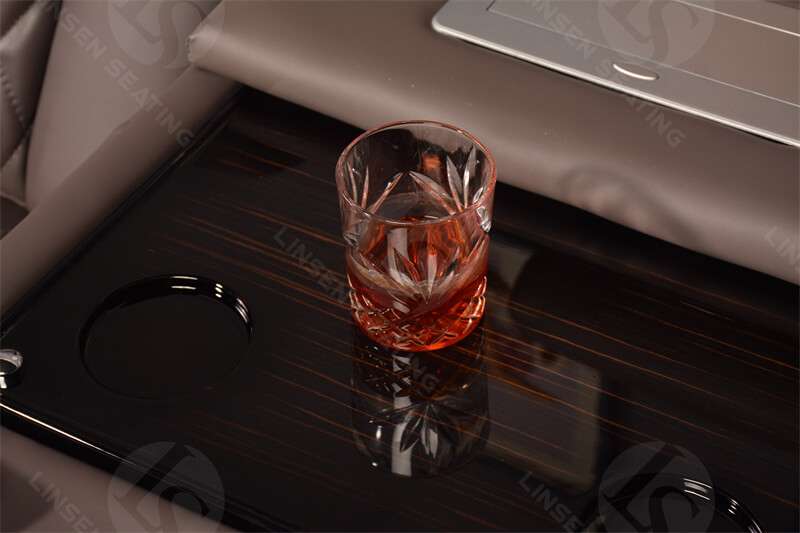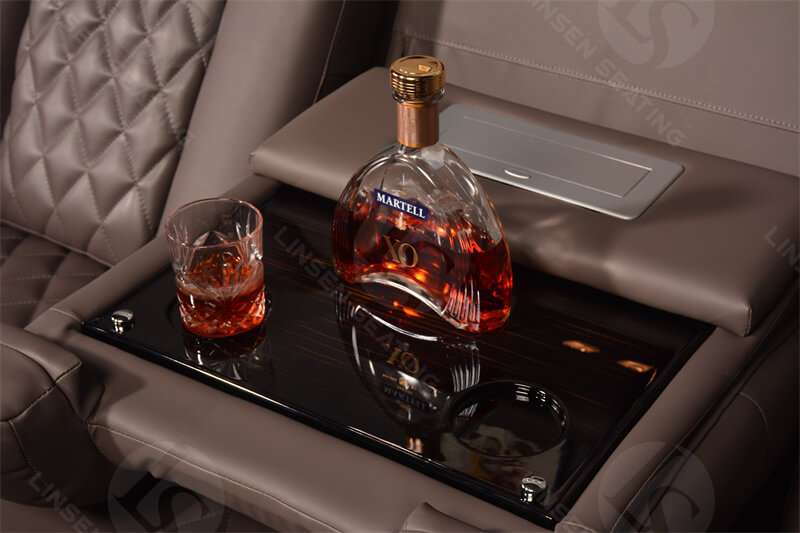 2. Hidden USB Port & Plugs
After you unfold the middle seat, you can discover concealed USB ports and plugs under the silver cover. Simply press the silver section to access them, and return it when not in use.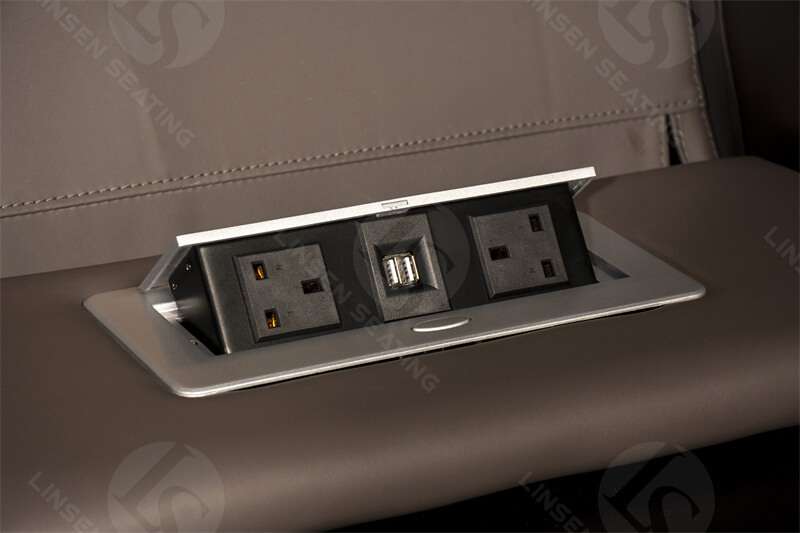 3. Small But Bright Reading light
There are 2 small reading lights under the headrest of middle seat. You can light it up by touching it. It is sensor light. Very convenient but economic.
4. Luminous Cup Holder
LS-856LB brown media sofa is also with luminous cup holder in the arm. You can control the blue ambient light by the button in the switch.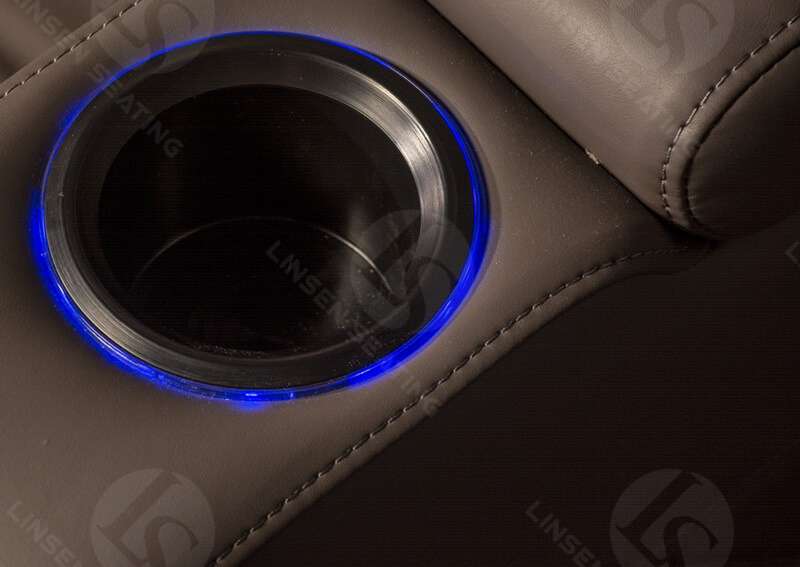 5. Well Assembled Black Switch
You can see we the chair is very good quality and high end by its precision and attention to detail in its construction. Each component seamlessly integrates with the others, creating a seamless and sturdy unit. The housing is snugly fitted, ensuring a secure enclosure for the internal mechanisms. The switch's moving parts operate smoothly, demonstrating the quality of craftsmanship and engineering. The connections are flawlessly soldered or secured, contributing to the switch's overall reliability. In essence, a well-assembled switch not only functions efficiently but also reflects the commitment to excellence in its design and assembly.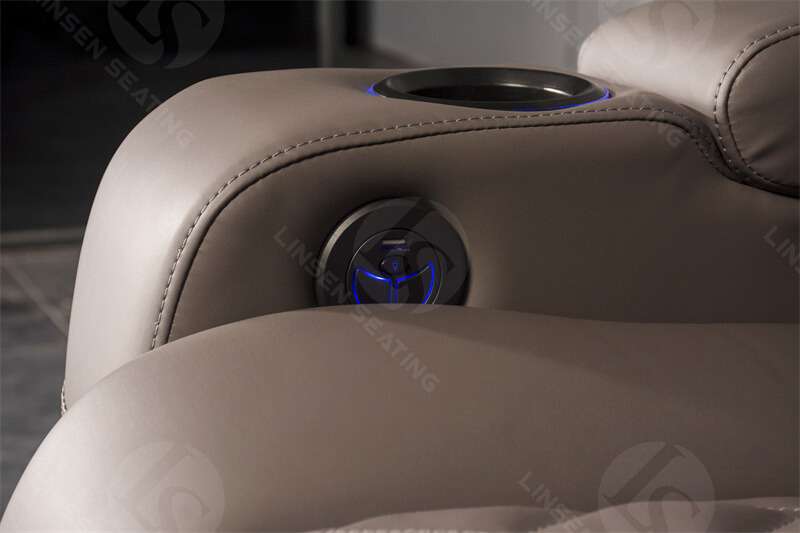 Other Media Room Seating For Sale