LS-887 Leather Theatre Seating is a luxury and comfortable home cinema recliner design. It is meticulously designed to deliver the ultimate cinematic experience within the confines of your own home. Crafted with precision and style, our LS-887 Leather Home Theatre Seating offers a perfect blend of functionality and aesthetics, ensuring you and your guests can revel in a state-of-the-art movie-watching experience like never before.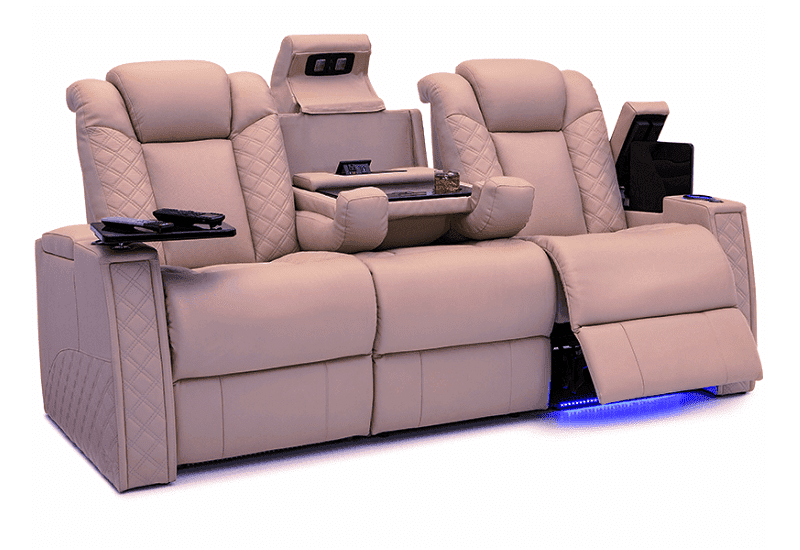 Brief introduction
Pink color
Cow hide upholstery
With power recline
With USB port
With removable tray table
With cooling up holder
With adjustable headrest
With LED lighting bar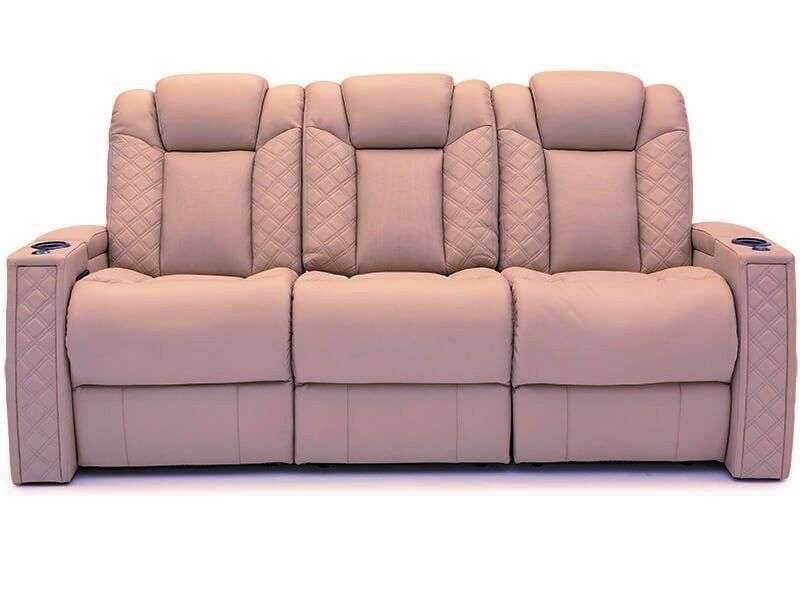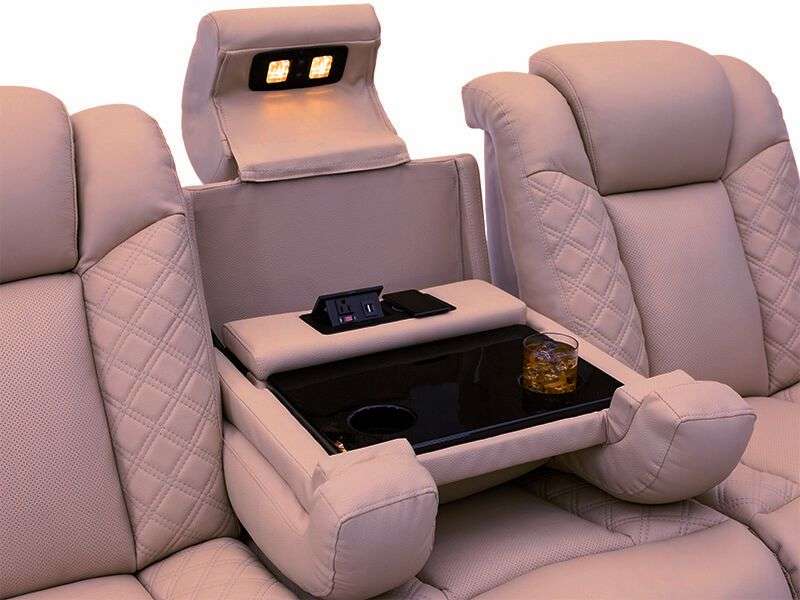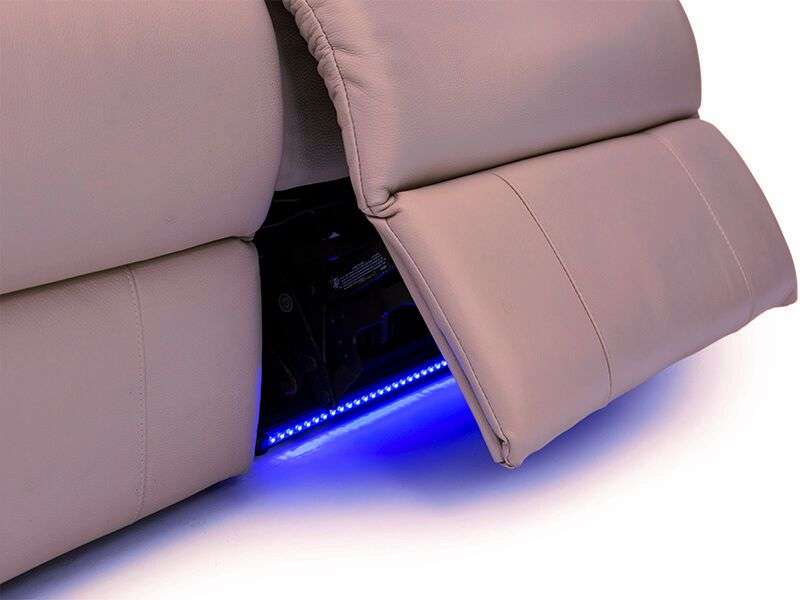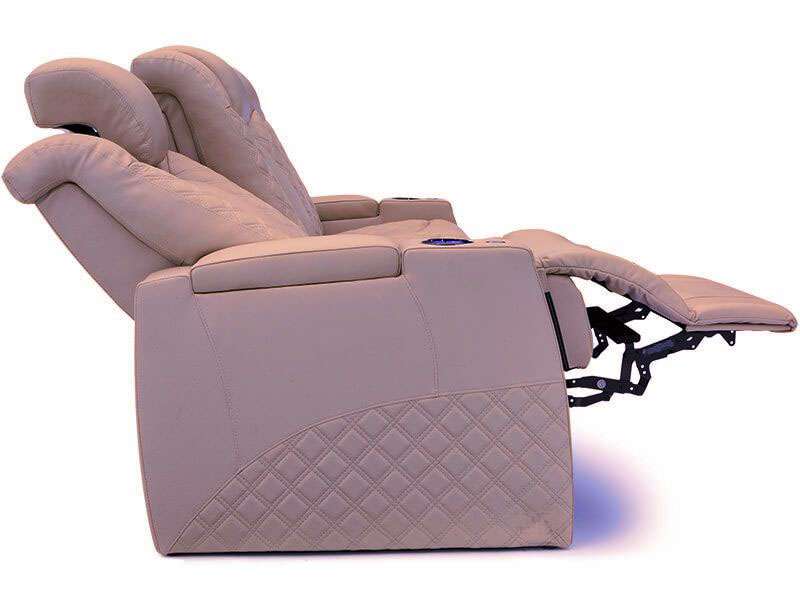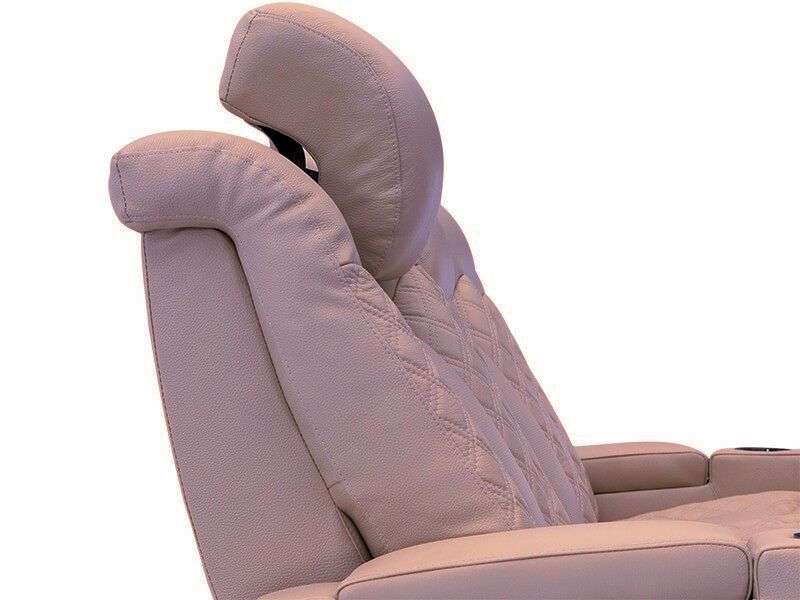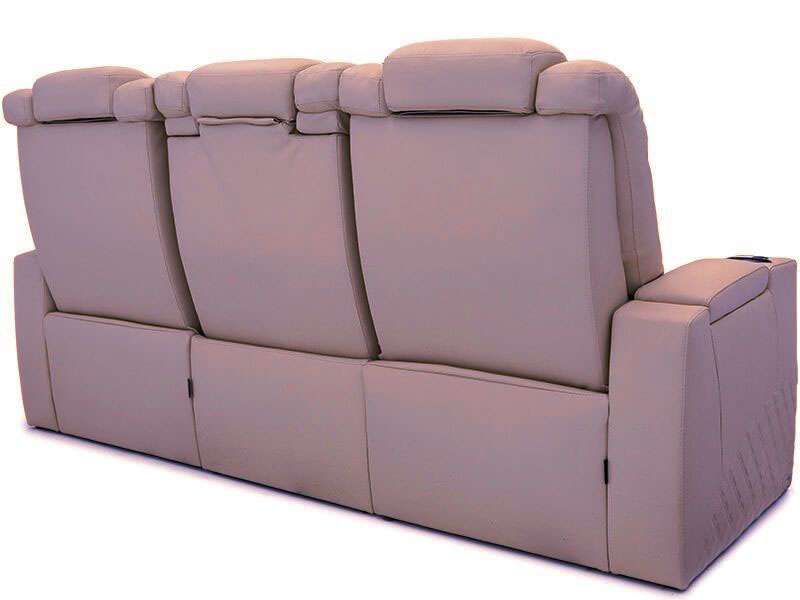 1. Pleaseant Comfort
Indulge in the lap of luxury with LS-887 Leather Theatre Seating's premium comfort. Sink into the plush, high-density foam cushions that cradle your body and provide optimal support. The power headrest feature allows you to adjust your head and neck position effortlessly, giving the perfect viewing angle for hours of uninterrupted entertainment.
2. Style and Elegance
Designed with a discerning eye for detail, this home theatre recliner boasts exquisite craftsmanship and delicate stitching that add a touch of elegance to any home theatre setting. The sleek and contemporary design of the seating complements various interior styles, creating a harmonious integration into your home decor.
3. Immersive LED Lighting
Create a captivating cinematic ambiance with the built-in LED lighting feature. Set the mood by customizing the LED colors to match your preferences and immerse yourself in the ultimate movie-watching experience. Whether it's an action-packed thriller or a heartwarming drama, the LS-887 enhances every moment.
4. Convenient Removable Tray Table
Forget about juggling snacks and drinks during your movie nights. LS-887 comes with a convenient removable tray table, allowing you to keep your refreshments within arm's reach. Enjoy your favorite snacks without interrupting the magic unfolding on the screen.
5. Stay Connected with USB Ports
Stay connected and charged during your movie marathons with the integrated USB ports. Charge your smart devices, keep your accessories powered, and never miss a moment of excitement while staying connected to the outside world.
6. Intelligent Middle Seat
The middle seat is very intelligent. When you enjoy a movie just with your wife/husband, you can open the backrest of the middle chair as a coffee table for drinks and charging mobile devices. The LED lighting makes it bright in the dim movie environment.
7. perforated leather
Based on thick and soft bovein leather, the upholstery is even more breathable with perforate leather, adding a special esthetics to the eyes.
LS-887 leather home theater seats will take your home theater to the new standard of comfort and enjoyment. It is the pinnacle of comfort and style with its LED illumination, removable swivel tray table, USB ports, power headrest, and fine stitching. Invest in a state-of-the-art home theater system to enjoy quality time with loved ones in the lap of luxury. Rebuild your home entertainment today with the LS-887 Leather Theatre Seating.
It Is also A Luxury And Comfortable Living Room Sofa
Genuine leather theater seating LS-887 is actually also very suitable for watching TVs in the living room as a replacement for a standard sofa. More and more people choose leather recliner chairs as their favorite home furniture. It is becoming one of their best friend of them at home.
Either in the living room or home theater, the leather theater recliner LS-887 is a strike to the eyes for its nice modern design. It has many popular elements such as diamond stitching, delicate , and outstanding stitching lines.
Leather Theater Seating For Home Are Made Of Selected Quality Materials – Improve Your Home Environment
Each materials for top grain leather theater seating are meticulously selected to make it a high quality piece of home theater furniture.
Top grain cow leather finishing
Different density foam combination to make it a most comfortable softness.
Reinforced timber frame + strong metal frame as a suppot.
Good quality threads
Nice upholstery workmanship
Best motor- Okin Motor
Easiest cables connector for installation.
Leather home theater recliner LS-887 not only helps you relieve your tiredness but also improve your home environment with its good design and delicated hand craft and details. It can be the home theater furniture that you are most proud of.
Upholstery & Colors For Leather Recliner Theater Seating
The upholstery and colors for leather recliner theater seating can be virious. Generally, for home use, top grain cow leather is suggested if home theater seating price accepted. Whatever finishing, colors can be customized according to your needs. Here below is the genuine leather swatch.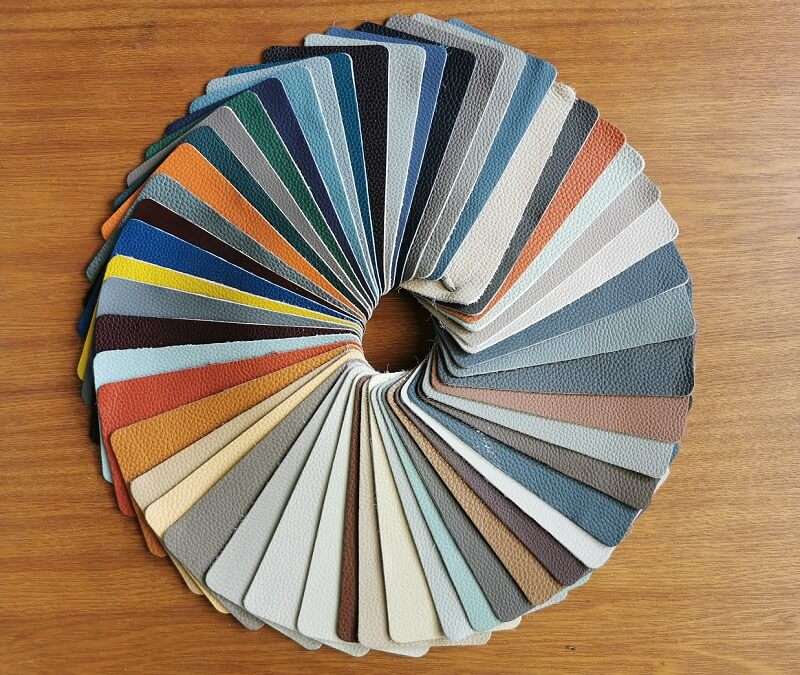 Why Choose Our LS-887 Leather Theatre Seating For Your Home?
There are a variety of home theater seating to choose from on the market. But why do you need to consider leather theater seating for home LS-887? Here are the main benefits.
Firstly, LS-887 gives you a visual impact at first sight. It leaves a very good impression on our minds. It is hard for a person to forget such a good piece of leather furniture aesthetically.
Secondly, the power theater chair LS-887 is very comfortable with soft high-density foam inside based on a thick sinuous spring. There are several kinds of foam combined to reach the best comfort. It is very hard for you to move yourself away from it once you try it.
Thirdly, the foundation is built with a solid hardwood base plus a strong metal frame. It is very durable and reaches a warranty of 10 years. It is well built for the best quality home theater furniture.
Last but not least, it is very safe. Some recliner chairs have gaps between the footrest and the seat. This sometimes is not so safe for the kids. Though home theater seating is heavy and stable household furniture, and usually it is very safe. While you can never ignore the details about safeties. The theater recliner sofa LS-887 is very safe, even for kids or pets.
Send Us Inquiry
Other leather home theater chairs