With the increasing popularity of home theater recliners, there are a large veriety of selections in the market. Which kind of theater recliners should you choose? What is the most suitable movie theater recliners for your home cinema room?
As one of the most important home theater furniture in your screen room, home theater recliner chair is the only thing that touch your body, It should be comfortable. As the first thing that come into your eyes in the theater space, it also should be aesthetically pleasing as well as magnificent.
Generally, there are 2 kinds of movie recliner chairs. One is power theater recliner which is also known as electric theater chairs. Another is manual recliner chairs for home cinema. They are the most common seen home cinema sofa seating.
Home theater manual recliner chair is a kind of sofa seating that can stretch out the footrest by a controlling button in the side of the arm. And you need to kick it back by your leg power. While when it is a row of 3 seater without middle arms in between, the middle chair can not work, only fixed seating is available.
So there are many cons for manaul recliners. People would not like it because its limited functions. And with the increasing working pressure, people pay more and more attention on the relaxation that the furniture can bring them and want to have a peculiar enjoying experience. Power theater recliner is such kind of household furniture. It has all the pros that manual recliner sofa does not have. People can not only enjoy the comforts that it brings but also enjoy a wonderful movie at home. The most fatastic is that the home theater power recliner can offer you almost all the things that you need when you are watching a film.
There are too many options on the net. They are different either in design, color, pattern or functions. When you are choosing your own home theater couch, you need to consider your theater space ornaments and your need so that you can buy the best and most suitable home movie theater seats with the best price.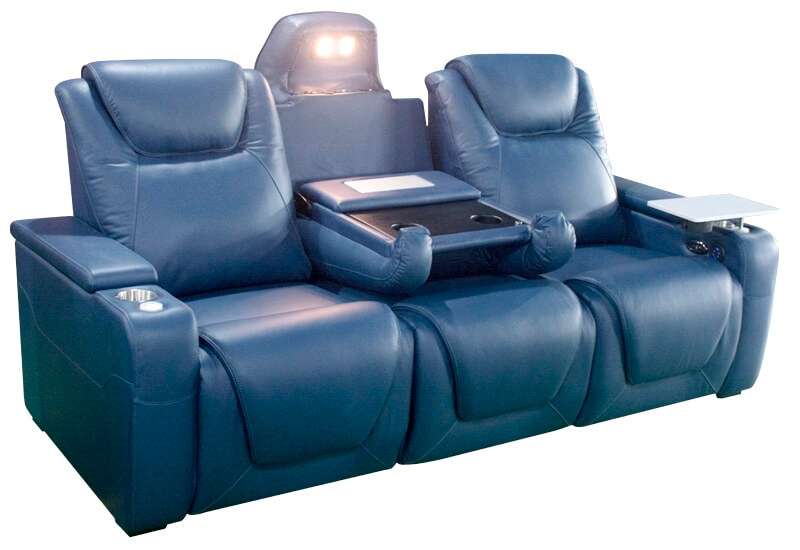 Theater power recliner LS-886B from Linsen Seating is covered with soft top grain cow leather. It works smoothly when reclining down or up. The biggest feature of this home theater seating design is that the middle chair of a triple theater couch is folding. You can take the backrest down in the middle as a tea table. There you can see there are 2 cup holders on it, LED lighting for reading and more USB ports to charge for your mobile devices such as Ipad, mobile phone or other things.
It is a fashion to have such a nice home theater recliners at home now.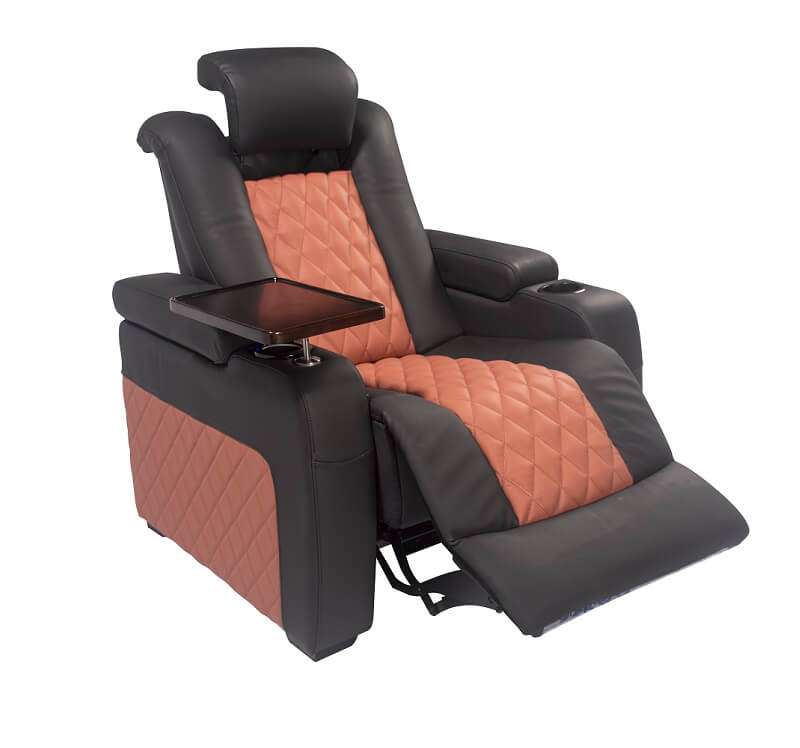 Another Linsen Seating popular home theater seating is the Home theater sofa seating LS-885. It is
is a classical design. But with mixing color, it looks very special and comtemprory. It is the transformation of movie theater recliners for sale.
Diamond stitching is not new in the market. While the good looking and color matching of recliner home theater seating is new to us. Compared to full black power recliner, it is more vivid but keeps the good elements of its own.
The Third home theater seating design that Linsen Seating would like to recommend is Home theater seats for sale LS-804R. It is simple but exquisite from the appearance. While the most advantage of it is that it helps you solve the problem of staring at the ceil when lying down. People can not watch movies or TV when lying down for taking a rest. Most chairs just offer a view of ceil when people lye down on the seat. While this design offers you movies or TV at any position you like.
Compared to normal sofa, home movie theater chair LS-804R is more practical and comfortable. It gives you better atmosphere for movie films at your home cinema.
There 3 home theater seating designs are all with genuine leather finishing which is easy to clean and mantained. It also give us a fashionable feeling which shows a good taste to be in your home theatre. Which one would prefer? Welcome to contact us. We are able to customize any design to make the best and most suitable home cinema chairs that fit you.