4 seater home theater recliner LS-881RG is a piece of home theatre furniture that can fit 4 people. It is equipped with electric reclining mechanism which is controlled by the button at your fingerprints. The spacious and comfortable seating provides a perfect setting for your home theater.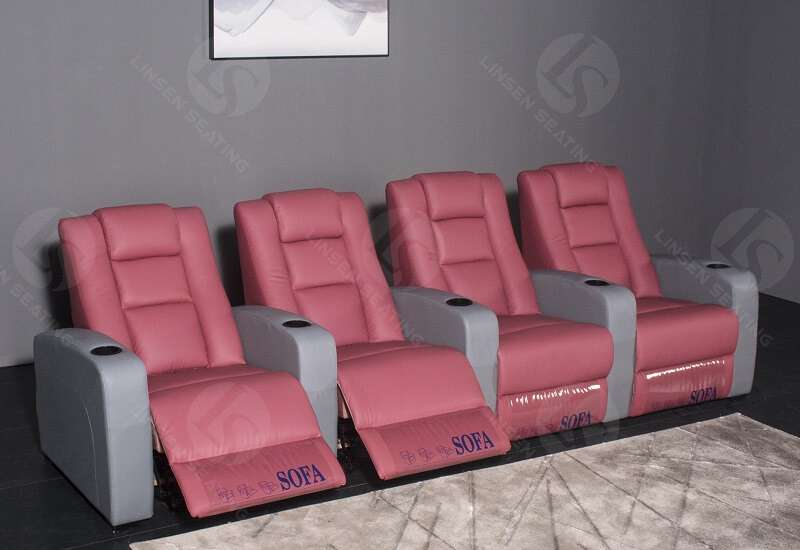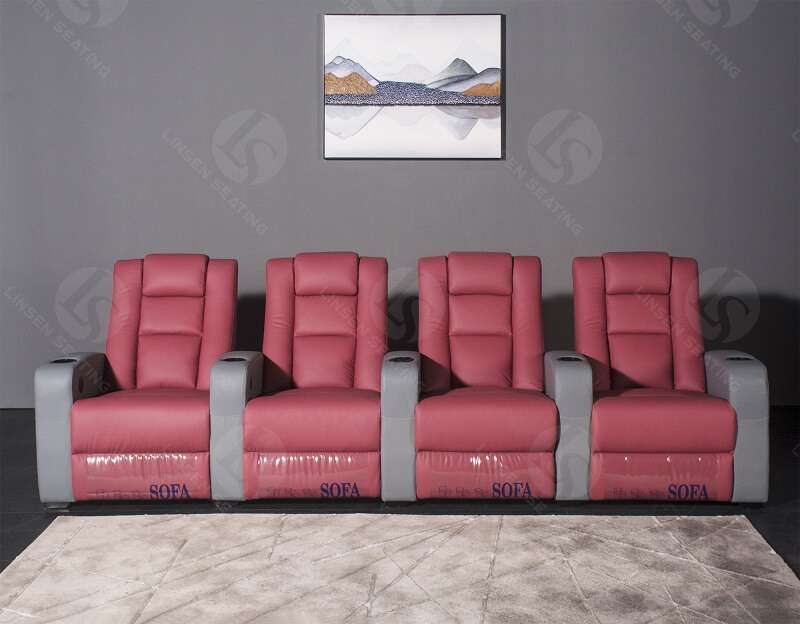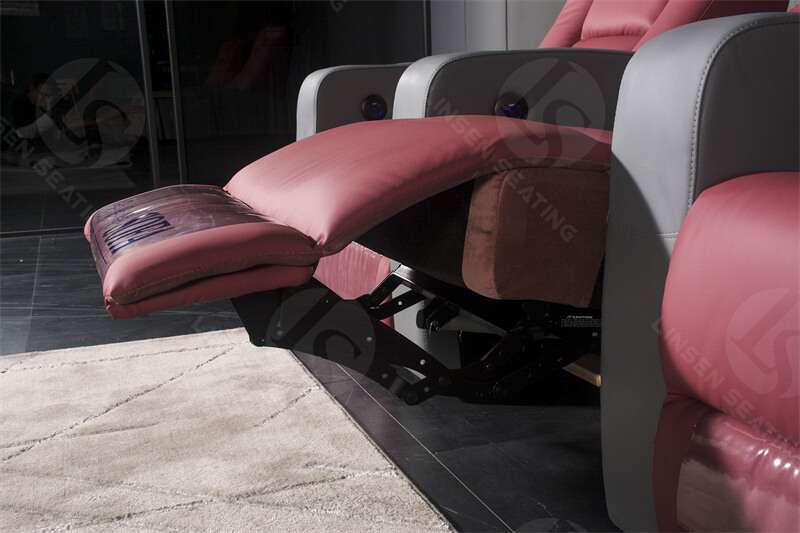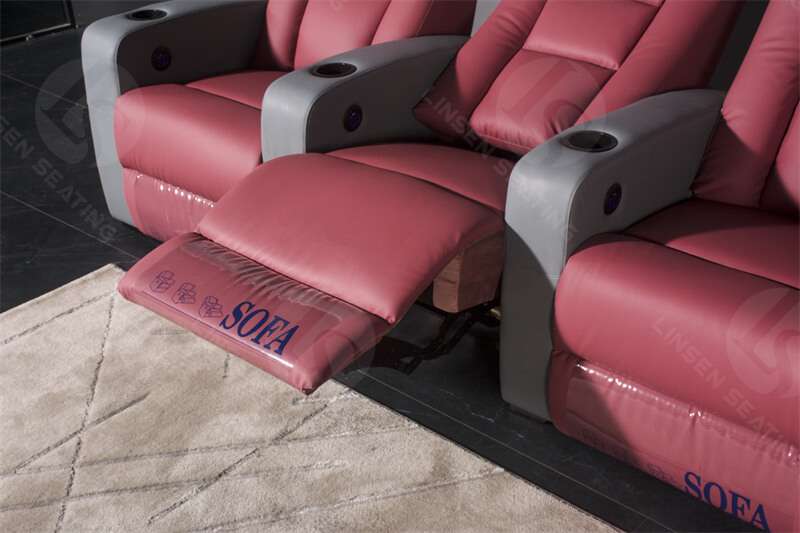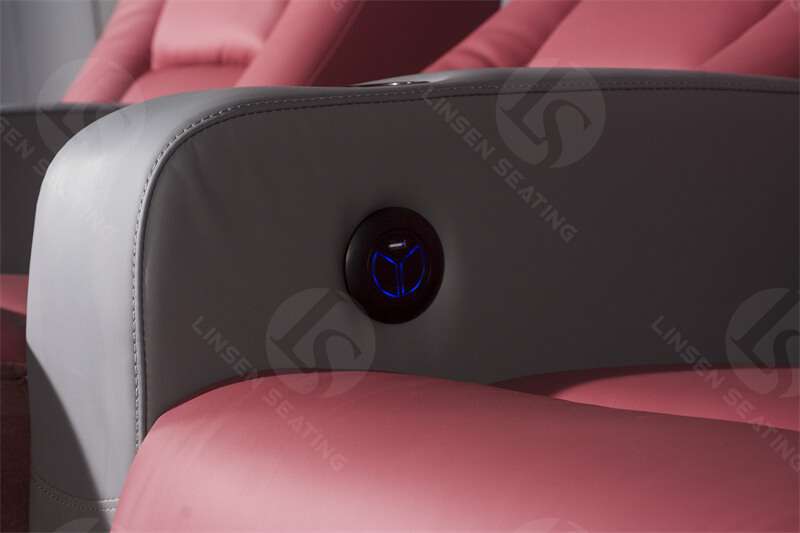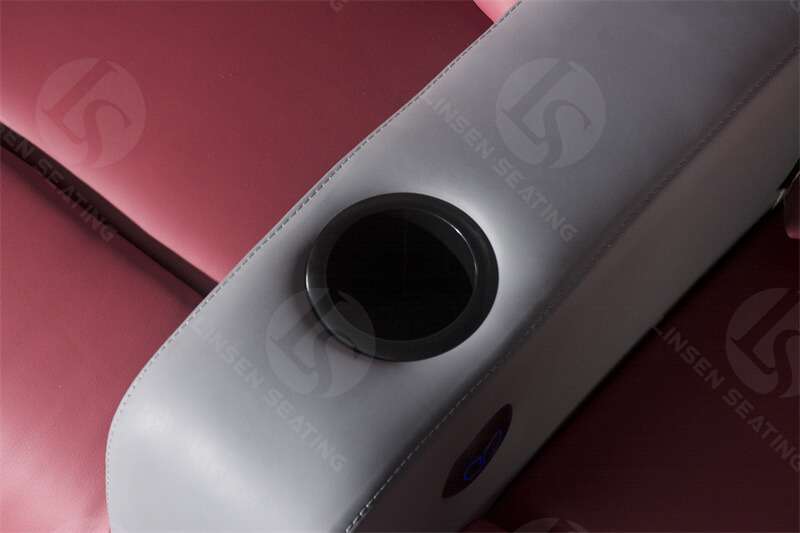 ---
Just like other home theater recliners, LS-881RG is also featured with convenient cup holder, power recline mechanism and ultimate comforts for your movie watching time.
Cup Holder Of 4 Seater Home Theater Recliner LS-881RG
Its cup holder is standard black plastic cup holder in the arm. It can also be silver stainless steel cup holder, silver aluminium cup holder, or black cooling cup holder according to your taste or customers' likes. So which kind of cup holder do you like for your home theater recliners?
Power Reclining Mechanism
The reclining mechanism of 4 seat home theater chairs is smooth and performs very well. It is a power reclining mechanism. Test how comfortable the sofa feels in different reclining positions with buttons within ease reach.
Upholstery Of LS-881RG 4 Seat Theater Seating
LS-881RG 4 seat theater sofa is upholstered with easy-to-clean top grain cow leather. It is durable and breathable even you use it frequently. Here it is matched with grey and dark pink real leather. Simple but not dull. The overall aesthetic is amazing for any home deco.
Material and Workmanship of the theater Recliner
When it comes to a home theater recliner, high-quality materials are essential. The 4 Seat Home Theatre Recliner is crafted with durability and longevity in mind. The materials used are of the highest quality, ensuring that your recliner will stand the test of time.
Not only is the 4 seater recliner built to last, but it also showcases exceptional attention to detail and craftsmanship. Every aspect of the recliner's construction is carefully considered, resulting in a product that is not only functional but also aesthetically pleasing.
Reasons to Choose a 4 Seater Home Theatre Recliner
There are several compelling reasons why a 4 Seater Home Theatre Recliner is the ideal choice for your home theater. Firstly, having a dedicated seating area for family and friends creates a sense of togetherness and enhances the overall viewing experience. Everyone can enjoy the movie or show together, making it a memorable experience.
Furthermore, the versatility of the 4 seater recliner makes it suitable for various activities. Whether you are watching a movie, playing video games, or simply relaxing, this recliner provides the perfect environment. It can accommodate different activities, ensuring that you get the most out of your home theater.
Lastly, the 4 Seater Home Theatre Recliner elevates the cinematic experience. With its spacious design and comfortable seating, you can truly immerse yourself in the movie or show. The plush cushions and ergonomic support allow you to sit back, relax, and enjoy the action on the screen.
Other 4 Seat Theater Seating For Sale