Level up your home theater experience with LS-697B, a luxurious black leather 4 seat theater recliner designed and manufacturered by Linsen Seating. We're a trustworthy 4-seat theater seating company that brings comfort and innovation to your movie nights. Crafted with sleek black leather, 4 seater home theatre recliner is not only a piece of functional furniture but also an elegant addition to your home entertainment space. With its LED lighting, swivel tray table, and advanced technologies, LS-697B elevates your movie-watching experience to a whole new level.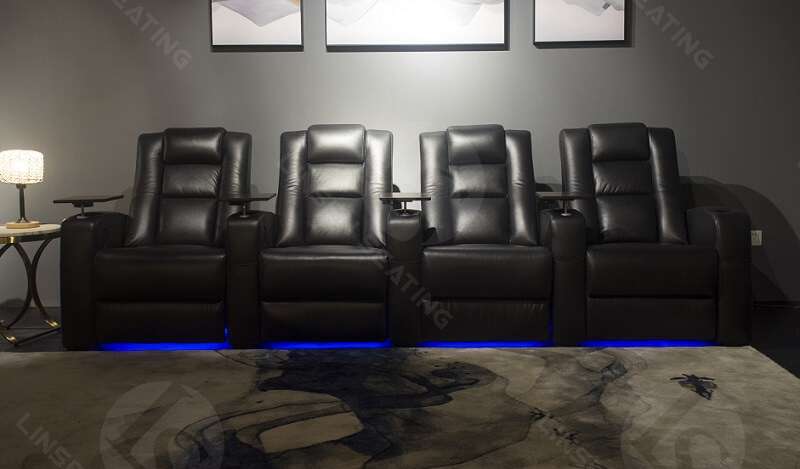 Brief Introduction
Upholstery : Black genuine leather
Recline: Power recliner
USB port: Yes
Cooling cup: Yes
Tray table: Yes
LED lighting: Yes
MOQ: 2 seats
Warranty: 15 Years
LS-697B 4 Seat Theater Recliner Images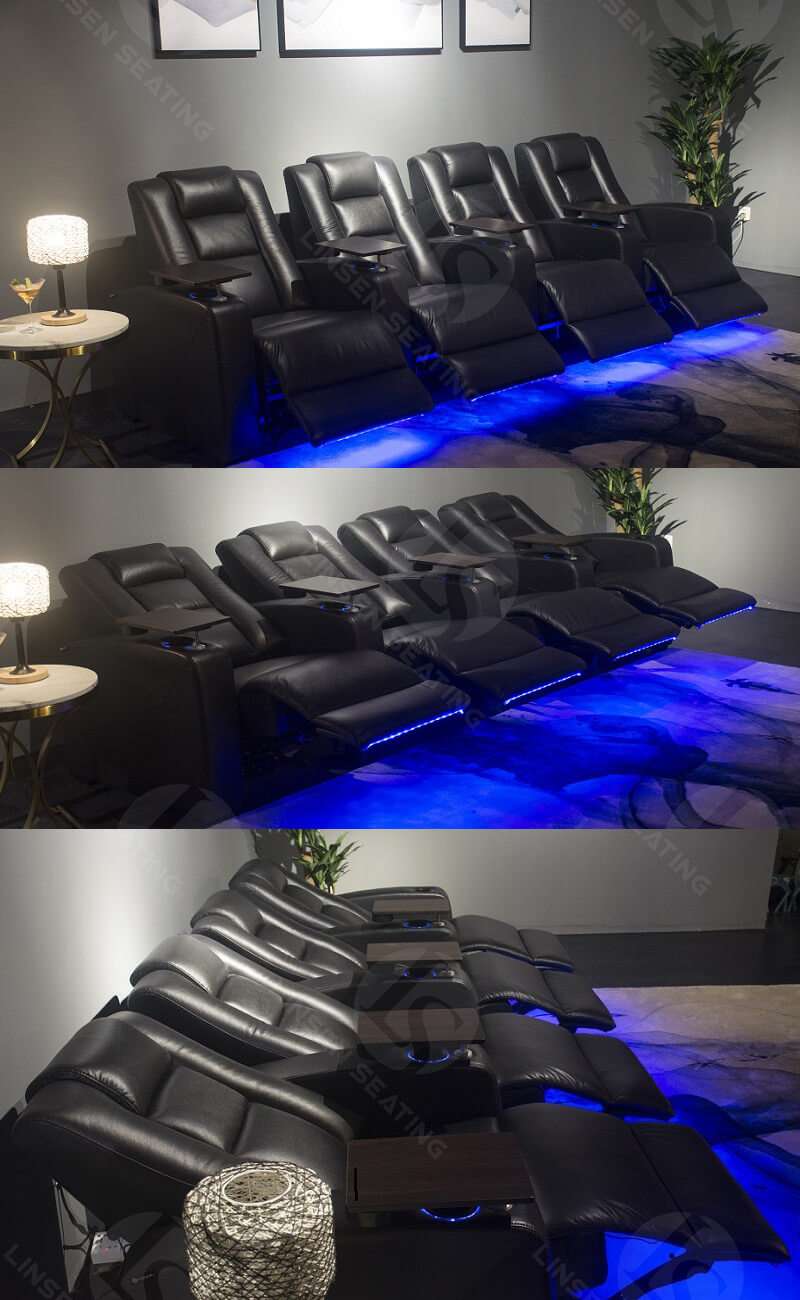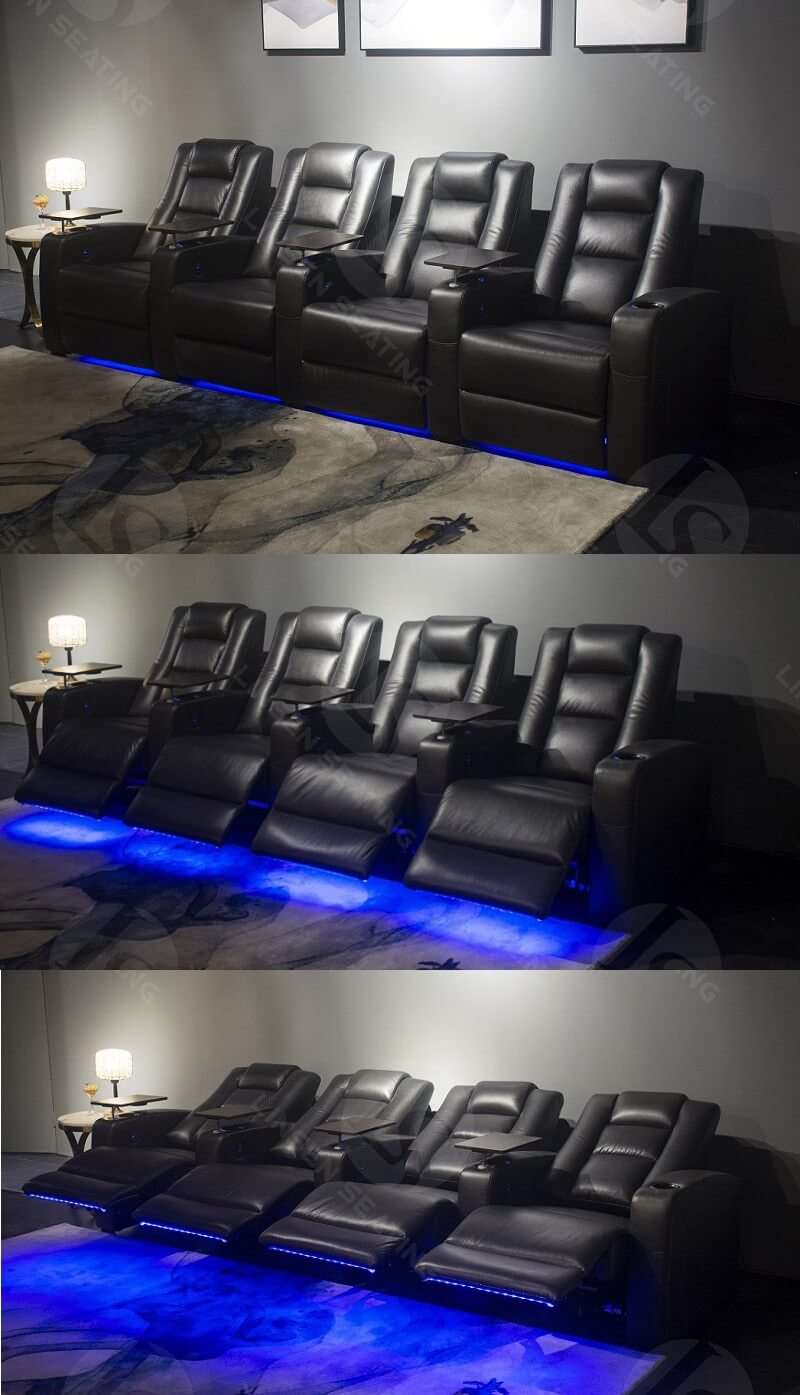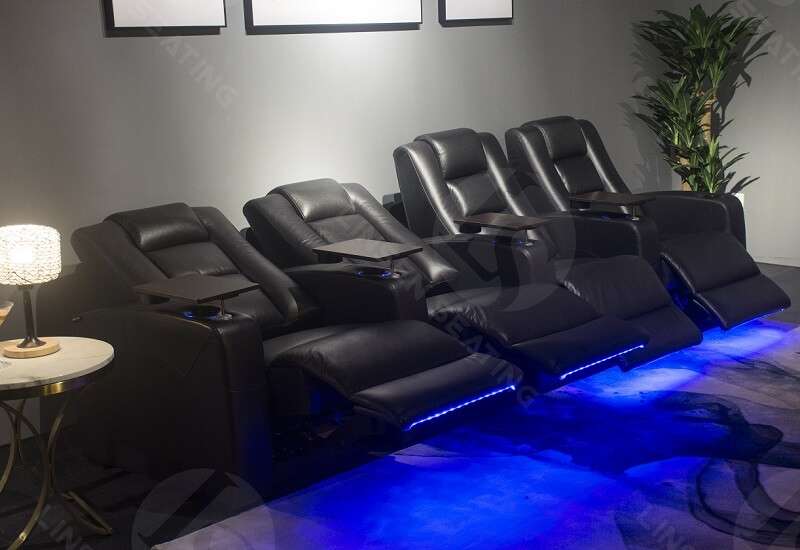 Features & Functions of 4 Seat Theater Recliner LS-697B
Black Leather Upholstery: The black leather upholstery exudes a sense of sophistication and complements various interior styles. Its sleek design and thick foam cushioning offer unparalleled comfort for extended movie sessions.
LED Lighting: Experience a captivating ambiance with the blue ambient LED lighting located under the seats. Control the lighting with touch buttons on the cooling cup holder, adding a cool and cinematic atmosphere to your home movie theater.
Swivel Tray Table: The black 4 seat reclining theater seating features a removable swivel tray table in dark wood color, providing a convenient surface for drinks, snacks, or even your remote control. Easily adjust the tray table to suit your needs for a comfortable movie-watching experience.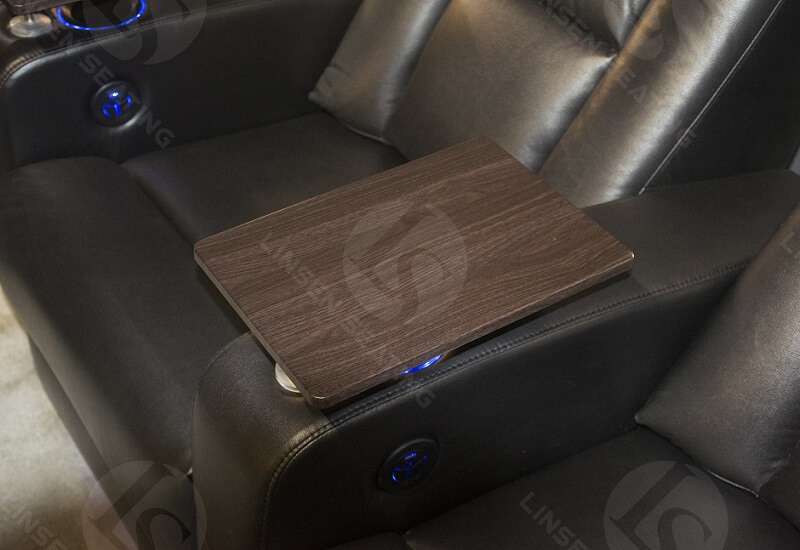 Cooling Cup Holder: Stay refreshed with the cooling cup holder that includes blue ambient light. Keep your beverages cool while enjoying your favorite movies, adding a touch of convenience and luxury to your 4 seat theater seating.
Okin Motor: The LS-697B is equipped with a high-quality Okin motor, ensuring smooth and noise-free reclining. Fully recline and find your perfect position for ultimate relaxation.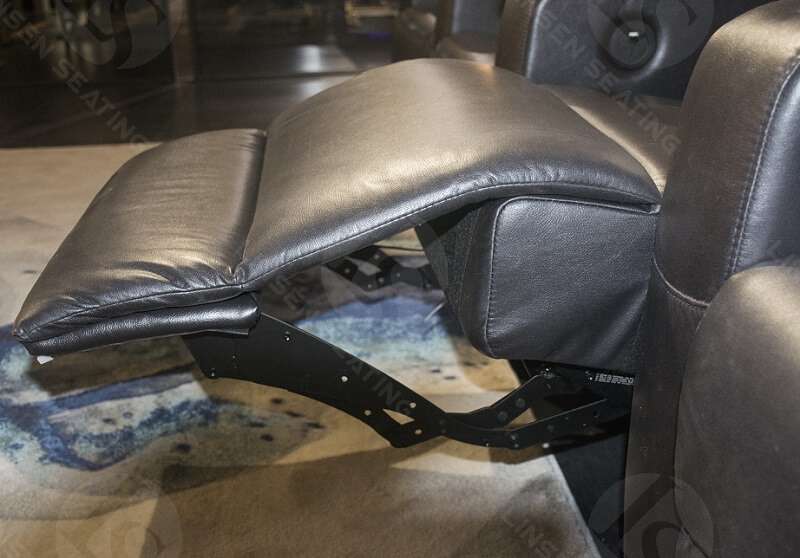 USB Port and Illuminated Buttons: The seat of 4 theater recliners includes a USB port in the switch, allowing you to charge your devices conveniently. The illuminated buttons around the recliner chair add a touch of modernity and ease of use.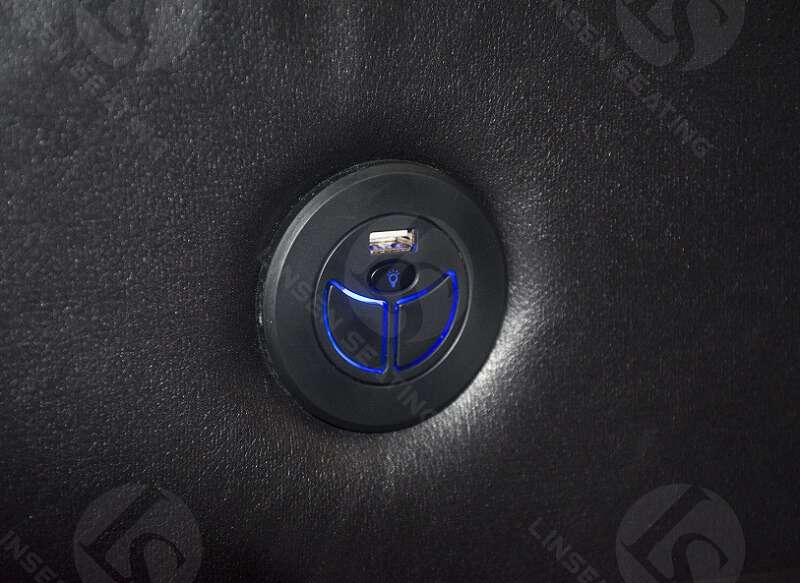 Headrest: The backrest is upholstered very nice and neatly.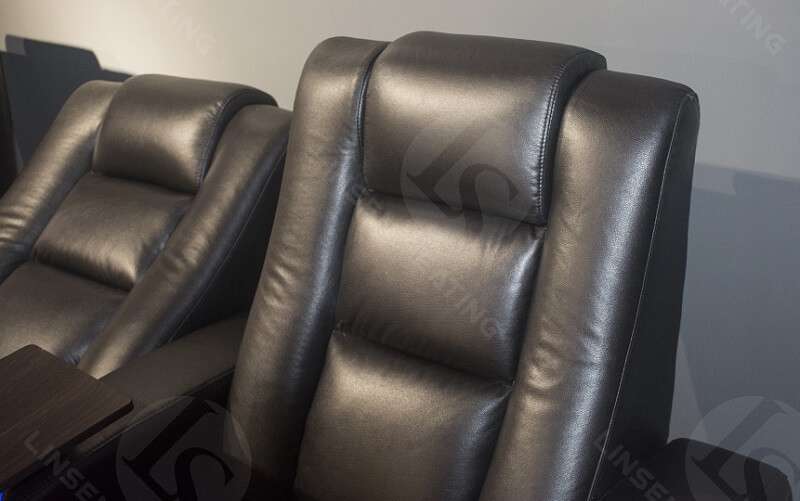 How To Enhance Your Movie Experience With Our 4 Seat Theater Recliner?
With Linsen Seating 4 seat theater sofas, indulgent extras and attention to aesthetic details, you and your guests can relax in ultimate movie-watching splendor! Here are some great ways to enhance your home movie experience when using a 4-seat theater recliner setup:
Opt for plush and wide recliners – Deeper seats with ample padding allows total relaxation for longer viewing sessions.
Include drink holders and trays – Keep snacks and drinks within easy reach to munch hands-free while watching.
Add pillows and blankets – Cozy cushions and throws make it feel like a luxury movie palace.
Incorporate ambient lighting – Soft lamps set the mood without obscuring the picture quality.
Display licensed movie memorabilia – Show off prized collectibles related to your favorites.
Use an area rug – Anchor the space and provide warmth and comfort underfoot.
Choose wood or granite media stands – Sturdy units discreetly hold equipment and remotes.
Mount a large screen TV – Immerse yourselves in films, sports and gaming on a big display.
Pair with surround sound – Feel fully present with Hollywood-grade audio.
Apply mood-matched wall colors – Neutral tones let the entertainment be the focal point.
Why Choose Home Theater Recliner With Led Lighting?
With mood setting capabilities and long lasting performance, LED lighting takes home theater seating atmosphere to the next level.
Sets the Mood – Soft LEDs underneath or behind the chair set a relaxing atmosphere perfect for movie viewing.
Accentuates Style – Strategically placed lighting highlights materials like leather upholstery and textures.
Complements Decor – The lighting serves as a design element and ties the seats into the overall room's ambiance.
Color Customization – Many models let you switch between colors or sync lighting to on-screen visuals.
Enhances Immersion – Being surrounded by glow enhances the cinematic feel of films in dimmed lighting.
Subtle Functionality – The gentle lighting finds snacks or remotes without drastically brightening the room.
Premium Feel – Integrated LEDs add a high-tech touch that makes the recliners feel ultra-luxurious.
Long lasting – LED bulbs have a lifespan of tens of thousands of hours versus conventional lighting.
Easy Maintenance – There are no bulbs to replace, making it very low maintenance over time.
Safety Feature – The night lights function as a guide in case you need to get up during a movie.
Why Buy 4 Seat Theater Recliners From Linsen Seating?
Choosing Linsen Seating to buy 4 seat theater recliners comes with a multitude of compelling reasons that set us apart as a preferred choice for your home theater recliner needs. Here are some key factors that make Linsen Seating the ideal option:
Premium Quality Products
Linsen Seating is committed to delivering top-notch theater seating row of 4 with exceptional quality. Our 4 seat theater recliners are crafted using high-quality materials, ensuring durability, comfort, and long-lasting performance.
Innovative Designs and Features
We pride ourselves on innovative designs and incorporating advanced features into our theater recliners. From LED lighting and swivel tray tables to cooling cup holders and USB ports, our recliners are equipped with modern technologies that enhance your movie-watching experience.
Experienced and Professional Team
Our team at Linsen Seating consists of experienced professionals who are dedicated to providing top-notch customer service. We are passionate about helping you create the perfect home theater seating setup that aligns with your vision.
Attention to Detail
We take pride in our attention to detail and meticulous craftsmanship. Each 4 seat home theater recliner undergoes rigorous quality checks to ensure it meets our high standards before reaching your doorstep.
Competitive Pricing
While offering premium quality products, we strive to keep our prices competitive, ensuring that you get the best value for your investment.
Global Reach
Linsen Seating serves customers worldwide, bringing our exceptional products and services to customers across the globe.
Customer Satisfaction
Customer satisfaction is our ultimate goal. We prioritize your needs and preferences, ensuring that you are delighted with your purchase and the overall experience of working with us.
Send Us Inquiry
---
Other Movie Theater Recliners For Sale