LS-882RG is a light pink + grey color home theater sofa. Have you ever seen such a contrast color matching for leather recliner sofa with cup holders? It is incredible but still so harmonious and gentle at the first sight.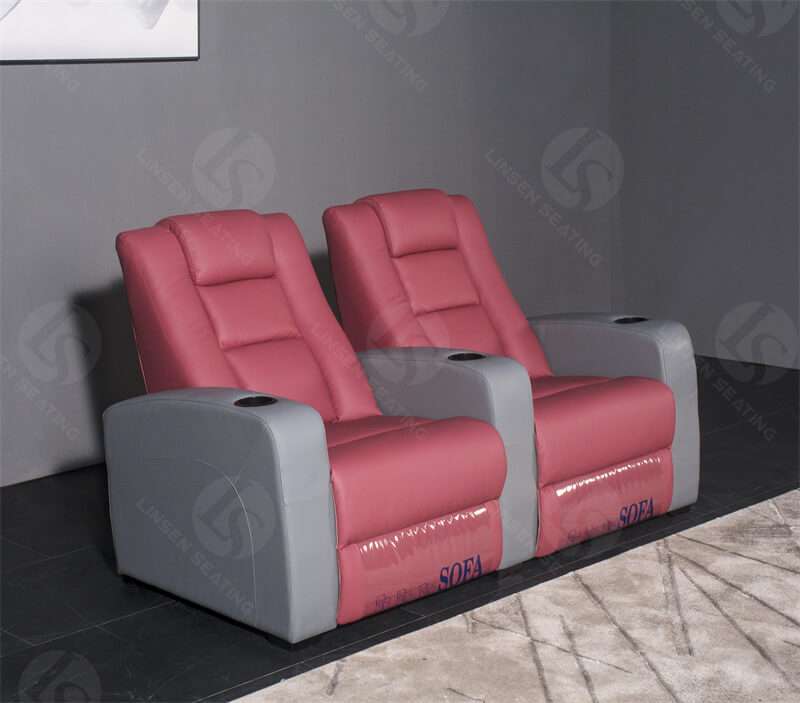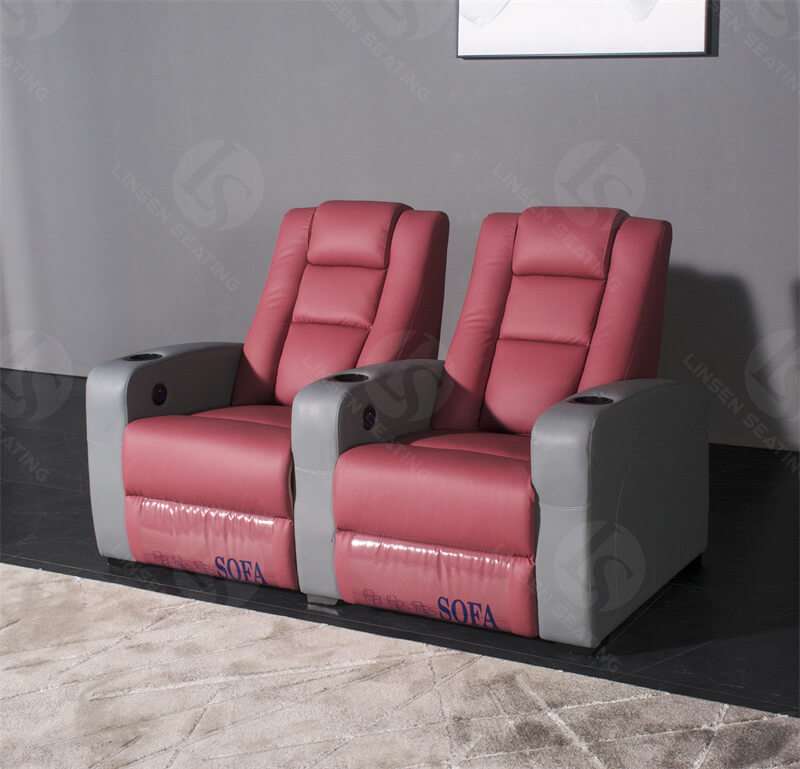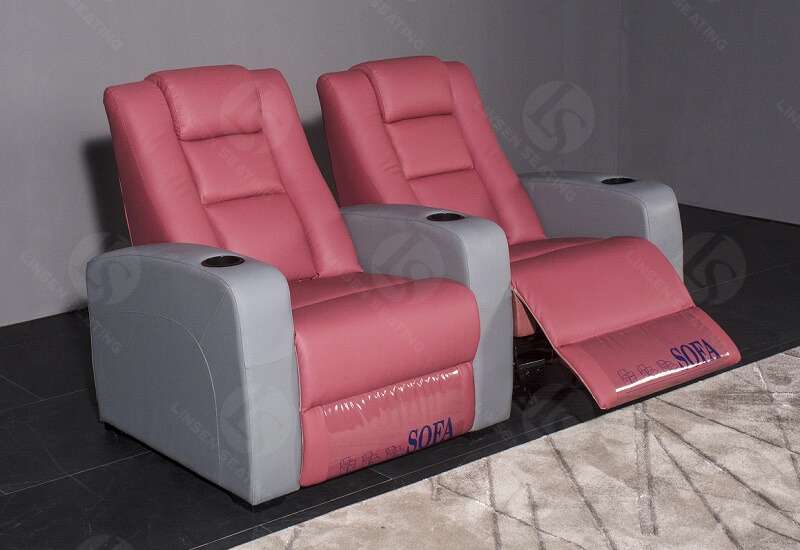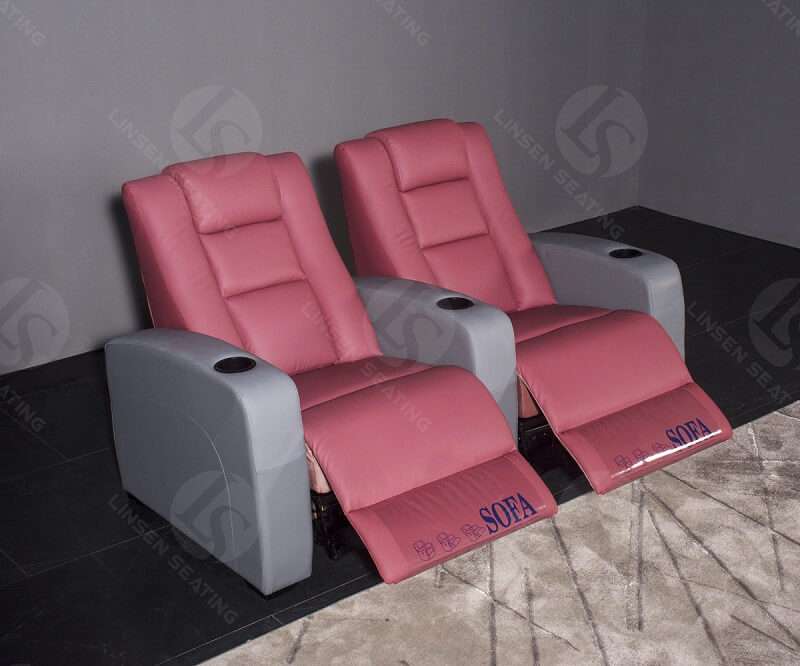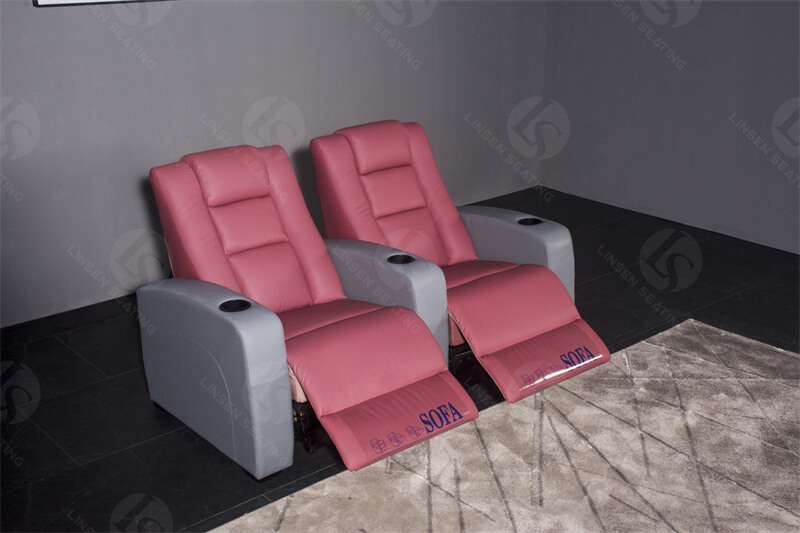 ---
Features & Functions Of LS-881RG Leather Recliner Sofa With Cup Holders
LS-881RG leather recliner sofa with cup holders combines luxurious, comforts and aesthetics all together. This result from its various features and practical functions.
1. Comfortable seating cushion & backrest: All seat cushions and backrests are made of high density foam which is soft but also has a very good supporting for the seats. On the surface there is soft and gentle top quality genuine leather covered. No matter from the inner side of the seat or the outside, you can feel comforts.
2. Convenient cup holder: The cup holders make it possible to have different beverages within easy reach. You will never need to worry about spilling your drinks. Cup holder types is versatile. Standard cup holder is black plastic. It can also be stainless steel or aluminium. Cup holder with functions like controlling buttons are also available.
3. Long life span: LS-881RG is very durable for its strong hard wood frame. There is a 15 years warranty for the frame. Besides, metal frame and mechanism of LS-881RG also has very good performance. It works smoothly without any noise. Stable working performance of the mechanism is also a key factor for its durability.
4. Contrast color matching: It is innovative to have this color matching, light pink+grey. It is a great impact for eyes for this stylish color. Most of the home theater furniture pays more attention to the functions and performances. While you can make your home theater even more fashionable by this practical reclining leather sofa with cup holders.
5. Power recliner: LS-881RG is a leather power reclining sofa with convenient hand controller within easy touch. You can stop at any position that you like to enjoy a movie, read a book or just lie down for relaxation.
Does LS-881RG Leather Recliner Sofa With Cup Holders Fit in My Theater?
Are you hesitating to buy leather recliner sofa LS-881RG because you are not sure if it fit in your theater? Don't worry, you will know the answer after you clearing out these points below.
Size & Dimensions Of The Reclining Leather Theater Sofa
First thing you need to consider is dimensions of the sofa to ensure it fits your home cinema perfectly. Taking accurate measurement and considering the layout of your cinema room, and then check the dimensions of LS-881RG power theater sofa with cup holders. Here are the standard dimensions.
seat cushion width: 580mm
arm width: 140mm
arm length: 890mm
length when stretching out: 1720mm
row of 2 width: 2740mm
If this standard size doesn't fit in your theater, you can change some other layout you can accept. For example, making theater loveseat among your layout to reduce the width of a row. Or change it into a curved home theater seating to make it more specious.
While if you still can not accept the changes, then we are also able to change some parts to make it perfectly fit into your room.
Choose A Reclining Mechanism That Suits Your Preferences & Budget
Next, it's essential to choose a reclining mechanism that suits your preferences. As a professional home theater seating manufacturer, Linsen Seating is able to customize LS-881RG leather reclining theater sofa into a manual recliner or a power recliner. You have to manually adjust the position with manual recliner while power reclining option allow you recline at the touch of a button. Consider your comfort level and Choose a reclining mechanism that suits your preferences and budget.
Consider Additional Features And Customization Options
Lastly, consider any additional features and customization options that may be available. This includes cooling cup holder, message functions, power adjustable headrest, lumbar support, removable tray table, wine glass holder or phone/tablet holder etc. All these additional innovative functions will enhance your overall comfort and convenience. Linsen Seating is able to offer all these options to make a most suitable home theater recliner sofa for you.
After sorting out all these points, you will tailor a most comfortable and suitable theater recliner sofa with cup holders. It is the unique home theater seating for you.
Other Similar Home Theater Sofa With Cup Holders